The Drakensberg is one of the most famous mountainous areas in all of South Africa and its towering peaks, beautiful rivers, ravines, streams and fields have kept people from all over South Africa and the world coming back year in and year out. It's a land a mystic and wonder and this wild rugged and mystical part of the world is all about exploration, history and nature.
4×4 trails worth exploring in the Drakensberg
The Drakensberg has so many amazing natural areas to explore; you'll want to get out there in a 4×4 to really immerse yourself in this wonderful part of South Africa. There are kilometres and kilometres of gravel and dirt roads just waiting to be navigated with your 4×4. If you don't have one, 4×4 hire South Africa would be the best place to start looking.
Sani Pass 4×4 Trail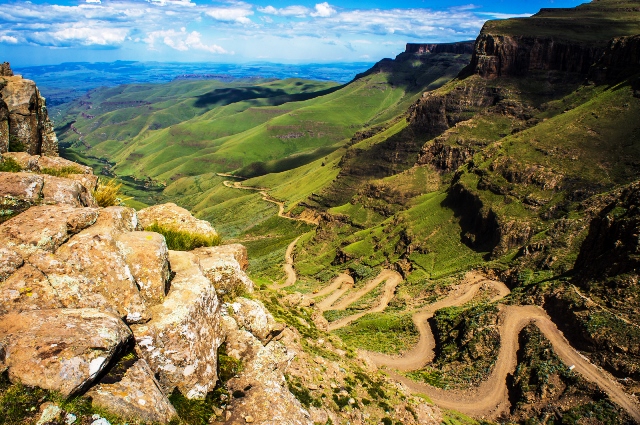 Sani_Pass_heading_into_Lesotho-Vaiz Ha [CC BY 2.0 (httpcreativecommons.orglicensesby2.0)], via Wikimedia Commons
If you travel only 20km from the Drakensberg town of Underberg you'll soon find yourself near to one of the area's most famous mountain passes and 4×4 routes Sani Pass. Every now and then you might see a brave 2 wheel vehicle trying it utmost to get up the challenging route. However, it's widely regarded that this is a pass for 4×4s only. Certain times of year the roads become unmanageable due to bad weather, however, any who has ever been on this route will agree that the scenery is spectacular, once you reach the top you will arrive in the mountain Kingdom of Lesotho.
Mikes Pass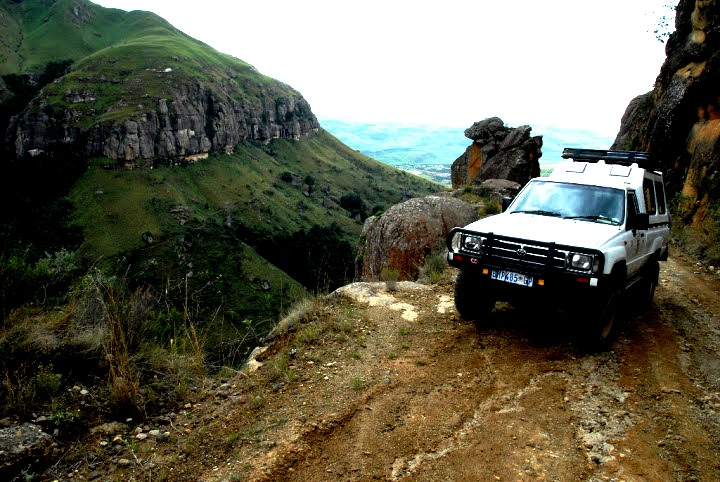 A grueling drive up Mike's Pass – photo taken from www.icon.co.za~siggybdidima.html 
This is definitely not a route for novice 4×4 drivers and is considered to be one of the most challenging high altitude 4×4 routes in the Drakensberg area. However, this challenge comes with the ultimate rewards of breathtaking views which have kept 4×4 enthusiasts coming back year in and year out. If it snows it's usually widely acceptable for the pass to be closed so bear this in mind before planning your 4×4 adventure in the majestic Drakensberg.
Thule Beacon Trail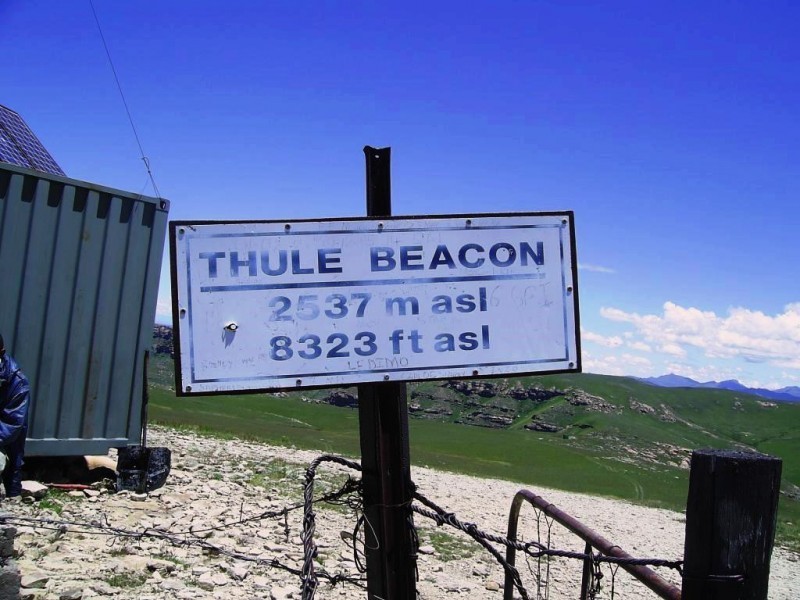 A popular 4×4 route in the majestic Drakensberg mountains – photo taken from - www.4x4community.co.zaforumshowthread.php74412-Thule-Rustlers-Route
This gruelling 4×4 trail situated near the exquisite St Bernard's peak in the Eastern mountain areas of Griqualand is well known for its meandering gravel roads and splendid Southern Drakensberg mountain views. It's widely regarded to be a more challenging drive then Sani Pass so bear this in mind. 
Accommodation and camping facilities to visit in the Drakensberg
The Drakensberg has no shortage of world-class campsites, self-catering facilities, lodges and hotels to choose from. Here are 3 camping and self-catering facilities to consider on your next trip to the Drakensberg area in Kwazulu Natal.
Gina's Self-catering Chalets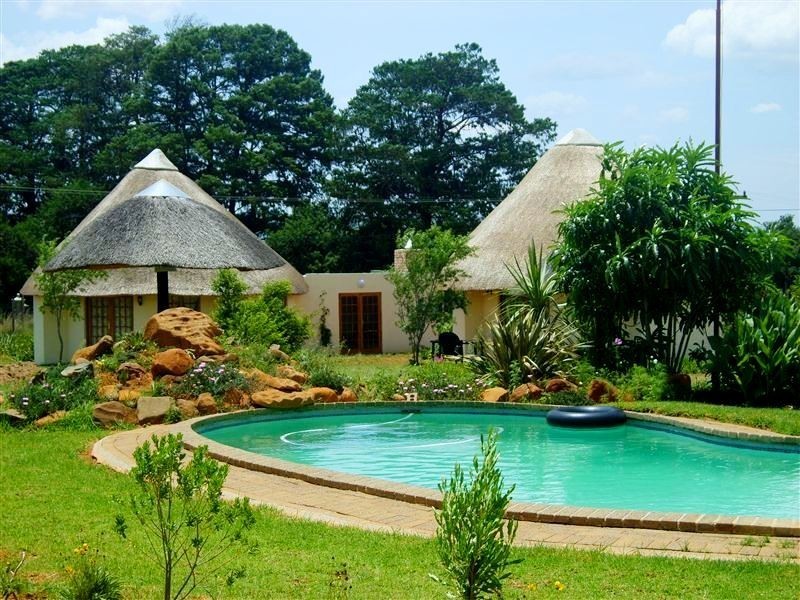 Beautifully kept grounds at Gina's self-catering chalets – photo taken from www.safarinow.comgoginasselfcateringchaletsbergville
This picturesque self-catering facility is perfectly situated halfway in between the coast and Pretoria, making it a great area for those wanting to escape the Gauteng area for a weekend getaway. This haven of tranquility will be found in the Ntintwa Mountains which will make you feel a sense of tranquility and reassurance often missing in city life. The area also has 4×4 trails nearby for those wanting a bit of adventure in-between relaxation. 
Bergville Caravan Park and Chalets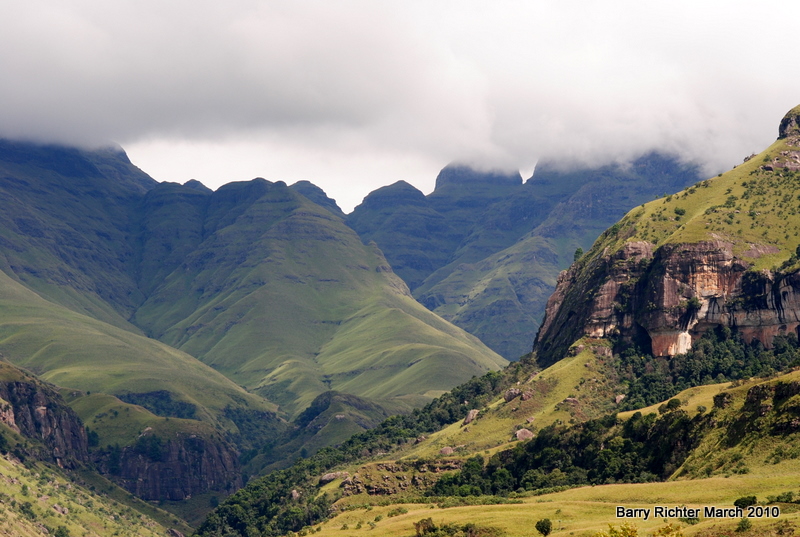 One of the many breathtaking scenes from Bergville – photo by Barry Richter – 2010
This establishment is situated on the lush, fertile banks of the mighty Tugela River not far from the popular Drakensberg town of Bergville. The caravan park is within close proximity to various cultural, historical and heritage sites for which the Drakensberg is famous so this establishment is a good place to base one's self when deciding to explore the area. The Tugela River is an optimal fishing location and other facilities in the area include a swimming pool, trampolines, tennis court and bowling greens. 
Little Wing Teepee Camp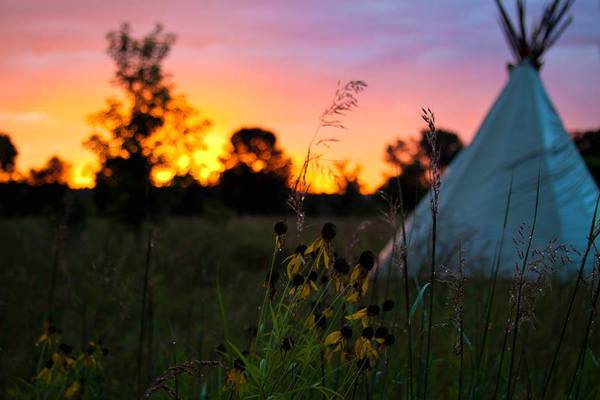 A piece of wild western America in South Africa – the photo was taken from www.proportal.co.za
This unique camping experience is loosely based on the Native American philosophy and way of life. Tents are fully equipped so all you have to bring is yourself and something to eat. The place is situated in the popular Underberg area, which is largely regarded as a gateway to the Sani Pass 4×4 drive which eventually meanders its way to Lesotho.
If you plan on going on an adventure to this majestic location from another part of the country, you might want to use a smaller vehicle to get there first. Car rental South Africa would be a great place to start looking for the best wheels to get you there.