Etosha National Park camping sites: Stan shares their Namibian highlights
Although we initially planned to go up to Sesfontein and visit the Epupa Falls on the Kunene River, we decided to keep to the general direction of East Africa and drive to the Brandberg Mountains, which is an ideal 4×4 drive. This entailed heading straight to Etosha National Park camping sites along well-maintained tar roads without losing another 1 000 km. To get around Etosha you need a decent car, check out 4×4 rental Namibia for your rental car.
Staying over in the Brandberg, we camped at Brandberg White Lady Lodge near Uis. We had the whole wide bush as well as a lovely pool all to ourselves. The following day we stopped at the Bushveld Park close to Outjo which has a brand new owner who is renovating the place and transforming it into a lovely spot!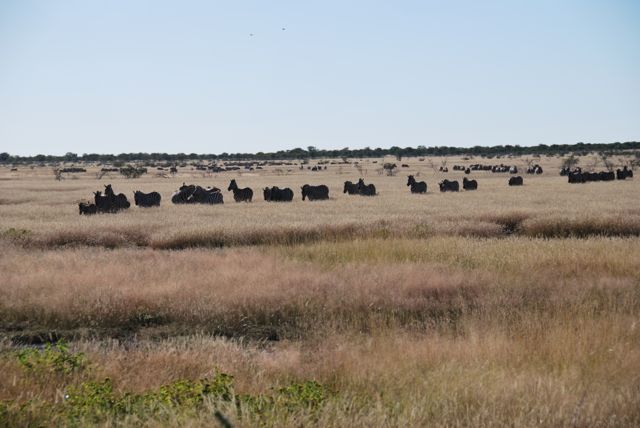 We were surprised by herds of zebra at the Etosha entrance! Photos: Stan Rogers
We learned that you don't have to stay in one of the Etosha National Park camping sites to get the best experience in the park. A great alternative to the rather expensive park is the Mondjilla Lodge just outside the Anderson Gate where we spent a night. Early the next morning we went through the Etosha entrance where we were met by enormous herds of zebra right next to the Okakaujo camp.
Etosha National Park camping sites and surrounds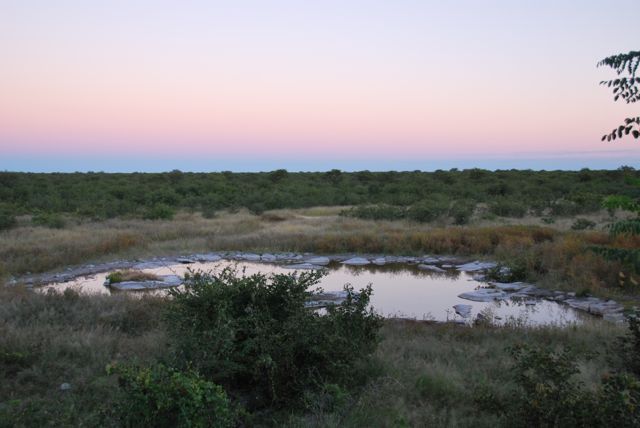 Halali's vegetation stands in contrast with the stark pans further into the park and is one of the most popular Etosha National Park camping sites.
We spent the second night in a great camping spot near Halali Camp, which boasts thick vegetation that stands in complete contrast with the huge dry pan stretching to the horizon.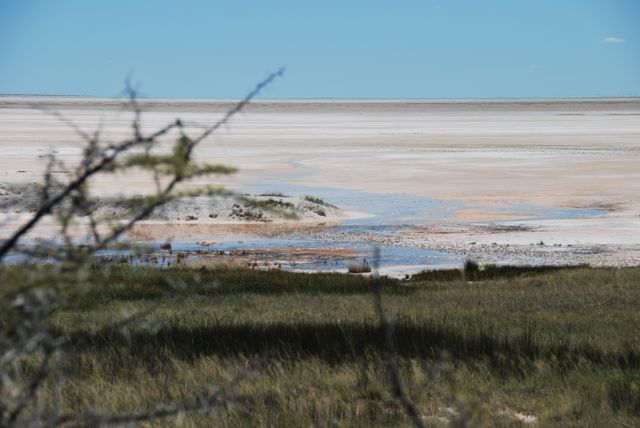 In Etosha National Park. I must tell you, this park is quite surreal.
Although the impressive scenery was more than enough for us, we didn't see much game that day. We did, however, have one magical experience on an evening drive when a lion and lioness leapt out in front of our Defender!
The following day we were spoiled with the sight of savannah covered with huge herds of wildebeest, springbok and zebra!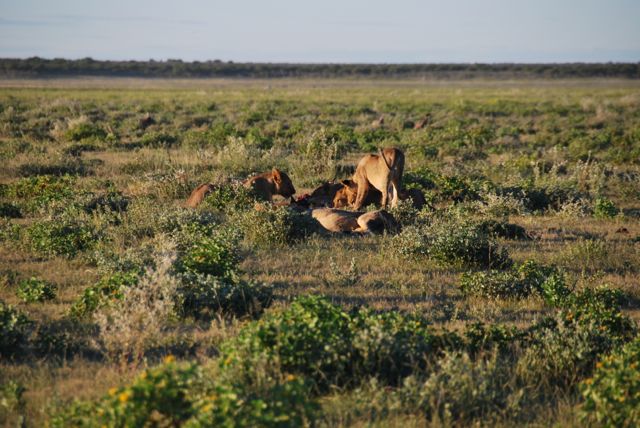 A lion kill. You don't see a sight like this every day!
On the way back to our camp we came across a lion kill with the pride still devouring a poor springbok carcass; this is what we call game driving bliss!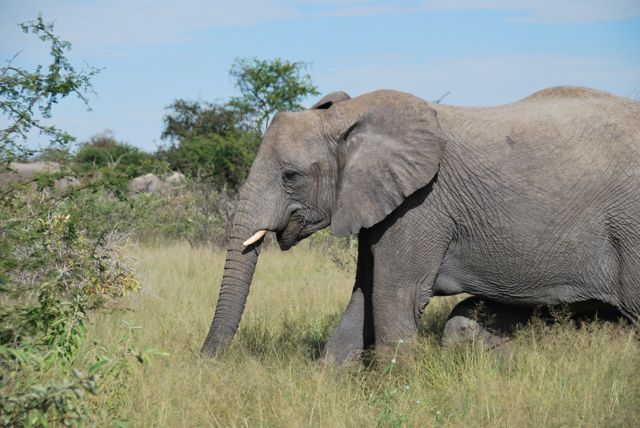 See the baby between her legs? An elephant grazes in Namutoni – another great Etosha National Park camping site.
We couldn't just leave Etosha after that rush of excitement, so we decided to stay another night at Namutoni, another camping site in Etosha. This was the best decision we made so far because the following day we were surprised by herds of elephant with their babies right next to (or underneath!) them.
We were on our way to the exit at the remote King Nehalwe Gate where I had to show the policeman everything from my passport to Tin Can's papers. Later on, through Oshivelo we were stopped by yet another policeman who was doing "veterinary inspections" for meat and animal products. If you got any – they confiscated it in a flash! This is to prevent the spread of foot and mouth disease.
At this point, I have to say Etosha is great, but like any wildlife viewing it all depends on when you are there as the kind of experience you'll have is completely weather-bound.
At the lovely town of Tsumeb, we stayed at the Kupferquelle Resort which was recommended to us by an American named Dan Jeffreys. The wide, green lawns and the Olympic size pool was a great treat! Tin Can also be a much-needed car wash.
The drive up to Rundu on the Angolan border took us to the Okavango River where we stayed at a very nice spot called Shankara run by Terrance and Empie.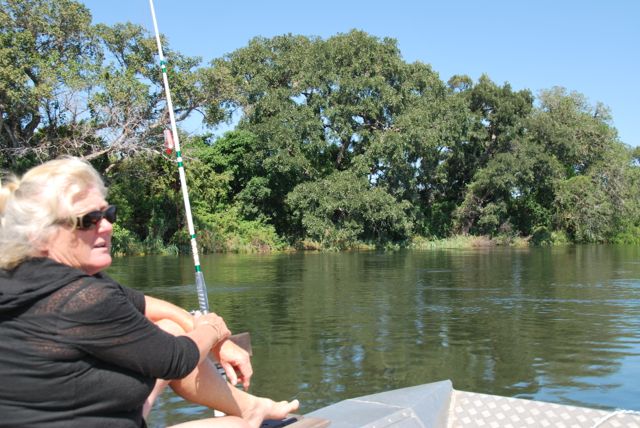 Kicking back on the Okavango. 
Time has been spent sitting by the river listening to hippos grunt and long walks down the road past African huts and villages where people wave (and probably wondering why we are walking and not driving by like the rest of the tourists.
We also met an Austrian couple Erhard and Gabrielle in a 1966 Land Rover Series 2a who brought the thing down the west coast of Africa 10 years ago and then have registered it in Namibia, store it in Windhoek and once a year fly out from Austria to do a 3 or 4 month trip in it around East and Southern Africa. (Great if you can do it)! Their wealth of knowledge about the good spots in Caprivi was great and motivated us to hit the road and explore every one of them.
Come Monday its off to the Caprivi where we will explore some of the much heard about camping places along the horseshoe of the Kwando River. Also on our itinerary, is the Madumu Game Reserve. After that, we will enter Botswana and then the Okavango Delta proper. As always, we will keep you posted!
If you plan on starting your journey from South Africa, you might want to have a look at car rental South Africa for the best option to get you to these amazing locations.
If you intend on starting your road trip to Namibia in South Africa, you might want to have a look at 4×4 hire South Africa.