South Africa's first interactive toll fees calculator from Drive South Africa
Before you take a road trip, there is a lot of preparation that needs to take place. Your budget, which plays a big role in how your road trip turns out, is one of the steps in that preparation process. To assist South African road users on the budget side, we created the Toll Roads Cost Calculator (also known as toll fees calculator). This online tool lets you automatically work out the estimated toll plaza costs for your road trip from point A to point B on South Africa's national toll roads.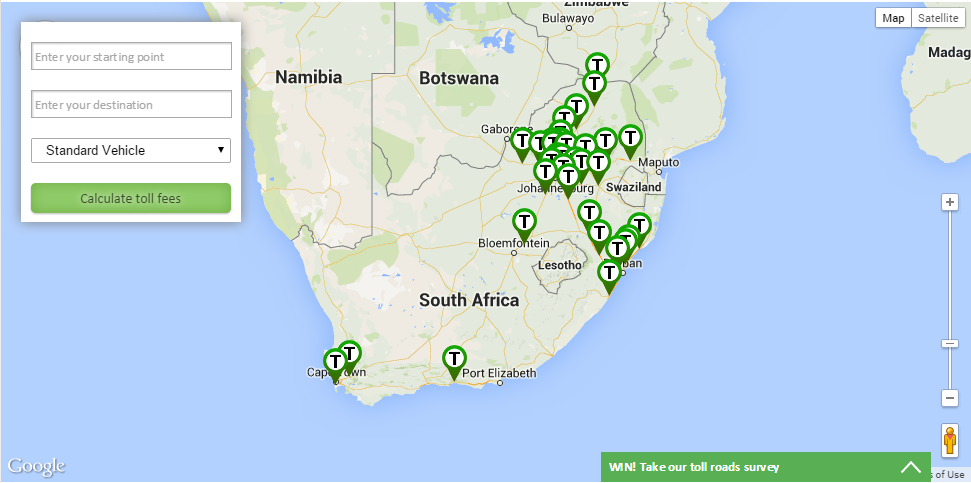 The first of its kind – South African interactive toll road fees calculator
How the toll fees calculator works
Type in your point of departure

Type in your destination

Select your vehicle type

Click on "Calculate toll fees"

Get your toll road cost results (and you will see on your right-hand side your route will also be highlighted in the Google Map)

Note: Toll fees differ according to the vehicle class
Facts about toll fees calculator
It is the first interactive Toll Roads Cost Calculator for South Africa roads

It is a must-use tool for travelers embarking on a road trip across all South African national toll roads

The Toll Roads Cost Calculator tool has been featured on Wheels24, Traveller24, eNCA 6 pm news, eNCA.com, SABC Radio, Travel News Weekly website eTNW and many others. It has been shared more than 190 times on Facebook and 50+ times on Twitter.

The toll gates run along the N1, N2, N3, N4, N17 and M6 (Chapmans Peak Drive) and the costs are generated as the toll roads calculator pulls current rates from a list of South Africa's 32 GPS-plotted toll gate plazas

The toll gate fees used in the calculations are fed from a database updated with rates from the South African National Roads Agency (SANRAL)

Note: The database only includes rates from physical toll gate plazas and not from e-tolls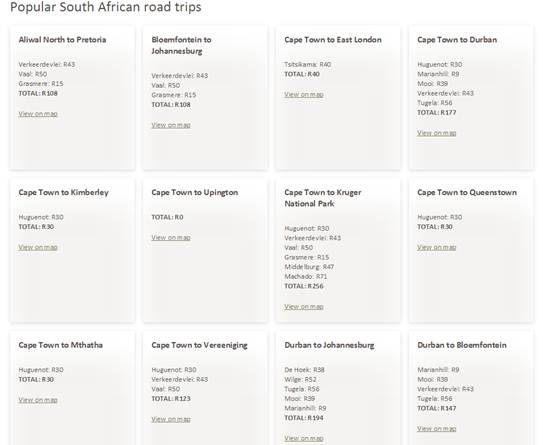 Popular South African road trips are listed just below the tool
Added benefits to the toll fees calculator
As this is an interactive tool, a user can zoom in and out of the Google Map, giving them the opportunity to view toll plaza locations in as much detail as needed

The South African toll roads cost calculator has all the toll road fees in one tool

No more searching from site to site, hassling to get your total cost for toll fees

Just below the toll roads calculator, for an even quicker search on toll gate costs, this tool displays South Africa's most popular road travel routes

A simple click on any of these popular road travel routes will highlight the route on the map which you can print. Applicable toll plazas with fees you need to pay as well as the distance between each is also highlighted.
There is no road trip that a person can take without the necessary preparation. By being prepared, you're saving up money and time. No matter how short your trip is, this tool will put you just in the right mood to finally take that road trip. Get the Toll Roads Cost Calculator here.
If you would like to have the freedom to explore the area you are visiting independently, you might want to look into
car hire South Africa
for the perfect set of wheels.