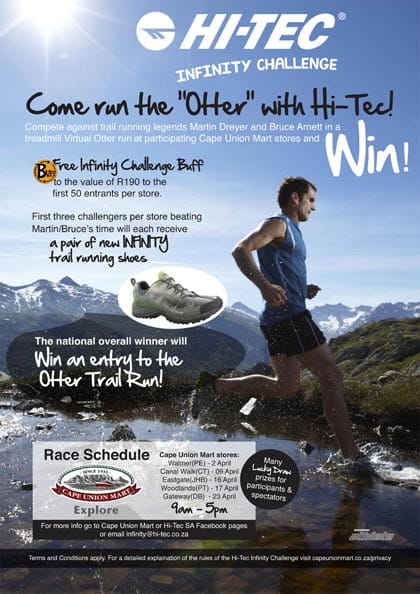 On

10 February 2011

In Blog
Tags
No Comments
Cape Argus Cycle Tour 2011
[Photo by Cycle Tour]
The epic 33rd annual Cape Argus Cycle Race is fast approaching and if the increasing numbers of power pushers pedalling hurriedly around Cape Town roads are anything to go by this year's event will be an even more impressive show than last year's 35 000  cyclists.
If you are looking to go on an adventure in the area, you might want to look into having some wheels to get around.
Car hire Cape Town
would be the best place to start looking.
Cape Argus Cycle Tour Route
2011's Cape Argus Cycle Tour will take place on the 13th of March 2011 and will once again follow the spectacularly scenic but gruelling 109 km route along the coast. Cyclists will start in the city centre and head down towards Simonstown, turning at Smitswinkel and climbing back up Champmans Peak then attempting to conquer the monstrously steep Suikerbossie Hill before racing wearily downhill towards the finish. This year's route once again makes use of Boyes Drive, which will confront tired cyclists calves with yet another obstacle.
The Argus began in 1978 as an organized mass ride to draw attention to the need for cycle paths in South Africa. Since then the event has gone from strength to strength to become the world's largest timed cycling event and forms part of Lifecycle Week, a group of five cycle races which culminate in the Argus.
South African Cycling 2011
2011 has thus far been a  trying year for South African cycling. The renowned Giro del Capo, the pre-Argus stage race has been cancelled due to a lack of sponsorship and four of South Africa's top male riders were forced to find new sponsorship to compete internationally when Australian Team Pegasus Sports was denied their Professional Continental Team Licence.
It is also an extremely exciting year for the passionate Mzansi pedallers as the inaugural Cell C Tour of South Africa is set to kick off on the 19th of February. The 8-day event will traverse 3 of South Africa's beautiful provinces covering 800 km over 7 stages. It will see cyclists travel from Johannesburg to Cape Town via Nelson Mandela Bay and has a prize pouch of R500 000.
The tour has already attracted a large number of international cycling teams to our shores, many of whom are also planning to partake in the increasingly popular Tour de Boland which is effectively replacing the Giro del Capo this year and has been growing in popularity since it was revived 5 years ago.
The Cape Argus Cycle Tour is still South Africa's reigning cycle event and a firm favourite on the telly. The race is an all-day affair and is heaps of fun to watch with family and friends from the sideline, cheering on the cycles as they whizz by. Be sure to arrive early enough to pick a good spot along the route.
Go Team
We at Drive South Africa will be screaming our lungs out for homegrown heroes Anriette Schoeman and Malcolm Lange, cycling for their seventh and fourth Cape Argus Cycle Tour titles respectively.
But our money is on Darren Lill who has had an incredible year and recently won the South African Elite Road Championships in Port Elizabeth. Lill is riding like a man possessed this season and will be looking to place far ahead of his 2010 result of 69th with a time of 02:45:57, barring the gale force winds which have dominated the previous two races.
Good luck to all the cyclists, both professional and up-and-comers who are taking part this year, we hope you have a fantastic race.
If you are still worrying about how you are going to transport your trusty two-wheeled steed safely and securely without having to rent a monumental mini-van don't fear help is at hand! You can speak to one of our consultants about hiring handy portable bike racks to be fitted to your hire car which will allow you to rent a smaller vehicle, save your moolah and still transport three bikes.
Entry forms for the 2011 Argus race are unfortunately closed, however, riders with foreign passports can still enter for an additional fee with an international entry. You could also try posting a wanted ad for that elusive entry on South Africa's most popular cycling forum, http://www.thehubsa.co.za.
Routes or even training plans you can visit Cape Argus Cycle Tour. We've also attached a map of the Cape Argus route below.
Keep Discovering