On

30 November 2016

In Blog
Tags
No Comments
Exploring the Cederberg: A hiker's guide
The Cederberg area of the Western Cape is a visual treat for anyone looking to get away and forget about the woes of city life for a while. The isolation of the area makes it a great place to lose oneself and become immersed in nature.
The Cederberg area is a mecca for hiking and nature lovers. The region is only a two-hour drive from Cape Town, making it an accessible weekend getaway for any city slicker living in the mother city. Here are 10 reasons why hiking through the Cederberg Mountains is a great idea.
If you don't have a way to get there, consider car hire Cape Town. If you intend on going to this majestic location from another city or town, you might want to have a look at car hire South Africa.
Cederberg hiking trails to explore
The Cederberg 100 Hiking Trail
The Cederberg 100 Hiking Trail image taken from South African Tourism – http://www.southafrica.net/za/en/articles/entry/article-cederberg-100-hiking-trail
The Cederberg 100 Hiking trail covers 100 km of territory from the Pakhuis Pass towards the north Driehoek Resort in the central Cederberg. The trails have quite a rugged terrain which entails a labyrinth of various hills going both up and down. Be prepared to get wet as some of the trails will be through waterways. This hike takes roughly seven days to complete.
Cederberg Odyssey Trail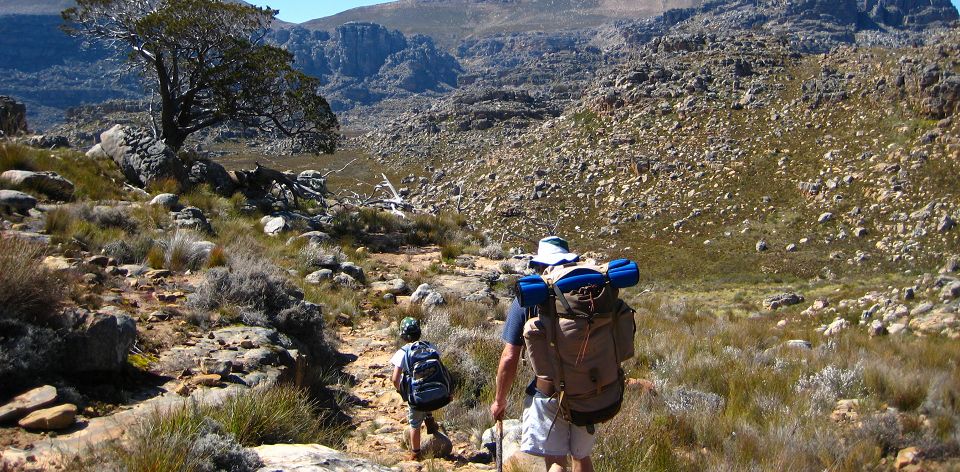 The Cederberg Odyssey Trail offers the best of hiking, biking and camping. Image taken from South African Tourism, http://www.southafrica.net/za/en/articles/entry/article-southafrica.net-cederberg-odyssey-trail
This trail is said to go on for over 600 km and is aptly titled a 'mega trail'. This breathtaking trail encompasses six mountain chains which are said to be as magnificent and immense as the USA's Appalachian Trail and Spain's Camino de Santiago. This amazing hike entitled 'The Cederberg Odyssey Trail' has a week-long component which offers thrill seekers a temperate cycling and walking expedition through some of the most visually pleasing mountains in the world.
Middelberg Waterfall walk
If you only have a day or two in the area and want to optimize your stay before you head back to the big city, the Middelberg Waterfall Walk is just the hike for you. It's only four kilometers and will take you roughly 3 to 4 hours to complete depending on the speed on which you'd like to hike. Its starts at the Algeria Campsite and has signs helping you along the way so you don't get lost. The hike ends with the reward of the site of a beautiful waterfall.
Things to see and do in the Cederberg
Gorgeous fauna and flora of the Cape Floral Kingdom
With 34 acknowledged biodiversity areas on the planet. It's a rare occurrence for one of them to exist within just one country and the Cedarburg has exactly this. The Cape Floral Kingdom by definition is the smallest of the Floral Kingdoms on earth. The Kingdom is divided into five different vegetation categories for which 2 of these are situated in Cederberg Conservancy notably Fynbos and Renosterveld (rhinoceros bush) this amazing vegetation can be found along the hiking trails of the Cederberg Mountains and is another undeniable reason for choosing this area for your next hike.
Khoisan rock paintings
If pursuing fine art is up your alley, this is a little different but still a cultural experience nevertheless. It's believed that the Cederberg Mountains and hiking trails has a heavier concentration of rock art than anyway else in South Africa.  It's stated that Southern African rock art has 28 000 year history with the shortest history of this fascinating paintings date back as far as 200 years. This is another reason why hiking these majestic mountain ranges is immediately on most hikers bucket list.
Great food after a long day walking in the mountains
Walking and hiking through the mountains makes one rather hungry, so naturally, hikers and explorers are going to be looking for some much needed sustenance after a full day's hike. The Cederberg mountain area boasts many towns, with great tea shops, café's and restaurants for all tastes.
Take a ride on a donkey cart and relive history
Transport yourself back to a time of the original modes of transport in the area 'the donkey cart' and experience this amazing area the same way locals and settlers would of many years ago. The Donkey Cart ride from the top of the Pakhuis Pass is extremely bumpy and is affected by rainfall, so check when you want to go to avoid disappointment. You can also take a three day trip if you wish.
Self-drive Clanwilliam to Wupperthal

Self-drive Clanwilliam to Wupperthal. Image taken from SA-Venues – http://www.sa-venues.com/things-to-do/westerncape/self-drive-clanwilliam-to-wupperthal/
This is considered to be one of the most scenic drives in the whole of the Cederberg area and also a well-deserved break from all the hiking you're going to be doing. The route goes along 3 awe-inspiring mountain ranges before you reach your final destination which is littered with majestic views, fauna and flora, rock painting sites and charming Western Cape towns with their obvious mountainside hospitality. Visit this site for more information.
Elim Moravian Mission Town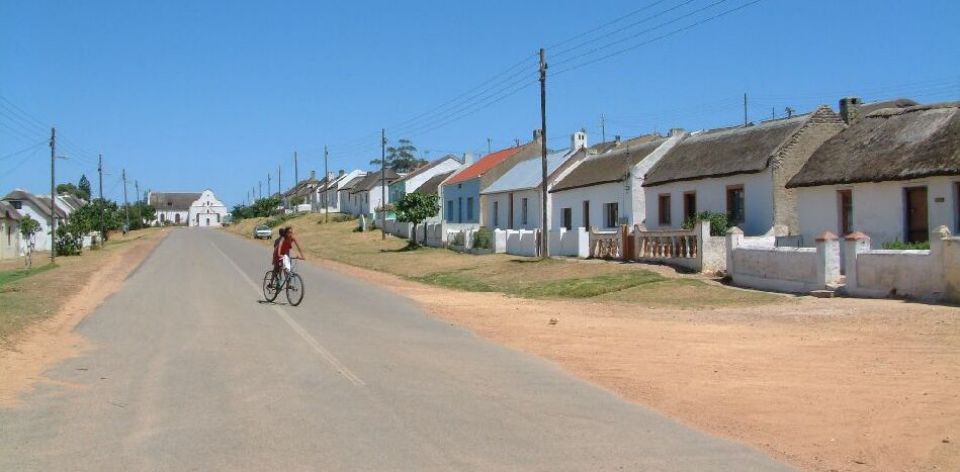 Elim Moravian Mission Town in Cederberg. Image taken from South African Tourism – http://www.southafrica.net/za/en/articles/entry/article-southafrica.net-elim-moravian-mission-town
So you've just finished a 100 km hike through various areas and landscapes soaking in every bit of local culture possible. A significant historical town in the same area is the Elim Moravian Mission town, which has a lot of rich history to add to your experience. It has links to the slave trade of South Africa and also has the first monument dedicated to this in the country.
If you want to explore some of the more remote areas, you might want to have a a look at the 4×4 hire option. These vehicles do not disappoint, especially when you want to see the top of mountain passes.