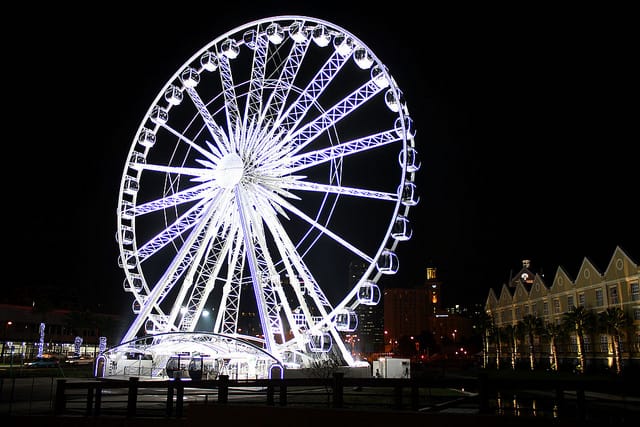 On

11 August 2011

In Blog
Tags
No Comments
South African 4x4 Hire Experience
South Africa has long been considered the gateway to Africa and the start of many great adventures, as well as the source of many famous tales. The African safari is still very much a part of the common tourism lexicon. It holds the romantic allure that your typical beach resort holiday does not. It is almost as if there is a deep colonial, collective consciousness through which people want to relive the stories told by the early colonialists of taming the great Dark Continent. There are many 4×4 trails that permeate the South African landscape, most, well organised and focused at the recreational 4×4 market. These however are boring and are often set in contrived locations with very little real scenic value.
Photo by: Nikolaus Wogan
There are however plenty of locations around South Africa that will require a 4×4 whether hired or owned to reach and truly enjoy. South Africa is well known for its game viewing and safari holidays, and unfortunately these are all too often taken with tour groups or guides that do all the driving. This, in my opinion, is a mistake, the rugged African landscape can only be truly enjoyed by driving it yourself in a proper 4×4 and when combined with the game viewing experience it is unforgettable.
When arriving from overseas most tourists visiting for a game viewing safari will land at Johannesburg airport, as this is the international airport closest to the well-known Kruger National Park and several other smaller, yet equally well stoked, game reserves. It is also the closest international airport to most of our northern neighbours.
It would be ideal to depart from Johannesburg in a hired 4×4 and head North towards Limpopo and the great Kruger National Park. The road directly there is fairly well travelled and for obvious reasons is in pretty good condition, however the surrounding area, in particular the countryside of Limpopo Province, is rugged and could provide some excellent exploration and 4×4 opportunities. Although hiring a 4×4 isn't entirely necessary when visiting the Kruger National Park it makes the experience more comfortable and can make game viewing more rewarding as you are slightly elevated.
Another area perhaps often forgotten about is the Eastern Cape and in particular the area of the Transkei, still largely undeveloped, it is famous for its often deserted beaches and lush vegetation. Some of the roads in the more rural areas are grossly undeveloped and provide some magnificent 4×4 adventure opportunities. The more off road equipped your car is the more accessible the beauty of the Trankei becomes. This area is more easily accessed from Cape Town or closer still is Port Elizabeth. Cape Town though, provides the only international airport, however both airports will provide 4×4 car hire and P.E is a short hop from either Cape Town or Johannesburg.
Leaving Cape Town provides one with the opportunity to experience a drive along the world famous Garden Route which stretches along the south coast into the very heart of the Transkei. Here the roads are not only badly maintained they are often strewn with furniture and blocked by cattle. In situations like these no type of 4×4 will help you through the situation, only patience and a good sense of humour.
Article by: Christopher Commerford
Planning a 4×4 trip and need to hire a 4×4 vehicle locally here are some popular options below;