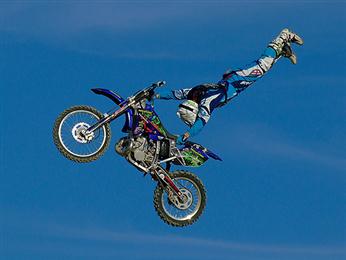 On

17 January 2011

In Blog
Tags
No Comments
Top 5 Action Adventures
Here are Drive South Africa's top 5 action adventure attractions for all you hardcore adrenalin junkies and extreme living travellers out there.
Bloukrans Bungee Titsikama
[Photo By Andrew Arnott]
The terrifying 216 m Bloukrans Bungee in Titsikamma is the highest commercial bungee in the world and still manages to make the arm hair of even seasoned jumpers stand on end. It also offers up spectacular views of the Titsikamma Forest, if you can keep your eyes open.
To book the world's most terrifying bungee visit the Face Adrenalin Page
Shark Cage Diving Gansbaai
[Photo By Andrew Arnott]
Getting up close and personal with gigantic teethbearing Great White Shark. Enough said!
If you want to book a dive you can visit the Shark Cage Diving Page.
Surfing Dungeons in Hout Bay
The monstrous waves of Dungeons in Hout Bay are the most epic drop-in waves to be found along South Africa's stunning coastline. With swells measuring up to 15 feet, the brutal power of the waves draws the world's best surfers in each year for the Red Bull Big Wave Africa Contest.
If you want to know more about dungeons we really dig the WannaSurf blog or check out this crazy video of the 2008 Red Bulll Big Wave Africa Contest.
White Water Rafting Kwa-Zulu Natal
The mammoth rapids and rugged rafting conditions of the mighty Thugela River in Kwa-Zulu Natal make it the perfect place to go white water rafting in South Africa. The River cuts through a gorgeous canyon and gorge producing rapid's with names like the Liquidiser and the Washing Machine.
Base Jumping off Soweto's Orlando Towers
[Photo by Orlando Towers]
Why not take in a panoramic view of Soweto whilst hurtling through the air at a ridiculous speed before coming crashing down to earth- this new version of extreme tourism captures eKasi tourism to a T.
To book a jump or find out more visit the Orlando Towers Page
Keep Discovering