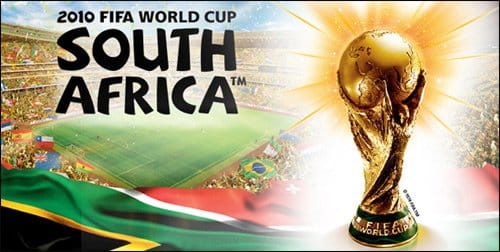 On

24 June 2010

In Blog
Tags
No Comments
World Cup Travel Packages to South Africa
WORLD CUP 2010 – SOUTH AFRICA
11 June – 11 July
Drive South Africa is proud to present our 2010 Soccer World Cup Hospitality packages to South Africa.
We invite you to review our various packages and contact us if you have any questions or would like to make a booking for yourself or your corporate travelers.
All of the World Cup travel packages include the following:
– 4 Star Accommodation in Johannesburg
– Breakfast Daily
– Return Airport / Hotel / Airport transfers
– Return transfers to the stadiums (as specified)
– Assistance of a representative
– Match tickets – Category 3.
First Round Package A: 10 – 15 June
From $3173 per person sharing
Includes the opening match (South Africa vs Mexico) and 1 group match from the list below.
From $2959 per person sharing
Includes 2 group matches from the list below:
– Argentina vs Nigeria
– England vs USA
– Algeria vs Slovenia
– Serbia vs Ghana
– Netherlands vs Denmark
First Round Package B: 16 – 21 June
From $2817 per person sharing
Includes 2 of the following group matches:
– France vs Mexico
– Argentina vs Korea
– Slovenia vs USA
– Ghana vs Austraia
– Cameroon vs Denmark
– Brazil vs Ivory Coast
First Round Package C: 22 June – 27 June
From $2817 per person sharing
Includes 2 of the following group matches:
– USA vs Algeria
– Ghana vs Germany
– Slovakia vs Italy
– Paraguay vs New Zealand
– Denmark vs Japan
– Chile vs Spain
Second Round Package: 28 June – 4 July
From $3185 per person sharing
Includes 1 Round 16 and 1 Quarter final match
– 1G vs 2H
– 1F vs 2E
– 1 vs 3 (A)
– 6 vs 8 (D)
World Cup Final Packages: 5 July – 12 July
From $4484 per person sharing
Final Match Only
From $5634 per person sharing
Durban Semi-Final & Final
From $6060 per person sharing
Cape Town Semi-Final & Final
Please note:
The group match packages are based on Category 3 tickets – situated higher up in the Stadiums. We can offer Category 1 and 2 tickets; however these are subject to availability.
Packages which include either the Cape Town or Durban semifinals, are inclusive of return flights for the day, on our national carrier – South African Airways.
Optional extras such as car hire and day-tour excursions can be arranged, where possible.
All packages are strictly subject to availability and fluctuations – as determined by the tour operators. We cannot be held responsible for any such changes made by the 3rd party suppliers, or match officials, to the itineraries and prices indicated above.
2010 FIFA World Cup South Africa.