Discover the region between Windhoek and Swakopmund
The fastest way from Windhoek to the coast is via the paved B2 highway to Swakopmund. Instead, head further south along the more direct but slower C28, which descends the long, steep Bosua Pass onto the grasslands of the northern Namib-Naukluft National Park. Once down on the Naukluft plains, there are options to detour into the beautiful Tinkas Flats. Pre-paid permits are required to leave the C28 and/or camp in the area.
Highlights between Windhoek and Swakopmund
The northern plains of the Namib-Naukluft National Park are known as the Tinkas Flats. They're a particularly striking stretch of golden grassland, criss-crossed with 4x4 tracks and dotted with low, quiver-tree-covered peaks and huge granite boulders. One such granite outcrop, at Blutkuppe, is the site of a lovely, unstaffed campsite. Further west you can detour along the D1991, through the ancient Welwitschia Plains and the aptly-named 'Moon Landscape'. The Swakop and Khan riverbeds can also be explored with a 4x4.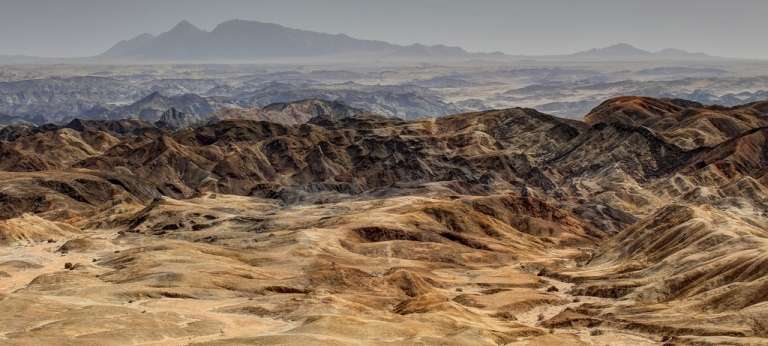 Practical advice for travelling to Swakopmund from Windhoek
The C28 is gravel, and the surrounding roads are best suited to high-clearance vehicles, but you won't need a 4x4 unless you hit Bosua Pass during a serious (and rare) downpour. It's only about four hours non-stop from Windhoek to Swakopmund, but it's worth spending a night or two at Blutkuppe, and there are other unstaffed campsites to the west and south. You'll need to get permits from the Ministry of Environment and Tourism (MET) to leave the C28 and to camp. Pick these up in Windhoek, Swakopmund or at one the main national park entrance gates, like Sossusvlei. You'll need a Dorob National Park permit (and a 4x4) to drive in the Swakop and Khan rivers. This can be obtained at the MET office in Swakopmund. There's no fuel or supplies anywhere on the C28 so take everything you need with you.