On

August 22 2012

In Uncategorised
Tags
10 Best Flickr photos of South Africa
Taking the time to see everything a country has to offer is almost impossible, especially when travelling in a big and diverse place like South Africa. Why not take a virtual tour by scrolling through some of the most breathtaking pictures on Flickr? Tell us which one is your favourite by commenting in the section below!
And if you're coming to see it for yourself have a look at our car hire South Africa options. You need to get there somehow.
1.  A typical South African sunrise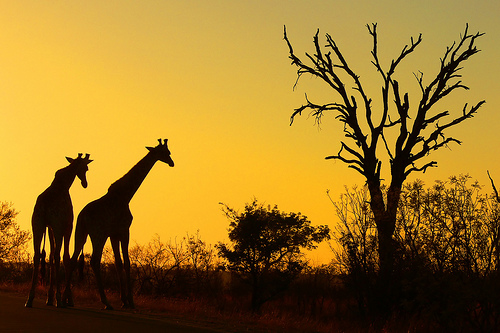 A beautiful sunset in South Africa. Photo by: Arno & Louise
Two giraffes standing against the early morning sky is a typical scene in Mpumalanga. Lying in the eastern region of South Africa, the province name translates literally as 'the place where the sun rises' in several African languages. Mpumalanga borders Swaziland, Mozambique, Limpopo and Gauteng as well as the Free State. The sharp contrast between its hot dry savannah regions and the colder Highveld, which often suffers from severe frost due to its altitude of 2300 metres above sea level, guarantee a wide range of wildlife.
2. You too could climb a mountain!
Table Mountain is one of the most iconic images of South Africa. Rising steeply at either end, the mountain features a plateau of approximately 2 miles long. Rising 1086 miles above sea level, Table Mountain can either be accessed via tough climbing routes or a gentle path which meanders through the Back Table before ascending to the summit. If neither path particularly tickles your fancy, a cable car can carry you to the top where you could enjoy a meal at the restaurant whilst gazing over the panorama of the city way below.
3. Even the king of the jungle enjoys a cuddle!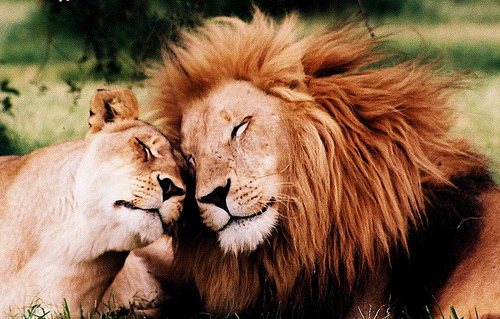 The king of the jungle enjoying a cuddle. Photo by: fanz        
The undisputed king of the jungle and the ruler of the savannah captured in the most unlikely of poses, gently snuggling up to his mate. Usually seen staring icily out from its throne of grassland, the lion is the most feared of African animals. Other than the stroppy elephant, this is the only animal able to stroll around its kingdom unchallenged. As a general rule prides are run by lionesses – mothers, daughters, sisters and aunts and their male counterparts don't stick around for more than three years. Lion and lionesses do not bond for life but clearly no-one has told this lovey-dovey pair!
4. A different kind of wedding ring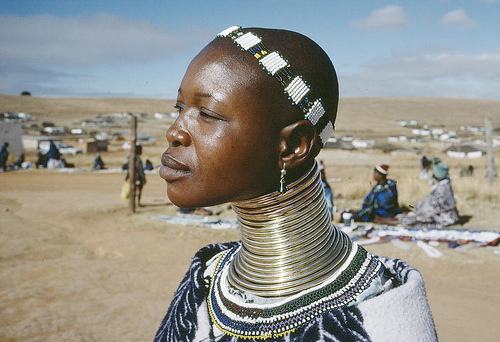 A Ndebele woman from a village near Pretoria. Photo by: United Nations Photo
The women of the Ndebele tribe from the village of Bronkhorstspruit, 50 km east of Pretoria, still wear the traditional neck rings, also known as dzilla. Girls as young as 12 can be seen proudly displaying their dzilla as a status symbol, as they are only permitted to be worn once married. The number of rings often correlates to wealth and social ranking. The Ndebele tribe are known for their brightly coloured houses, with walls decorated with poker straight geometric patterns, usually completed by women without the aid of rulers or other artistry tools.
 5. Sometimes no words are needed….
The beauty of the Pilanesberg National Park. Photo by: Ramy Alaa
Taken in the depth of the bush in the Pilanesberg Game Reserve, this photograph encapsulates the serenity and peace which can be found in South Africa and is definitely one of the best Flickr photos. Surrounded by breathtaking countryside, with a blanket of stars lighting up the night sky, it's difficult to feel anything other than deep relaxation.
6. Bus or beast – want to take a bet on the winner?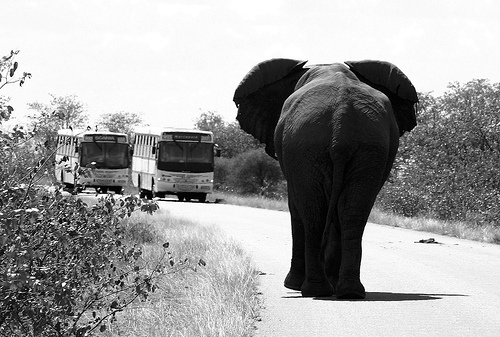 Elephant stroling along in one of South Africa's Game Parks. Photo by: Craig Sefton
In a South African national park, an elephant calmly strolls along the road, oblivious to the two school buses heading ever closer. Although this might sound like a recipe for disaster, local schools regularly take busloads of children into national parks to teach them about the animals in a bid to reduce future poaching. A few fun facts the children could be taught: an elephant can drink the equivalent of 230 cans of drink in one go and adult males eat enough food to equal 3 000 quarter-pounders every day.
7. A Drakensberg sunset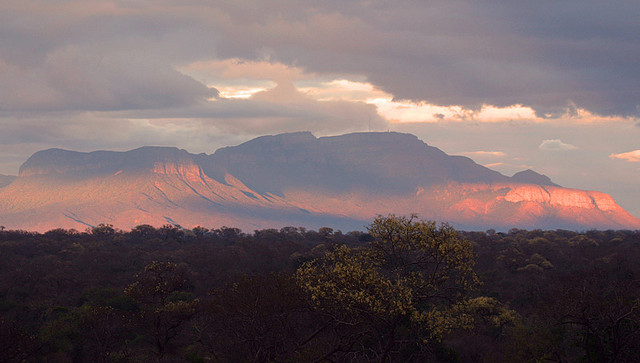 Drakensberg sunsets make for the best Flickr photos.  Photo by: Drive South Africa
The Drakensberg Mountains are described by many as one of the most beautiful parts in the world. The Northern and central Drakensberg areas brim with hiking trails and camping spots, making it any nature photographer's dream come true.
8. Where the horizon seems to never end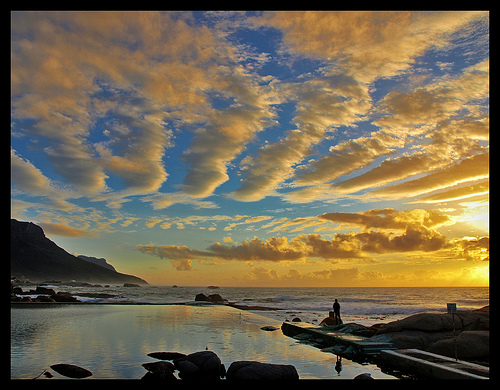 A Camps Bay sunset. Photo by: neilalderney123
A breathtaking sunset in Camps Bay, South Africa where the clouds seem to be lining up in stripes and the water and sky appear to stretch out forever. The long expanse of coastline around South Africa makes it possible to easily access the ocean from several of the provinces in the country and enjoy watching the sun slowly set over the horizon. Camps Bay is particularly renowned for its soft white sandy beaches and secluded bays which sit on the edge of a popular tourist resort. Camps Bay Beach, the main cove, was given Blue Flag status in 2008 whilst neighbouring Glen Beach and Lui Bay offer wrecks for diving and the best surfing along the coastline.
9. Half humans in the half light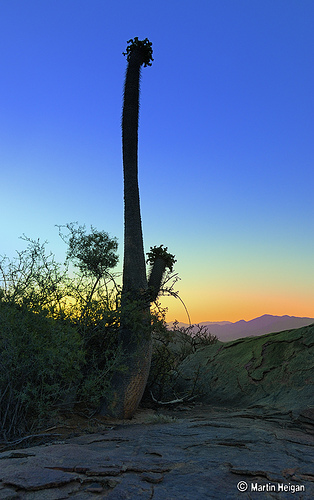 The Pachypodium namaquanum are often seen in the Kalahari Desert. Photo by: Martin Heigan
Pachypodium namaquanum, or Halfmens, as they are more commonly known in Africa, may look like a prehistoric dinosaur but in fact are giant plants which only growing at the rate of a few millimetres every year, take decades and decades to reach their majestic height. Halfmens – which translates as half humans – have a local myth attached to them. Legend says the plants are in fact Khoisan Bushmen who were driven out of the land of their ancestors, the Kalahari Desert. Many Bushmen were unable to tear their eyes away from their beloved country which had been invaded by rival tribes, and after turning to stare from whence they came were turned into plants. It is for this reason, that the crowns of the Halfmens always face the north, just waiting for the chance to return home.
10. South Africa's greatest asset… the people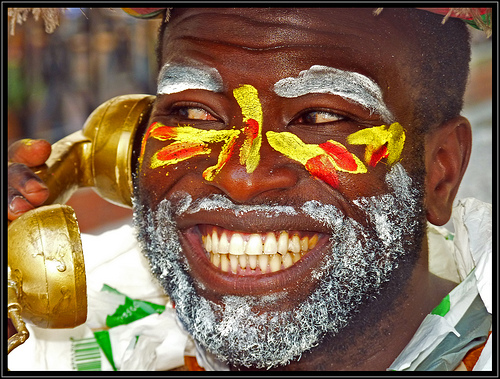 Our friendly people. Photo by: equiNoxe
South Africa is a country which has embraced modern living whilst refusing to release its grip on its roots. Never has this been more evident in the depiction of a South African man wearing traditional tribal war paint whilst holding a telephone in his hand. But perhaps the most eye-catching feature in the photo is the broad grin and sense of fun – something you will find whatever province you visit in South Africa.
That finishes the whistle-stop Flickr tour of South Africa. Whether you enjoyed the stark beauty of the countryside, the rugged scenery, the cultural heritage or simply the chance to take a peek at a land far away, you can be sure that these pictures are only half as stunning as seeing them for yourself….
"The 10 Best Flickr photos" is written by Samantha Wood who writes for Owners Direct. They offer a wide range of South African apartments and villas.
Travelling through South Africa
Public transport in South Africa is quite sparse, and most attractions are generally far from each other, therefore we recommend car rental in South Africa or a larger mini bus (for groups) when visiting. Your Uber bill might be a shock otherwise.