Best beaches in Cape Town
Cape Town has so many gorgeous beaches it would be impossible to put together a categorical list of them all, as different features appeal to different people. That said, here's our suggested list of what we'd consider being the best beaches in Cape Town. Of course, the only way to judge is to go and see them for yourself!
Seeing these beautiful places will however require some travelling. Consider car hire Cape Town if you need a set of wheels to get you to the beautiful beaches.
1. Boulders Beach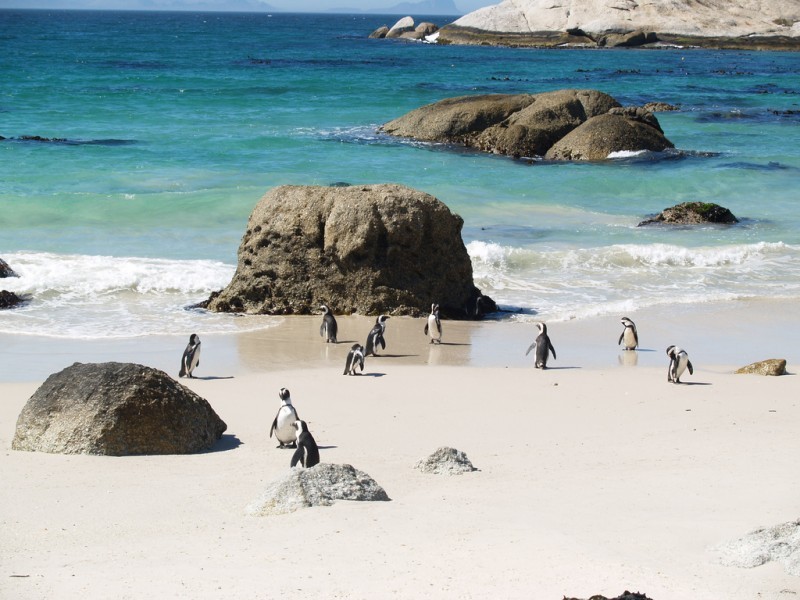 Above: Boulders Beach is the best beach in Cape Town to take your family to see the penguins. Photo by Jenni Kate Wallace.
There's one reason why 60 000 visitors a year go to Boulders Beach in Simon's Town, and that's to get a look at African penguins. Informally known as Jackass penguins, because their call sounds like a donkey's, these penguins belong to an endangered species.
However, the Boulders Coastal Park management has introduced artificial nesting boxes to encourage safer breeding, and visitors can view the penguins via the system of boardwalks that have been put in place, and then pick a spot on the beach to enjoy an afternoon of the sea, sun and waddling. There's also an information centre, managed by South African National Parks. So if you're looking for a place to view penguins with the family, Boulders Beach is the best beach in Cape Town to do it.
2. Platboombay, Cape Point Nature Reserve
If you love rock pools, then this beautiful, long beach will certainly earn its spot as one of the best beaches in Cape Town for you. Platboombay positively teams with bird life and would-be twitchers should easily spot, oystercatchers, avocets and sunbirds. The dunes behind the beach have amazing flowers including more than 300 types of Protea.
3. Hout Bay Beach
For a day out with the kids, Hout Bay is the ideal beach. Here the sea is safe for swimming, but you can also boogie board and paddle ski. There are boat rides to Seal Island, too. And for those people in the family who are more at home in the shops than on the beach, there is the 'Mariners Wharf' which has plenty of gift shops, restaurants and bars. It's one of the top beaches in Cape Town and a great place to eat seafood. If you're around in July, don't miss the Hout Bay annual Snoek Festival!
4. Noordhoek Beach
The widest beach in the Cape is this beautiful 8 km long curved bay. It's a stunning spread of white sand is calm and unspoilt. There's a huge amount of space here for horse riding and dog walking, which is exactly what all the residents of the area love to do here. Locals swear that it's not only one of the greatest beaches in Cape Town but in South Africa too.
Thanks to the Kakapo shipwreck which has been on the beach since it ran aground in 1900, Noordhoek Beach, Cape Town brings a dash of history and intrigue to this lovely beach setting.
5. Camps Bay Beach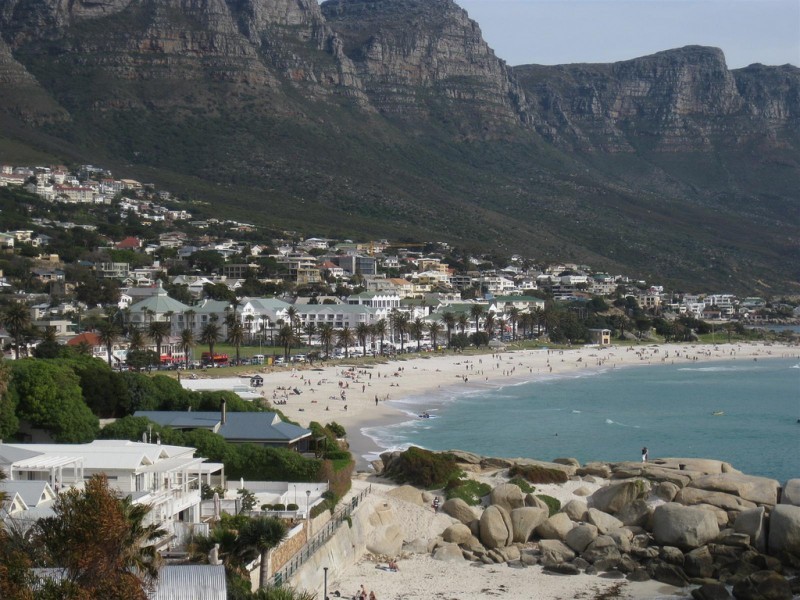 Above: Camps Bay Beach is in high demand. Arrive early to get a parking. Photo by Nickgraywfu.
This beach is great for a family day out. Its long, sandy beach is backed by a road that is full of shops and restaurants – great for buying buckets, spades and ice-creams. On the beach itself there are places to play volleyball, surf, windsurf and dive. Be warned, you need to get there early to get a parking spot. The demand for a spot on this beach doesn't lie – Camps Bay has one of the best beaches in Cape Town.
6. Clifton Beach
Clifton Beach is made up of four separate sandy white beaches and draws beautiful people, many of whom arrive on their cruising yachts. It's a great spot for people watching and the swimming is safe here, although be aware that there's quite a strong undercurrent in places. Lots of paragliders take off from the mountain nearby, Lion's Head, and land at the Maiden's Cove end of the beach at Clifton.
7. Llandudno Beach
A great place to watch the sun go down is the beach of Llandudno, 20 km south of Cape Town. You won't find any shops here, just a set of rather exclusive houses behind the beach, so make sure you bring a picnic. It's a great place for surfing.
8. Sandy Bay Beach
For those of you who enjoy an all-over tan, Sandy Bay is the unofficial nudist beach of Cape Town. Relative privacy is ensured by the fact that the beach is backed with steep sand dunes and is only accessible by a 20-minute walk from the car park. Alternatively, you can park up at Llandudno and climb over the rocks to Sandy Bay.
9. Fish Hoek Beach
Situated on False Bay, Fish Hoek is one of the top beaches in Cape Town for safe swimming in the Cape. It's a great place for kids and at one end of the beach, there's also a children's playground and café. At the other end of the beach, there are more room and fewer people, and you'll find the boogie boarders and dog walkers down here. Behind the beach of Fish Hoek is a great little town with shops and restaurants.
10. Blouberg Beach
Big Bay and Little Bay at Blouberg give you access to a great view of Table Mountain. Roughly 20 km north of Cape Town, these beaches are great places for kitesurfing and windsurfing, thanks to the strong south easterly winds. It's also a fab place to fly a kite.
There's no doubt that Cape Town offers the best of all worlds when it comes to beaches. There's a beach here for every type of beach-goer, whether you like the windswept wilderness feel or more of the seaside town beach where you can build sandcastles and eat ice cream. Make sure you spend some of your time in the Mother City seeing at least a couple of the best beaches in Cape Town. So start saving, book those airline tickets and head over to Cape Town for a beach experience of a lifetime.
To better help you plan your holiday by the sea, browse through a variety of accommodation in Cape Town, car hire in Cape Town, and scope out what other great things to do in Cape Town there are.
If you plan on going on an adventure to this majestic location from another part of the country, you might want to use a smaller vehicle to get there first. Car rental South Africa would be a great place to start looking for the best wheels to get you there.
If you are looking to go on an adventure in the area, you might want to look into having some wheels to get around. Car hire Cape Town would be the best place to start looking.
---
Author bio
Lorena Benchis is an amateur photographer with a passion for travelling. She works as a freelancer for websites that provide package holidays which allows her to travel more than your average Joe. Her aim is to give readers the latest travel tips and reviews of the best travel destinations.
If you need to hire a specific vehicle during your trip to Cape Town then here are some options below;
Car hire cape town
Car hire cape town airport
Luxury car hire cape town
Wedding car hire cape town
Cheap car hire cape town
Related Posts