Great Riverside Locations for a Holiday In South Africa
South Africa is a splendid destination for riverside holidays, offering a diverse range of experiences and accommodations to cater to different tastes and budgets. These diverse destinations ensure an equally diverse range of activities, and a wealth of wildlife encounters and sightings, as well as the wonderfully scenic locations, add to the magic. 
South Africa's river locations also offer unique cultural experiences, access to spas and gyms, excellent cuisine and wines, and a warm and welcoming atmosphere. The rich diversity of activities, scenic beauty, and excellent accommodation options make South Africa's riverside locations a compelling choice for your next holiday.
Here are some of these great riverside destinations:
1 – Drakensberg and Tugela River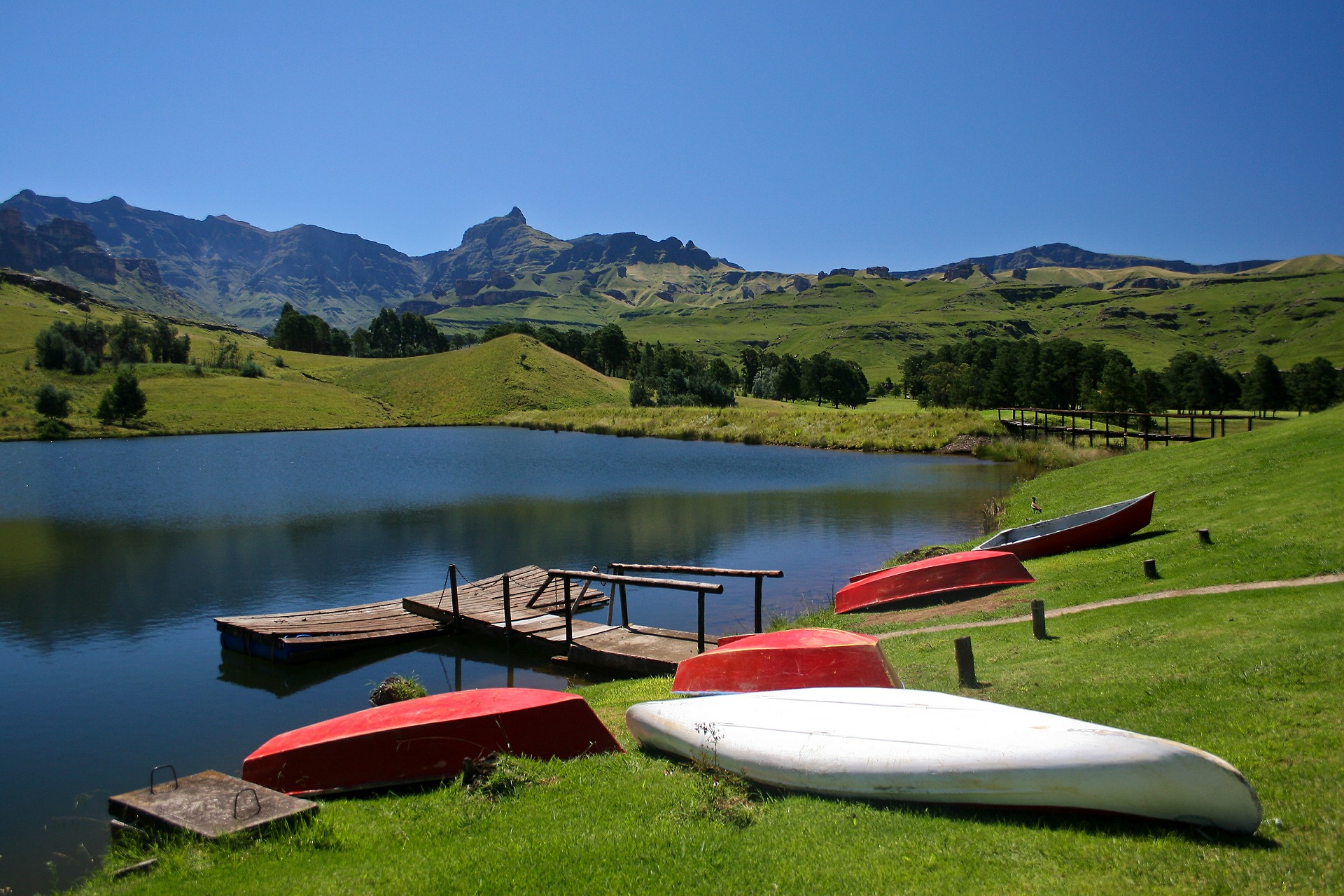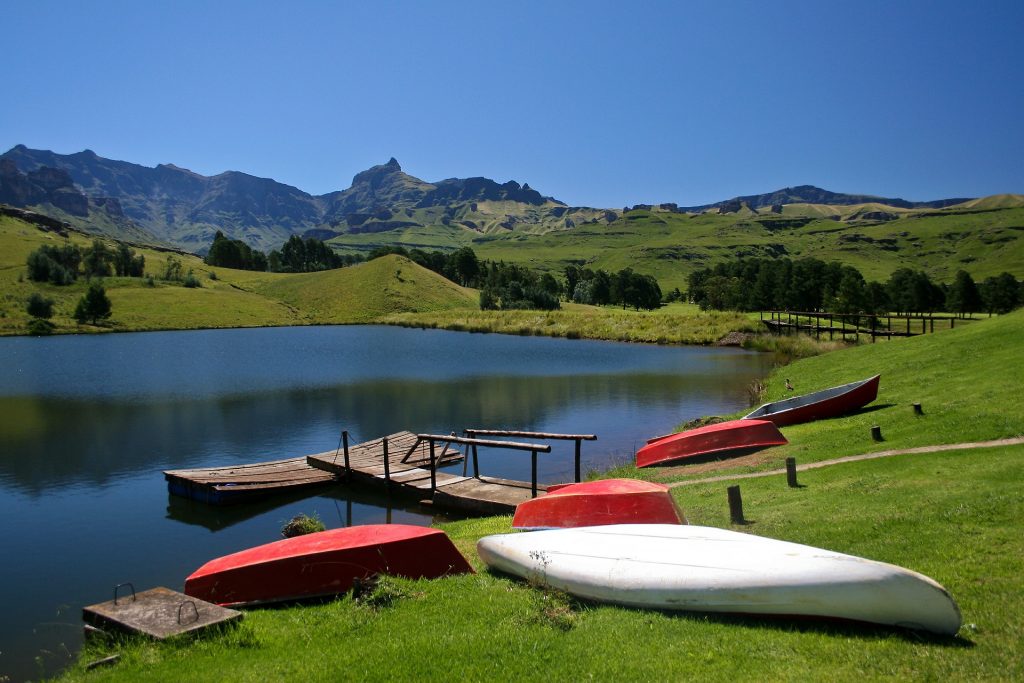 South Africa's Drakensberg and the Tugela River and its surroundings offer breathtaking landscapes and great opportunities for recreation. Here's a brief overview of some of the best spots available:
Royal Natal National Park: Home to the majestic Tugela Falls, the park's riverside landscapes and features like Sentinel Peak attract hikers, nature enthusiasts and birders alike.

 

Thendele Camp: Situated inside Royal Natal, this camp offers stunning views of the Tugela Gorge and offers a tranquil riverside setting.

 

Drakensberg Sun Resort: Located near the Tugela River, this resort is perfect for relaxation and exploration.

 

Rugged Glen Nature Reserve: Situated alongside the Tugela River, this spot is ideal for birdwatching, fishing, and appreciating nature.

 

Spioenkop Dam Nature Reserve: Showcasing riverside scenes along Tugela tributaries, it's favoured for fishing, boating, and birdwatching.

 

Cathedral Peak Hotel: Although not on the Tugela River, this mountain resort overlooks breathtaking views.

 

Champagne Castle Hotel: Situated in the Drakensberg range, this hotel offers panoramic vistas and serves as a base for exploring the region.
Whether seeking adventure or tranquility, these locations provide something for everyone in the stunning Tugela River area.
2 – Kruger National Park and the Sabi River
The Kruger National Park and the Sabi River are renowned for their breathtaking riverside locations. The Kruger National Park is world-renowned for its diverse wildlife and diverse biomes. Several rivers, including the Sabi, Crocodile, and Letaba Rivers, flow through the park. Many camps and lodges are strategically placed alongside these rivers, allowing guests to savour stunning views and great wildlife sightings.
These are some of the riverside locations in the Kruger:
Lower Sabie Rest Camp: Positioned by the Sabi River, known for excellent game viewing.

 

Skukuza Rest Camp: Located on the Sabi River's banks, this is the park's largest rest camp.

 

Olifants Rest Camp: Offers panoramic views of the Olifants River and is famous for sunsets.

 

Sabi River: Flowing through the Kruger's southern part, the Sabi marks the its southern border and is lined with luxurious lodges, combining comfort with close proximity to wildlife.

 
Here are some of the well-known private game reserves located along the Sabi River:
Sabi Sands Game Reserve: Famous for exceptional game viewing, particularly leopard sightings, with superb lodges along the river.

 

Manyeleti Game Reserve: Known for its peaceful atmosphere and intimate wildlife experiences.
Both the Kruger National Park and the Sabi River region provide unforgettable opportunities to connect with nature in stunning riverside settings. 
3 – Blyde River Canyon and Blyde River
The Blyde River Canyon in Mpumalanga, South Africa, is renowned for spectacular scenery. Several notable riverside locations provide breathtaking views and diverse outdoor activities on the well-known Panorama Route. Hiking, horse riding, white-water rafting, hot-air ballooning, fly-fishing, biking, and boating on the Blyde Dam are all on offer. Here are some notable locations in the area:
Bourke's Luck Potholes: Famous rock pools and cylindrical potholes carved by the Treur River, offering a unique riverside experience.

 

Three Rondavels: Towering rock formations overlooking the canyon, with viewpoints of the Blyde River below.

 

God's Window: A vantage point providing incredible views.

 

Berlin Falls: A picturesque waterfall

 

Swadini Dam: Also known as the Blydepoort Dam, the dam is fed the Blyde River. It's ideal for water-based activities like boating, skiing and fishing.

 

Forever Resorts Blyde Canyon: This resort in the Blyde River Canyon Nature Reserve has breathtaking views and is close to the river.

 

Blyderivierspoort Hiking Trail: A multi-day hike through incredible scenery including rivers and waterfalls. 
4 – Breede River Valley
The Breede River Valley in South Africa is renowned for its beautiful landscapes and charming towns. It has many beautiful riverside locations with excellent accommodations and facilities: 
Robertson: The valley's heart, surrounded by vineyards and orchards, ideal for wine tasting and river views.

 

Montagu: Known for its hot springs and the Keisie River, offering hiking and bird watching opportunities.

 

Worcester: A historical town on the Breede River banks, surrounded by mountains and vineyards.

 

Bonnievale: Known for its dairy farms, wine estates, and leisurely boat rides, this town enjoys a peaceful location on the river.

 

Rawsonville: A quiet, relaxed town on the river's northern banks, surrounded by vineyards.

 

Breedekloof Wine Valley: Renowned wine-producing region with stunning river views.

 

Goudini Spa: Famous for hot mineral springs, Goudinin offers various activities and accommodation options.
5 – Orange River
The Orange River is South Africa's longest river. It boasts many stunning riverside locations, beautiful landscapes, and a plethora of outdoor activities. Notable spots along this mighty river include:
Augrabies Falls National Park: Known for one of South Africa's biggest waterfalls, it offers hiking, game drives, and river rafting.

Orange River Wine Route: Famous for vineyards and wineries in towns like Upington and Kakamas, providing serene river views and wine tasting.

Vioolsdrift: A small border town and popular starting point for rafting and canoeing, surrounded by stunning desert landscapes.
Richtersveld Transfrontier Park: A UNESCO World Heritage Site known for unique desert flora, rock formations, and opportunities for 4×4 adventures, hiking, and kayaking.

Alexander Bay: A coastal town near the river mouth, known for diamond mining history and scenic coastal views.

Namaqua National Park: Famous world-wide for mind-blowing wildflower shows in spring. 
6 – Umngazi River Mouth, Wild Coast
The Umngazi River Mouth area on South Africa's Wild Coast is famed for superb scenery and tranquil riverside spots. Visitors can enjoy boating, fishing, kayaking, canoeing, paddleboarding, hiking, birdwatching and nature walks. Highlights in the region include:
Umngazi River Bungalows & Spa: A luxurious resort at the river mouth, ideal for relaxation and outdoor activities.

Umngazi River Cabanas: Secluded self-catering cabins for fishing, kayaking, and exploring the mangroves.

Island Rock: A tidal island accessible by a suspension bridge, popular for picnicking and birdwatching.

Hluleka Nature Reserve: Nearby reserve offering coastal views, camping facilities, and hiking trails.

Coffee Bay: Known for its picturesque rivers, cliffs, and beaches, this village embodies the laid-back Wild Coast vibe!
7 – Storms River Mouth, Tsitsikamma National Park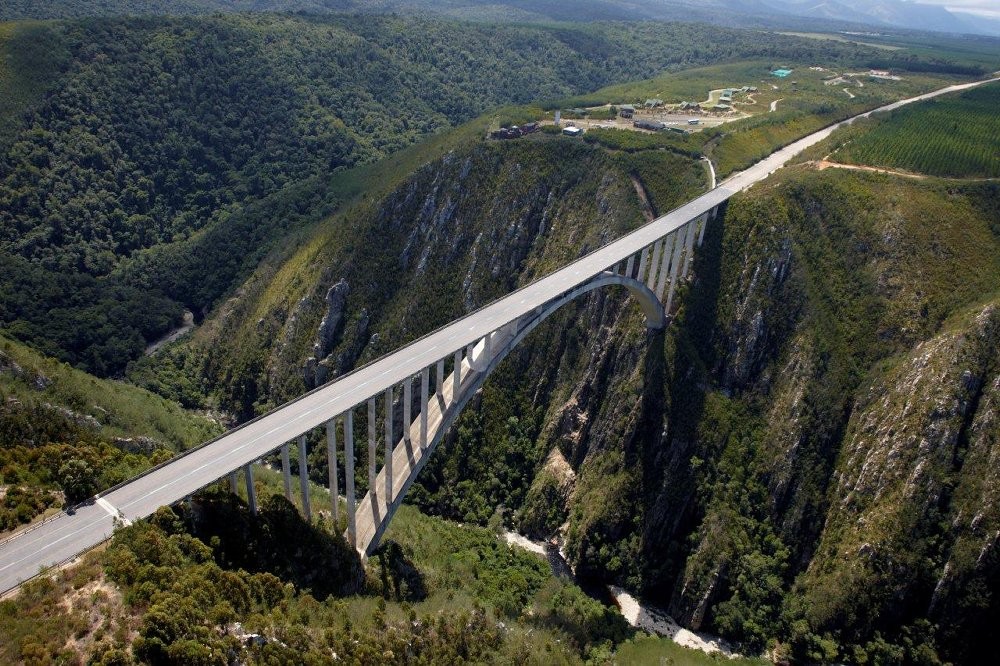 The Storms River Mouth area in Tsitsikamma National Park is famed for its dramatic coastal scenery, excellent exploration spots, and numerous activites:
Storms River Mouth Suspension Bridge: Iconic bridge over the river mouth, providing spectacular views of the coast.

Storms River Mouth Trail: A scenic walk along the river, surrounded by cliffs and lush landscapes.

Kayaking and Boat Tours: Unique opportunities to see the landscape from the river itself.

Lookout Points: Panoramic vistas that capture the meeting of river and ocean.

Waterfall Trail: A forest hike leading to a beautiful waterfall.

Bloukrans Bridge: Famous for offering the world's highest bungee jump!
9 – Dullstroom
Located at 2100m above sea level, the village of Dullstroom is known for its scenic highveld countryside, tranquil riverside spots and particularly its trout fishing. Many fly-fishing enthusiasts flock here, and because of its altitude, it's also become a sought-after training base for European athletes. Here are some of Dullstroom's key locations:
Dullstroom Dam: Offers riverside scenery, picnic areas, and walking trails for relaxation.

Highland Gate Golf and Trout Estate: A golfing spot with a river providing a beautiful backdrop.

Mystic River Resort: Situated on the Crocodile River, it's perfect for unwinding.

Millstream Farm: Charming riverside cottages with great fishing and birdwatching opportunities.

Walkersons Hotel and Spa: A luxury hotel near a river, ideal for leisurely walks and views.

Dunkeld Country Estate: Offers picturesque riverside activities and relaxation.
10 – Plettenberg Bay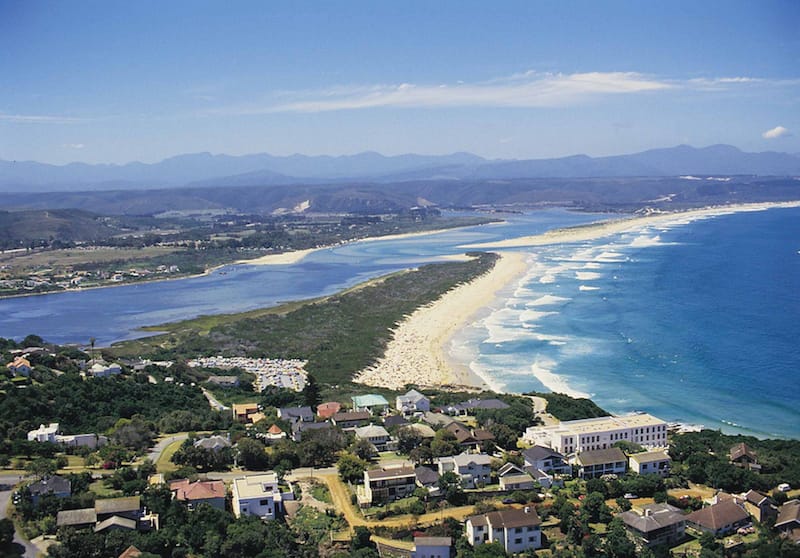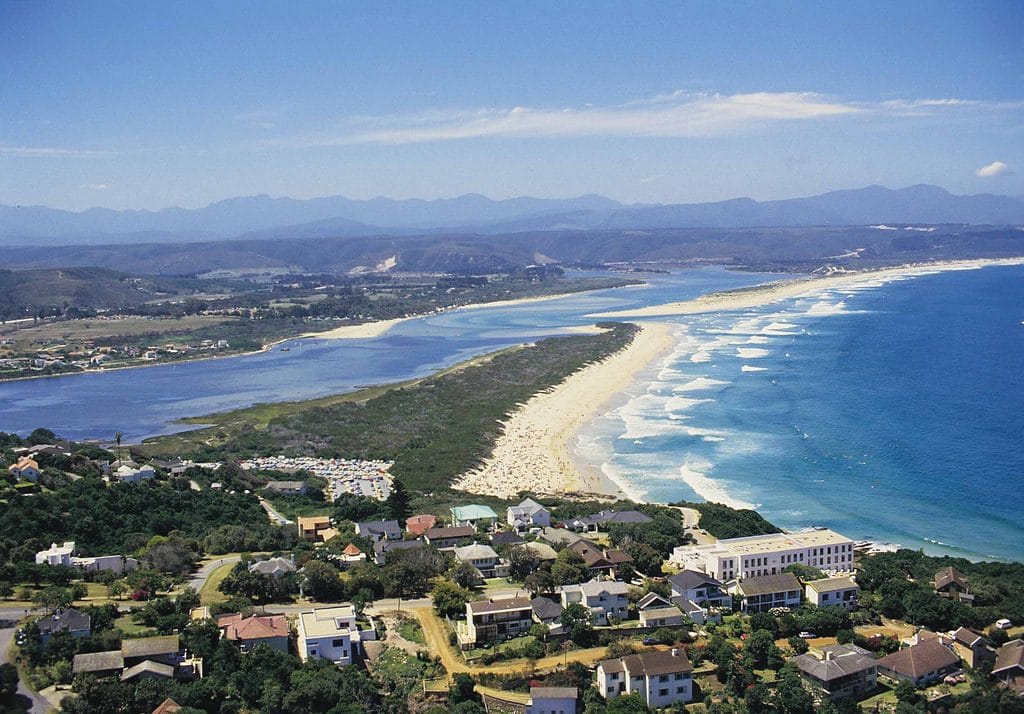 Plettenberg Bay, located in South Africa's Western Cape, is renowned for its stunning beaches and riverside spots. This coastal town lies on the Keurbooms River, so kayaking, canoeing, and other water-based activities are plentiful. It also offers excellent birdwatching and is a great base from which to explore South Africa's renowned Garden Route. Here's a quick guide to some of the area's best riverside locations:
Keurbooms River: Explore by canoe or kayak, enjoy birdwatching, or take a relaxing boat cruise.

Bitou River: Known for parks, picnic areas, and walking trails, it's perfect for a leisurely stroll or picnic.

Nature's Valley: The Groot River offers hiking, swimming, and beautiful scenery.

The Dunes Beach: Located where the Keurbooms River meets the ocean, this estuary is great for picnics and beach activities.

Keurbooms Lagoon: Connected to the river, it's ideal for boating, fishing, and kayaking.
With so many stunning options available, we're well aware it might be difficult to choose where to go! However, whichever great riverside location you choose for your next holiday in South Africa, Drive South Africa has the perfect 4×4 hire or camper vehicle for your journey!
Related Posts