Public Parks in Johannesburg - Drive South Africa
Johannesburg may be the biggest urban area in South Africa and a sprawling concrete jungle where money and status rule. This doesn't mean that this urban environment isn't coexisting within another reality altogether and that reality is nature. Attributed for having the biggest man-made forest on the planet and a world of parks and nature reserves within the city it really is a surprisingly great destination for nature lovers to reside even though it might not seem that way from at first glance. Here are 5 natural environments, parks and reserves to visit on your next trip to the city of gold. Since Johannesburg is such a big city if you are visiting for a day or two car hire Johannesburg is optimal.
Emmarentia Dam at the Johannesburg Botanical Gardens
This picturesque location is situated only 6km from the Johannesburg's bustling city and one will definitely feel as if they have been transported way further to a place far away from city sounds and sites. This is definitely a favourable weekend hideout and what's great about the location is the picturesque Johannesburg Botanical Gardens which is great for anyone just wanting to catch some shade or have a relaxing weekend picnic. The venue also hosts concerts occasionally.
Zoo Lake
The area around Zoo Lake is always a hub of activity from the annual Jazz on the Lake and Carols by Candlelight events not to mention a monthly space in which artists can showcase their work and talents in an initiative titled 'Artists under the Sun open air art exhibition'. The Zoo Lake Sports Club is also a popular facility for those wanting to have a drink or meal in a picturesque setting. The club is open to the public and every now and then they host live music and events. Visit their website for more information.
Walter Sisulu National Botanical Garden
This award winning Botanical Gardens situated a short 30km drive from Johannesburg has been voted the best place to get back to nature within an urban environment for the past 9 years in a row.  The location was a prime destination for outings from as early as the 1800's; however it was only declared a botanical garden in the year 1982. The area has over 600 species of plants and is also a breeding ground for the iconic Verreaux's Eagles who have nests on the cliffs by the majestic waterfall on the grounds.
Melville Koppies Nature Reserve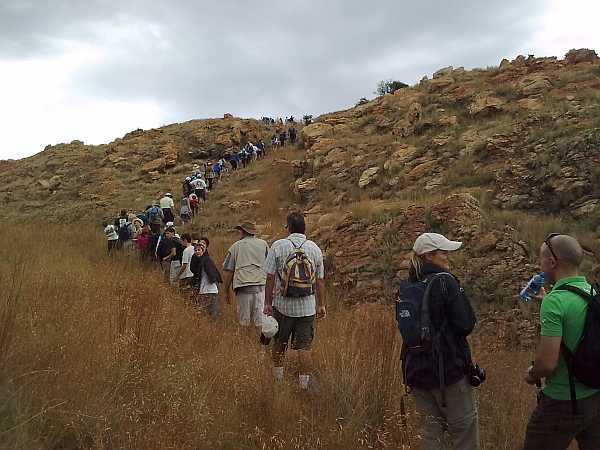 Melville Koppies Nature Reserve in Johannesburg. Image was taken from this link – http://www.mk.org.za/mkhist2.htm Not just a nature reserve but a heritage site for the city of Johannesburg makes this a must visit location for anyone looking to escape even just for a few hours. It's also believed that the geology of the area dates back as far as 3 billion years. Another incredibly unique aspect about this location is that the flora is entirely indigenous to South Africa it's also stated that this location has pretty much looked almost exactly the same for literally hundreds of years.
Rhodes Park
This is another Johannesburg public park which has a long and illustrious history for the people of greater Johannesburg. Situated in the suburb of Kensington this well-known public area has  other facilities on the premises including a library, tennis courts, football fields, an Amphitheatre which holds events and a bowling club. It's also deemed to be a keen picnic area for anyone wishing to escape the hustle and bustle of the city for a while.  Visit their website for more information. Admission to the park is free.
If you plan on starting your journey from another location, you might want to have a look at
car rental South Africa
for the best options to get you to these amazing locations.
Related Posts