This popular seaside suburb of Cape Town has been rising in prominence for years as a great place to get the best of city living as well as closeness to the picturesque scene of the Atlantic Ocean.
Not quite as upmarket as Clifton or Camps Bay, Sea Point has retained its humble charm with an eclectic mix of locals, visitors and tourists. It's an area which is popular for being beautiful, affordable, eclectic and safe. Here is a rough guide for your next visit to this Cape Town suburb.
Places to stay
Atlantic Affair Boutique Hotel
Jul 10, 2016 at 3:08am PDT
This popular Sea Point Boutique Hotel entitled Atlantic Affair is geared around the restless traveller who wishes to stick to his own schedule so he or she can really make the most of their Cape Town and Sea Point experience. This is a boutique hotel geared around those wishing to not be restricted by rigid hotel mealtimes whilst still getting all the luxury you have come to expect from hotels around the world. Go out there and explore all this wonderful area has to offer on your own time. For more information visit their website.
Olaf's Guest House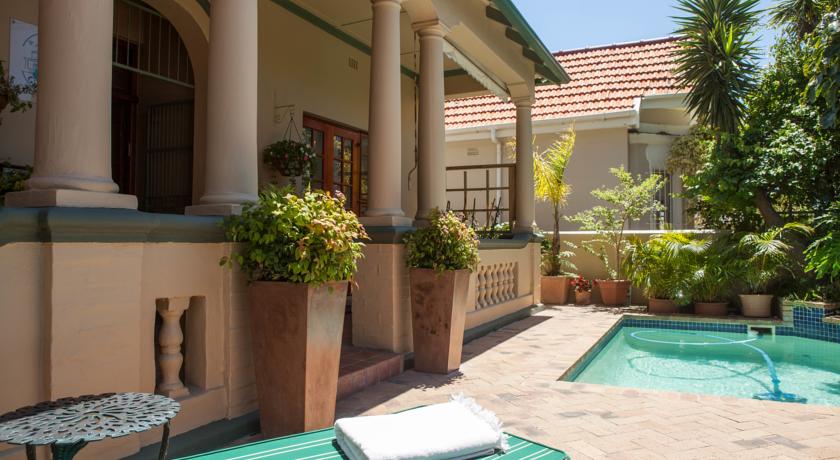 Olaf's Guest House in Sea Point. The image was taken by Booking.com – http://bit.ly/2fAiuUj
Another great aspect about being situated in Sea Point is it really is only ten minutes from the centre of Cape Town. This coupled with beautiful ocean views, Olaf's guest house is as good as any destination to base oneself if you desire to experience the ocean as well as the city in one easily accessible package. This four-star guest house is also within close proximity to many of the world-class eateries, cafes and shops in the area. Visit their website for more information.
Sweet Orange Guesthouse
This Victorian style building located in the heart of Sea Point has a long history dating back to the 1900s. Today it stands as a captivatingly charming guest house for those looking to be right in the action of the mother city but also in the midst of tranquil nature and serenity. Each room in this establishment has en-suite bathrooms as well as being fully furnished including a television a mini safe and hairdryers. Visit their website for more information.
Places to eat
Kleinskys Delicatessen
This is a restaurant for the bagel and American deli lover out there and was the brainchild of a team of brothers Adam & Joel Klein in hope of creating a little slice of New York in the heart of Sea Point. It would seem that they have a menu which has kept people coming back and kept people raving. No trip to this seaside Cape Town suburb is complete without a stop at Kleinskys Delicatessen. Visit their website for more information.
La Boheme
Come eat, drink and be merry at this exquisite bistro which prides itself in quality service and food at affordable prices. This is precisely why Sea Point is a great place in which to base yourself when visiting the mother city. This location also prides itself in being one of the only if not the only dedicated wine bars in Sea Point. Another great reason to come in and stay a while. What's also nice about this venue is there are options to sit either inside or outside. Visit their website to make a reservation.
Nü
This is one for those looking for a hearty alternative to the usual gastronomical food and drink of most eating establishments around Sea Point or Cape Town. The establishment proudly promotes a healthier lifestyle and most of the ingredients are free from colourants, hormones, GMO and MSG. Visit their website for more information.
Things to do
The Blue Train Park
This fun-filled family oriented park has been providing the residents of Mouille Point and Sea Point a great day out for the past 55 years and today it also boasts an outdoor mini ice rink the first of its kind for the city of Cape Town. The location is also connected to Rotary Club which is involved with many charity initiatives both locally and internationally.  So your support for The Blue Train Park is greatly appreciated and goes to a worthwhile cause. The area also boasts splendid views of The Atlantic Ocean, Lions Head, Signal Hill and Table Mountain. Visit their website for more information. Not quite in Sea Point itself, however, it's a short drive, one can hire car in Cape Town if you are visiting and wish to see as much as possible in your time allocated.
Take a walk on the promenade
This definitely is one of the most iconic city beach locations not just in Cape Town or South Africa but also the world. When the weather is good many people can be seen enjoying this iconic part of the mother city. Its close proximity to the water's edge makes it a great place for various beach side activities such as running, walking, watching the sunrise or sunset or even going surfing. There are also many different people of all walks of life; this gives the area a strong sense of community and character.
Retro Putt Putt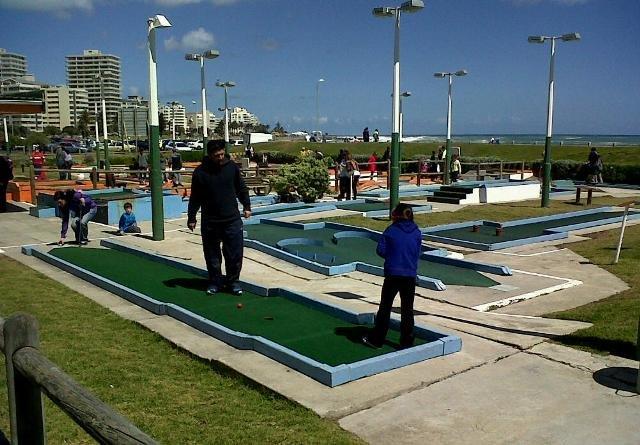 Put Put in Sea Point. The image was taken by City Sightseeing South Africa – http://bit.ly/2fMXInz
Everyone loves a good old fashioned game of Putt Putt and this Putt Putt course situated in Mouille Point which is within walking distance to Sea Point is no different. This really is a fun and affordable way to spend a day and it really is geared around family and friends so make sure you give it a go next time if you find yourself in the Atlantic seaboard area. Visit their Facebook page for more information.