Around 7 Continents - An Epic Cycling Adventure
Two South Africans will cycle 85 000 km, across seven continents, through seventy countries in five years. It all began in January 2013 when De Bruyn Joubert approached Ulrich Walters and suggested they take on the world. Literally! 
The two of them squeezed in an interview with us before they leave South Africa on September 1, 2013, to embark on the adventure on a lifetime.
We all would love to go on such a trip, but sometimes we don't have the time or are physically not able to cycle around the world. Don't be discouraged though, you can always visit car hire South Africa to fit in those weekend breakaways to beautiful places in South Africa.

Above: The cycle route for Around 7 Continents
---
Around 7 Continents Inspiration
---
Bianca: What was the inspiration behind Around 7 Continents?
De Bruyn: Cycling through Africa has always been one of the highest items on both of our bucket lists. When we started to plan our cycle through Africa, we always had the idea that we wanted to do something extraordinary. As we were planning to cycle through Africa, the route just became longer as we constantly added countries to make the adventure more unique. We ended up with something no one has done to date – to continuously cycle across all 7 continents, unaided.
Bianca: How long have you both been cycling for?
De Bruyn: Both of us have been cycling from a very early age. Neither of us have been professional cyclists though. We completed our first Cape Argus Cycle Tour at ages fifteen and sixteen.
Bianca: What leg of Around 7 Continents are you most looking forward to and why?
De Bruyn: Antarctica – just to set foot on the most remote continent and experience the atmosphere of what is happening there. Another reason is to cycle across Antarctica and do something that no one has done before.
Ulrich: Middle East – as a photographer, I am looking forward to doing documentary photography and videography in this part of the world with everything that's taking place there at the moment. I want to show people things about that part of the world that they don't see and hear about everyday.
---
Why Around 7 Continents?
---
Bianca: De Bruyn, you've been a very successful entrepreneur, so why give that all up for Around 7 Continents?
De Bruyn: I have been an entrepreneur from an early age and have always had a huge passion for business in general.  In the last two years I got stuck and caught up in the normal 8-5 and everything started to revolve around my work. I just realised that I'm still young and that there are still so many things out there that I want to do and achieve before I get older. That was when I decided to take on this epic adventure.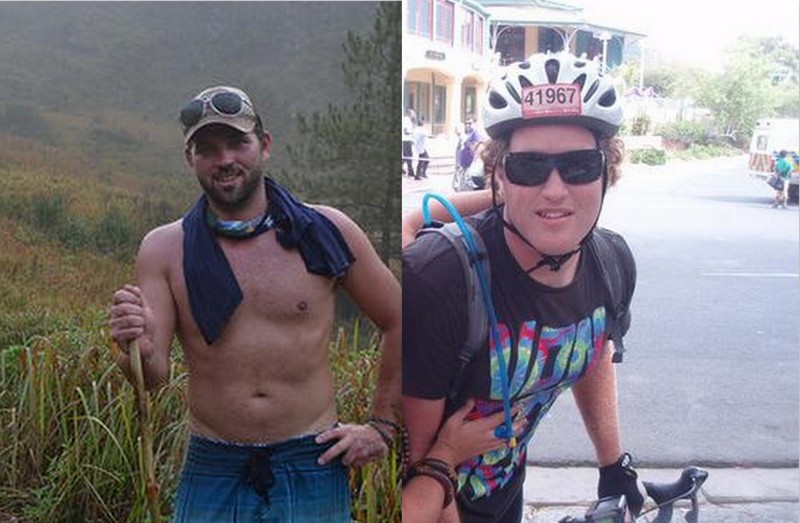 Above: De Bruyn Joubert (left) and Ulrich Walters (Right)
Bianca: Ulrich, you'll get the chance to pursue your dream of photojournalism. Will you regularly update your community on your progress?
Ulrich: One of the main reasons that I'm doing the trip is to show people things in other countries that they don't normally see on TV. I will take photos and videos during the five-year adventure and will share it on my blog and on Around 7 Continents' social media platforms. The people that follow us will get a great perspective of the countries we will be cycling through and be up-to-date with where we are, what we are doing and where we will go to next.
---
How? Sponsors?
---
Bianca: How are you guys paying for this cycling adventure of a lifetime? Do you have sponsors?
De Bruyn: Personal savings and sponsorships. We will be living on a very low budget during our adventure and will take on some of the cash challenges as we go.
We currently have the following sponsors: Canon, LKLM Bicycles, Servsol Software Solutions, Cape Union Mart, Buff, Adventure Inc., Park Cycles, Awesome Tools and two cash sponsors.
---
Tracking the Around 7 Continents Journey
---
Bianca: When and where does your epic journey begin?
De Bruyn: Around 7 Continents kicks off September 1, 2013, in Sydney where we will take on our first continent by cycling to Perth in Western Australia.
Bianca: Tell us more about the charity aspect of Around 7 Continents
De Bruyn: We will be cycling for the No Food for Lazy Man trust.  We encourage companies and individuals to contact us and become a part of the adventure by donating money to this great cause.  Anyone can help, even if it's just donating R100 towards the charity. We would really like to raise as much money as we possibly can for No Food for Lazy Man.
If you want to find out more, visit the Around 7 Continents website. For those of you who want to follow them along their journey, join the Around 7 Continents community on Facebook, Twitter and follow De Bruyn and Ulrich on Instagram.
We wish Ulrich and De Bryn all the best. If you want to travel South Africa in a little more style, consider car hire. You can visit all the location they are visiting and more!