Rolling through the Garden Route and Wild Coast
"Where did you say you come from? In this strange vehicle with strange number plate in the middle of the Garden Route?"
"Australia. Land of milk and honey… and kangaroos."
"Is it far? Further than Cape Town?"
"Yep. This vehicle, Tin Can, had to come by ship. It took 2 months."
"2 months! Auww! Does it drink South African diesel? 500 ppm or 50 ppm?"
"Yes. Give me the good stuff please. The 50 ppm, low sulphur."
If you plan on going on a adventure to this majestic location from another part of the country, you might want to use a vehicle to get there.
Car rental South Africa
would be a great place to start looking for the best wheels to get you there.
Garden Route to Eastern Cape
This was more or less what conversation with more than one filling station attendant sounded like on the 1500 km winding route along the Garden Route and Wild Coast (Transkei) to  the remote, beautiful seaside village Coffee Bay in the Transkei, South Africa where this is being typed at backpackers camping ground called White Clay. It's built on a great site overlooking the Indian Ocean.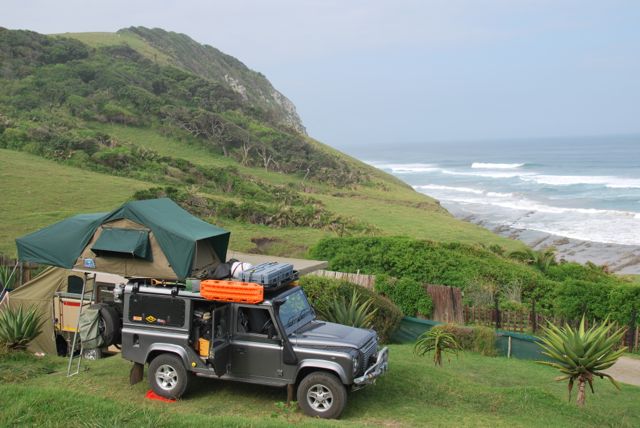 Above: White Clay camping ground Coffee Bay.              Photo's by: Stan Rogers
Seriously, in the 10 days now on the road, we have had so many interested people come up and talk to us at the various camping spots once they see the AUS sticker in the back and how Tin Can is set up. From a guy at Storm River Mouth who flew Rooivalk helicopters at the Avalon International Airshow, which is held near where we live in OZ to 5 bikies riding BMW R1200's into Coffee Bay. They have all been so friendly and interested in our trip – including the bikies who have insisted we stay at their pad near Durban when we get there. Needless to say, every other Defender owner passed on the road also waves the nonchalant one finger salute of the masochistic community of Land Rover owners the world over.
After leaving De Hoop National Park with its fantastic bird life, we spent a morning at a country agricultural show at Swellendam where we spoke to some solar system expert guys who put us on where to find a new 230v inverter when we got to George. The agricultural show was very similar to one in OZ- with plenty of tractors and horse dressage etc., but interestingly different with them Afrikaans accents. We also bought a heap of Stan's favourite snack at the show – Biltong. Nothing better with a beer at sundown!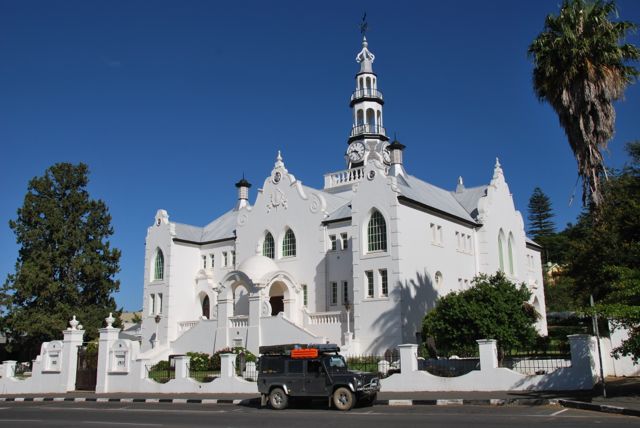 Above: The 1802 NGK church in Swellendam.
A night was spent in a seafront but rather average caravan park in Mossel Bay followed by a short trip into the quite impressive, large rural town of George the next day to find the inverter. Our GPS couldn't find the address at first (due, it turned out, to the fact that street names had changed) but after some phone calls the guys at Specialised Solar Systems guided us there and were very helpful.
Next night took us to Wilderness National Park where our Wildcard got us in to a lovely campsite along the Touws River.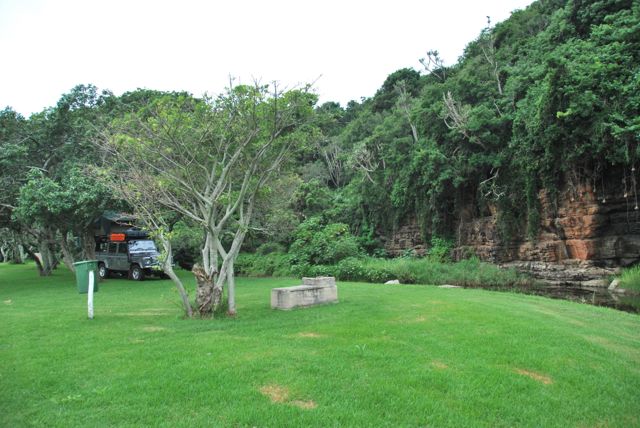 Above: Camping in style at East London!
The afternoon was spent walking 6 kms through yellowwood and stinkwood forests to a water fall where we swam. We then followed Wilderness with a stop in the Tsitsikama National Park at Storms River Mouth – which has to be one of the world's best settings and then two days in the Addo Elephant National Park near Port Elizabeth. The route to Addo started off uneventfully with a drive through the large motor manufacturing city of Uitenhage (which felt a lot like Geelong where we live in OZ whit its Ford plant)! Interestingly, all the Volkswagen Polos and Golfs and some of the Land Rovers that end up in Australia come from Uitenhage. But then it went pear shaped due entirely to the fault of our GPS and it's "Tracks 4 Africa" not realising that when Stan typed in Addo National Park Offices we really wanted to go to Addo National Park Rest Camp. Turned out that the two were 75kms apart resulting in much swearing and a long drive in 40C heat to get to the rest camp just as the gates were closing!
That night the change came to blow away the heat followed by torrential rain, which tested our Hannibal, rooftop tent. The next day we relaxed around the rest camp a bit, but the following morning we got up at 5am to pack up to leave and do a 3 hour game drive through the park on the way out. We managed to see the famed elephants of Addo which once were only 11 after instructions to "exterminate all elephants" went out in 1911, but are now 500 after the National Park was proclaimed in 1931.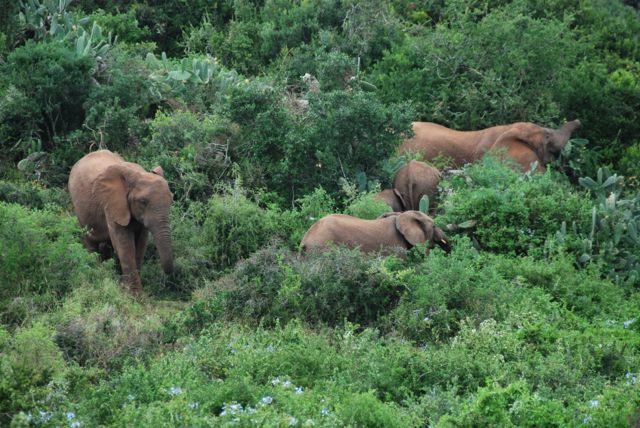 Above: Addo elephants
SANPARKS has been doing enormous conservation and fencing works over the past decade or two and the wildlife species are again quite diverse. The national park is now South Africa's 3rd biggest. Many animals had to be brought in from other SA Parks to build up the decimated gene pool again.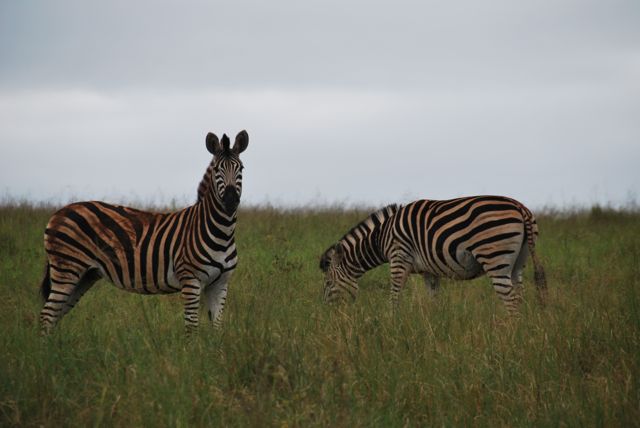 Above: Burchell's zebras
Conserving black rhino is an ongoing battle due to poaching. Addo rhino's have radio trackers in their horns to deter poachers. Never mind the rest of Africa, with 400 rhinos killed by poachers in 2011 in SA parks alone (and 50 killed so far in 2012) out of a population of 4,000 or so, one can see where the lucrative  We also saw kudu, Burchell's zebra, Cape Buffalo and red hartebeest as well as a shy little jackal. Addo is not a patch on the Kruger Park, but still a beautiful place.
Marianne and I were keen to get to see Coffee Bay again- where we had spent a week on honeymoon 38 years ago! The road past East London and  through the Eastern Cape up into the Transkei (Wild Coast) winds through rolling hills and is generally excellent until one crosses the Kei river into the Transkei. Then it becomes something of a nightmare of mini busses and crawling "bakkies".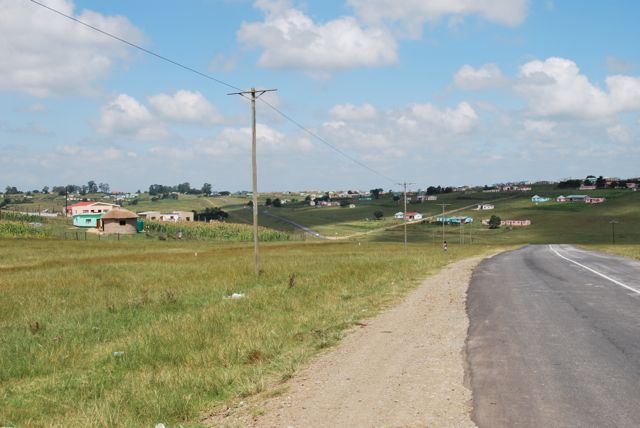 Above: The road through the Transkei
The population of the old Bantustan state set up by the Apartheid government has exploded past anything Marianne and I remember or imagined. God knows how many millions live in the tiny houses dotting the hills.
After the turn off from the N2 to Coffee Bay the road deteriorates to a sea axle breaking potholes past much, much denser population than we remember. We also got held up for half an hour by a demonstration against "police brutality" passing through a village- and we were tired when we finally rolled into Coffee Bay.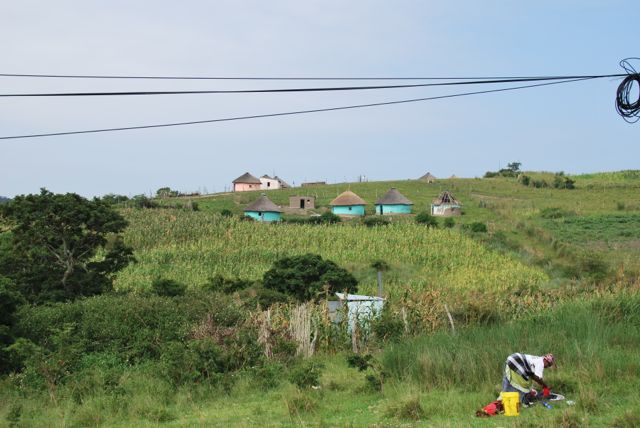 Above: Xhosa huts
Still, Coffee Bay looks as lovely as ever and tomorrow will be spent relaxing on the beach , exploring the many paths along the cliffs as well as searching for the reputed plentiful crayfish said to be sold by the locals. When we leave, the owners of White Clay have already told us about a very interesting 4 hour 4X4 track going to Port St Johns which we intend to take rather than going back to the N2.
Want to follow in Tin Can's tracks? Hire a car and travel all the way to Coffee Bay in the Eastern Cape.
If you would like the freedom to do what you want, when you want to, you might want to consider
car hire Cape Town
for your transportation needs.