The Cape Town International Jazz Festival - Behind The Scenes
Doors opened at 6 pm on Friday night on March 28th, 2014 and it was like they had never been opened before. Fans roaring with excitement, anticipation fleeting, knees jittery, feet happy. It was all good, sound checked, stages set & everyone was ready to enjoy the evening.
If you are looking to go on an adventure in the area, you might want to look into having some wheels to get around.
Car hire Cape Town
would be the best place to start looking.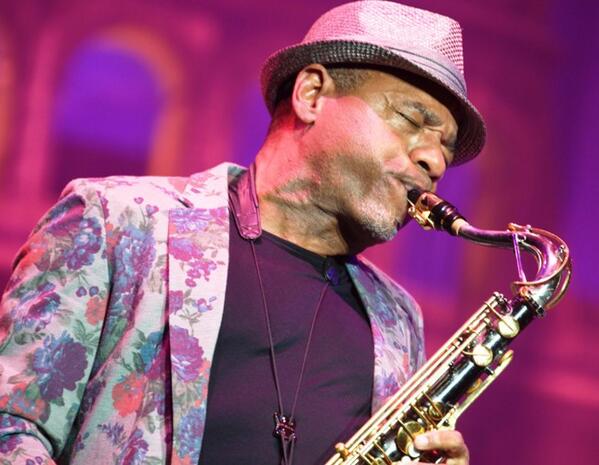 Kirk Whalum on stage blowing his sax – Image by capetownjazzfest
The Cape Town International Jazz Festival (CTIJF) is a yearly musical event that takes place in Cape Town at the Cape Town International Convention Centre (CTICC) and features performances across five stages. It brings music lovers across the world together to enjoy a star-studded line-up of entertainment. The 2014 leg of this fiesta was no different. I was there as a media volunteer student from Cape Peninsula University of Technology (CPUT) and my role, with 19 other fellow students, was to assist the media with their duties of covering the festival for their respective media organizations. We had to coordinate all three press conferences prior to the event and during the festival. We had to assist the media to get to all the performances on time to be able to capture images &/ or footage for the first 15 minutes of each of the 43 performances throughout the festival. There were approximately 300 media organizations present at this year's festival. We also had to ensure that the media does not unlawfully capture the happenings of the festival.
Each performance would last about 45 minutes to an hour 15 minutes. As students babysitting the media, we had a lot of time in our hands as we only had to be with the specific media for about 30 minutes max. We did get a chance to see at least a few performances, though not from start to finish. I have to say, in its 15th year, this live music concert series put forth a glittering bill chock-full of top-notch tune-makers. Meeting Jonas Gwangwa (SA) was one of my highlights working at this star-studded 2014 lined up event. The line up also featured some first-rate international acts, many of which were making their way to Cape Town for the first time and local instrumentalists, singers and bands. Organizer and CEO of espAfrika Rashid Lombard thought of this year's line-up as great, "We've listened to our fans and we think we've got an even more exciting – and crowd-pleasing – festival. After all, it is called Africa's grandest gathering."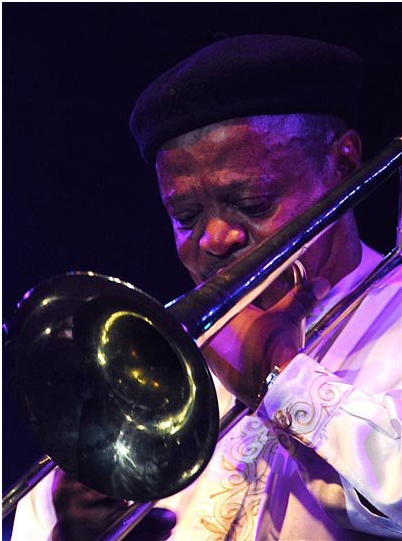 Meeting Baba Jonas Gwangwa was my festival highlight – Image by capetownjazzfest
My favorites were Jonas Gwangwa (SA), Kirk Whalum – The Gospel According to Jazz (USA) & Mi Casa (SA) as it was my second time watching them live and the crowd always goes crazy when J-Something starts to sing. No matter how many times I see The Soil (SA) live, I lose my mind. I also enjoyed Tasha's World (Netherlands) and Black Coffee LIVE (SA)  was the only artist who performed on both nights and on two different stages. 
I was looking forward to watching Reason (SA) and  Black Coffee & Friends Show (SA) (his 2nd performance) but couldn't see them as I was busy running around doing my media student duties. I also missed AKA & Da L.E.S (SA) who are a firm favorite among the younger audience. It was interesting to see Worcester Secondary School Band (SA) as they are still making their way to the top. This shows that the jazz festival gives a chance even to developing artists. The Muffinz (SA) stage was filled to the brim with some of the audience even sitting in the media pit (where media moves around to capture the performance, right in front of the stage).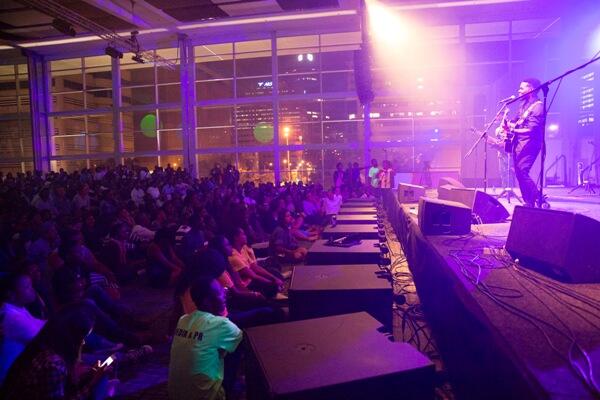 The Muffins arena was so full audience was sitting in the pit – Image by Rashid Latiff
Others act that were interesting, among others, were:
• Jimmy Nevis (SA)
• Mike Rossi Project (USA)
• Carmen Lundy (USA)
• Dr. Philip Tabane and Malombo (SA)
• Lala Hathaway (USA)
• The Shape of Strings to Come: Jimmy Dludlu feat. Alvin Dyers, Richard Ceasar, and Saudiq Khan, with C-Base Collective (SA)
The top international act of the festival was Erykah Badu (USA) as well as Abdullah Ibrahim and Ekaya (USA/SA) & Kirk Whalum – The Gospel According to Jazz (USA).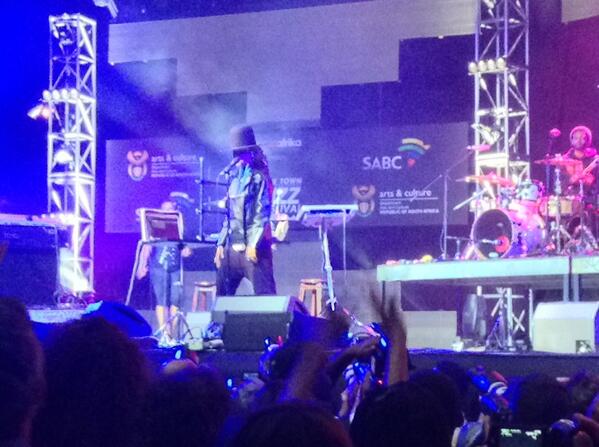 Erykah Badu was considered to be at the top of the A-List of this years line up – Image by Asanda Mcoyana
The CTIJF is a huge spectacle such that tickets got sold out weeks before the event. Some people were so eager to go to the festival they were willing to pay more than the ticket price for tickets sold by ticket holders who were no longer going to the festival. To ensure the safety of festival-goers, security was present throughout the festival with a no-pass-out policy to all ticket holders and the venue was well equipped to accommodate disabled patrons. Two days before the festival espAfrika hosted a free 6-hour concert for the masses on Wednesday, 26 March 2014 at Green Market Square as part of giving back to the community. There were also workshops that took place such as Arts & Culture Focus Schools Workshops & Arts Journalism workshop. Here, the participants covered the curriculum specified for the SAQA Unit Standard 'Cover a Specialist Beat as a Journalist' (117541) of the Level Five National Certificate in Journalism. This was aimed at newsroom interns with content to add to their assessment portfolios as on completion they received an attendance certificate.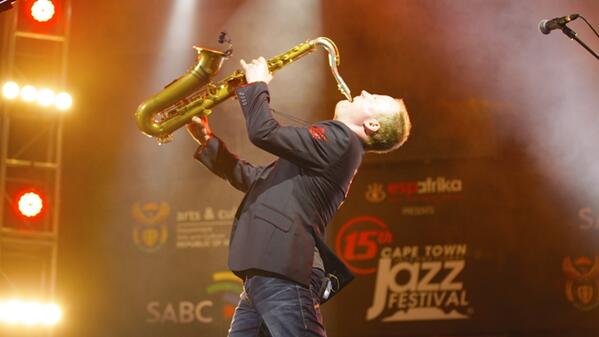 Artist performing on stage at #CTIJF – Image by Cape Town Jazz Fest Twitter
The festival was also trending on Twitter as #15CTIJF. For those that could not make it, there was live streaming on YouTube. As it is Africa's grandest gathering, it was an honor for me to work there. I cannot wait for next year's one and this time I will not be behind the scenes, I will be in the scene.
---
Asanda Mcoyana is a Public Relations intern at Discover Africa Group from Cape Peninsula University of Technology (CPUT).
If you need to hire a specific vehicle during your trip to Cape Town, you might want to consider car hire Cape Town for your transportation needs.