The Otter Trail overnight hike - General information
Through more in-depth research, trawling trough blogs,  visiting SANParks offices and chatting to hikers and to people that have done this amazing scenic trail, I have gained the following valuable information.
The Otter Trail is said to be one of the most amazing hiking trails in South Africa. It follows the Eastern Cape coastline from Storms River Mouth to Natures Valley in the Tsitsikamma National Park.
The trail is 42.5kms long and takes 5 days to complete depending on the hiker's fitness levels. It follows the rocky shoreline ranging in elevation from sea level to a height of more than 150m. On this trail you need to be prepared, you'll swim across rivers, carry your own crockery and if you forget your sunblock you'll surely get burnt. This trail is definitely more enjoyable during the summer months.

Otter Trail hike: River crossing                                                     Photo:Terenacious
Otter Trail hike: When and how to apply
• Bookings for the Otter Trail open 11 months in advance. There are only 12 spots available for any specific period of time and this is why people struggle through the booking process.
• It is, however, possible to apply for availability 14 months in advance by enquiring about the trail and then filling out a form. To get the application form contact Bridget Bagley at Bridget.Bagley@sanparks.org or call (+27) 012 426 5111.
Once you've filled out the form, the applications get placed onto SANParks' server, the day bookings open, it does a random selection and notifies the clients.
Otter Trail hike: Costs
The price from beginning of November 2011 until the 31 October 2012 is R810.00 per person, from 1 November 2012 the rate is R860.00 per person.

Otter Trail: The Route Map                                                      Map: SanParks
Otter Trail hike: The Route
• DAY 1: Storms River Mouth to Ngubu Huts  – 4.8kms – 3 hours
• DAY 2: Ngubu Huts  to Scott Huts – 7.9kms – 6 hours
• DAY 3: Scott Huts to Oakhurst Huts – 7.7kms – 4 hours
• DAY 4: Oakhurst Huts to Andre Huts – 13.8kms – 8 hours
• DAY 5: Andre Huts to Nature's Valley  – 8.3kms – 3 hours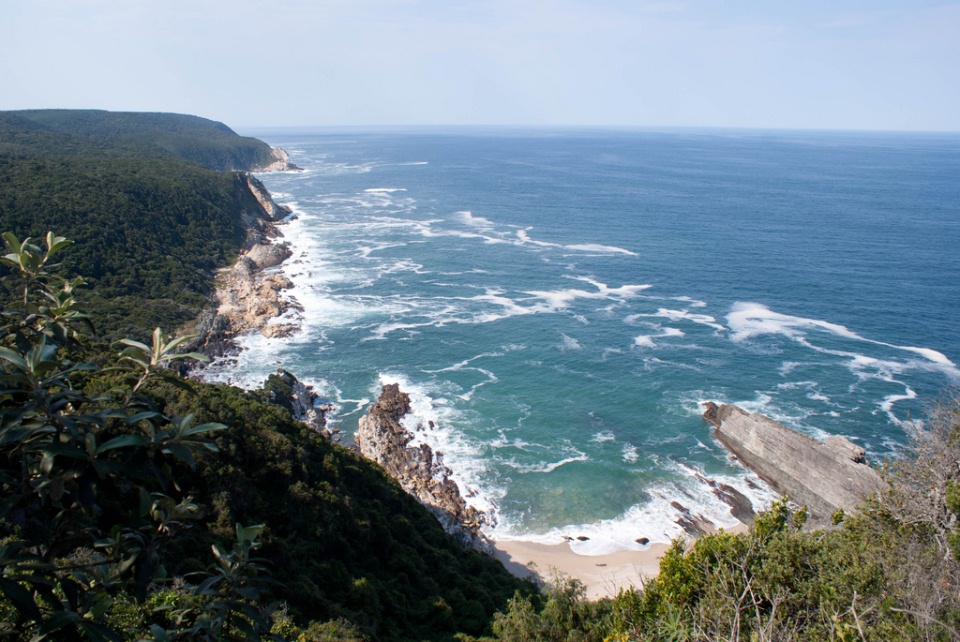 Otter trail views                                                                           Photo: Terenacious
Otter Trail hike: How to get there
It seems the best way to get to the Storms River Mount to start the Otter Trail is by self-drive. If you are a bit further away, it might be worth flying from Johannesburg, Cape Town, or wherever you are to  George Airport and hire a car, or hire a bigger vehicle, depending on the size of your group.
Otter Trail hike: What to pack – general
• Headlight and extra batteries.
• Sunblock
• Toothbrush, toothpaste, dental floss.
• Sunglasses
• Camera – remember to take a few extra batteries, your camera will be working overtime.
• Leave your cellphone in the car – 2 people in the group need to take a charged cellphone, just in case.
• Backpack – a 65 litre backpack for ladies and a bigger one for men. Remember to also purchase a waterproof or survival bag for crossing rivers. You get them at outdoor shops.
• Candles to light the fire with (you'll need one per night).
• Matches or a lighter.
• Toilet paper.
• Cable ties (you never know whose backpack is going to break)
• Space blanket.
• First aid kit (pack your own one – include plasters, bandages, Imodium, ibuprofen, Betadine, Panado and Savlon)
• Hiking pole (it helps on the up- and downhills)
• Spare batteries and an extra memory card (take spare batteries for your headlamp too)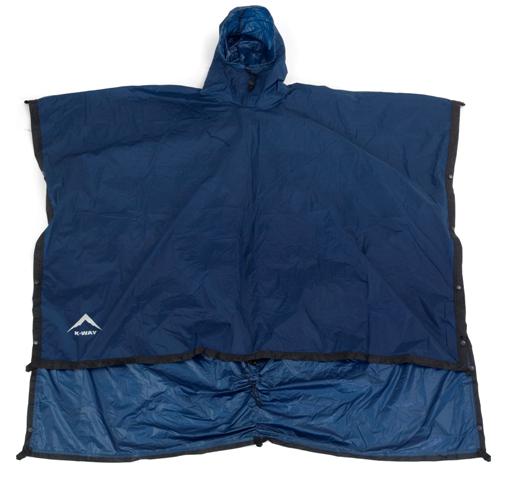 Otter Trail: Poncho from K-Way.
Otter Trail: What to pack – clothing
• At least one warm jacket and a pair of comfortable pants
• Comfortable hiking shoes or trail running shoes.
• Sandals, Crocs, Hi-Tec or Rocky sandals to wear at the huts or when you walk on rocks. Your feet are really tired at the end of a long day, but you still need shoes to climb over a few rocks for the sundowner whiskey.
• Sun hat or cap.
• Towel, preferably moisture weakening one.
• A cheap plastic poncho costs about R15.00 and a more durable one up to R350.00 (you'll need this for those rainy days!)
• Biodegradable soap – you'll be able to use this in the shower and for dish-washing soap.
• Hiking socks – take an inner and an outer. So, in other words, you'll be wearing two pairs of socks. The one sock rubs against the other and this will prevent you from getting blisters.
• Remember to pack your swimsuit.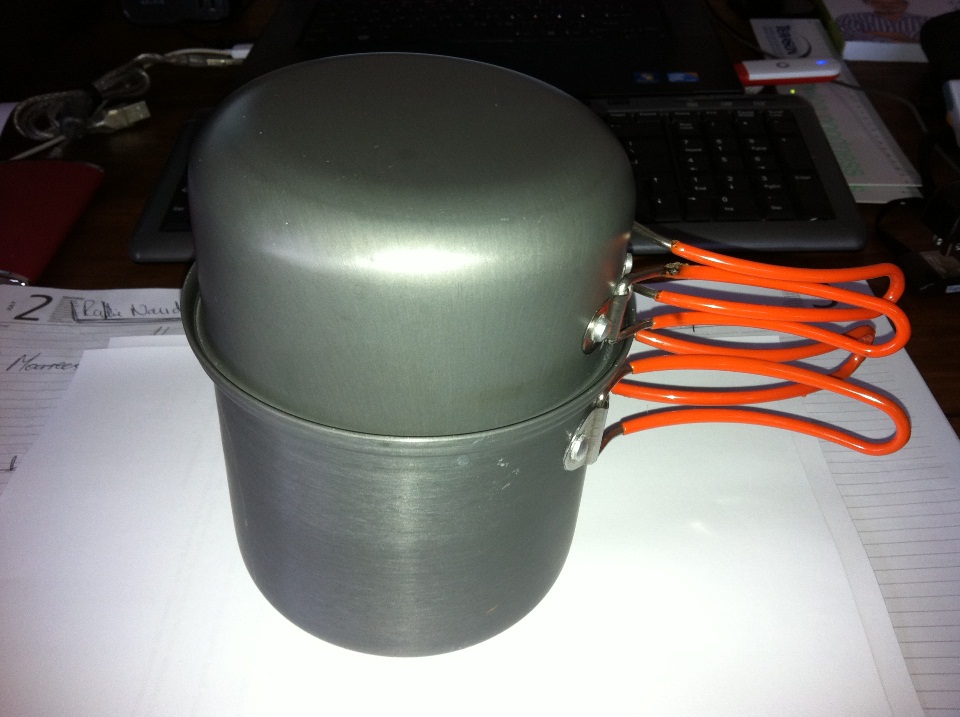 Otter Trail: Cutlery and crockery – Camping pot.
Otter Trail: What to pack – cutlery and crockery
• Pocket knife or Leatherman – the knife needs to be able to lock, you don't want to cut off one of your fingers on this trip.
• Fork and a spoon.
• Camping pot – you can use the lid as your cup.
• Kettle. A light 3.5 litre camp kettle (shared among the group). You can attach it to your backpack.
Otter Trail: What to pack – food and drinks
• Steak for at least 3 nights. Vacuum-packed by your butcher and not by the machines you buy for use at home. Freeze the meat and wrap each one individually in newspapers. Newspaper will keep the meat frozen for longer.
• Alcoholic drinks – choose wisely. You don't want to take too much, because this will make your backpack a lot heavier. Whiskey is probably your best option. Remove the whiskey from its original container and transfer this to a plastic bottle. Seal the bottle with duct tape, you don't want this to leak into your backpack.
• Salt and pepper in a zip lock bag.
• The first day's walk is not that far so the best option is to take some chicken or chops and some small potatoes.
• Couscous, smash, 2 or 3 small cans of vegetables.
• Take a camelbak backpack (2 litres) for your water and cold drinks.
• Cold drinks in powder form, like Game.
• Nuts and raisins for snacks and Jelly Babies for some energy (you'll need this on day 2 and 3).
• Packets of tuna, wedges of cheese and cream crackers – this is ideal for lunch.
• A great idea for dessert is to heat a banana in wrapped foil. Melt a Bar One on this and serve with some custard.
For more information also visit the SANParks website.
If you plan on going on an adventure to this majestic location from another part of the country, you might want to use a vehicle to get there.
Car rental South Africa
would be a great place to start looking for the best wheels to get you there.