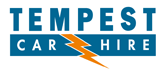 About Tempest Car Hire
Tempest Car Hire is committed to bringing you low car rental rates. Whether you're travelling for business or pleasure, with Tempest Car Hire, you are guaranteed some of the best deals on rental wheels.
Their fleet of over 3000 vehicles spans from economy vehicles to people carriers and everything in-between. Whether your requirement is daily or weekend rentals, one way hires or long term car rental – let Tempest Car Hire South Africa match you up with a great deal, they have a variety of rental offerings, including fantastic deals on GPS units and airport transfer options.
Tempest's Tantalizing History
Time flies when you're having fun and Tempest Car Hire South Africa has been having fun since 1986. Back in the days of bad hairstyles, pastel clothing and the birth of rave music, Tempest Car Hire opened their doors for business to take on the car rental big guns. They saw a gap and went for it: The market needed a car rental provider who was super economical and offered personalised service with a smile. And their clients have been smiling ever since, after all, who can resist great rates, new cars and world-class service?