Hire a Bakkie in Southern Africa
Rent a workhorse when there's work to be done or rough terrain to be conquered.

Nissan NP200
1.6L Manaul half a ton utility vehicle replaced the legendary 1600 workhorse. Seats 2 adults.
Toyota Hilux Double Cab
The Toyota Hilux Double Cab has a solid build and smooth engine. The vehicle has sufficient luggage space, 2.5 engine and a 80 litre fuel tank. The Toyota Hilux promises a comfortable trip and the vehicle is reliable.
Ford Ranger Double Cab 4×4
he Ford Ranger Double Cab Camper is ideal for 2-4 people travelling. This particular model is automatic but it also comes in a standard 6-speed gearbox. The vehicle is a full-on camper and has everything you need for your road trip. It has 3.2 litre Diesel Engine, 165L fuel tank and 1100km range.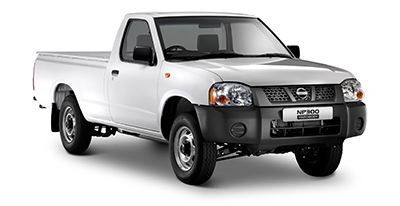 Nissan Hardbody Single Cab Diesel
The Nissan NP300 (Hard Body) is a reliable, tough and durable pickup that can handle any task you throw at it. This single cab bakkie seat 2 adults in the front and is powered by a. 2.0L engine and has a manual transmission.
Why you should rent a Bakkie?
Bakkies are reliable multipurpose workhorses
A bakkie or pickup truck is a vehicle that can be used for multiple purposes and it comes in many configurations from single cab, double cab, 4×4, raised body and equipped for camping and safari's. This means you can use it for multiple purposes from driving from A to B, to driving on rough terrain off-road, to using it to transport goods that cannot fit in a hatch or sedan.
Advantages of hiring a bakkie:
You can use a Bakkie to help you move instead of hiring a truck it's cheaper than a truck and does not need a special code 14 license to drive it.
You can use a bakkie to drive on different qualities of roads without damaging the car for example you can go camping and on a self drive safari with a bakkie.
A pick-up can accomodate more people at the back, more than even a 7 seater SUV.
Hiring a Pickup
Drive South Africa has a wide range of Bakkies to choose from. Speak to our friendly sales consultants to pick out the best one for you.
Experience, convenience, ease.
That's how hundreds of past customers describe our team's customer service. We thrive on helping travellers get on the road with ease...
Meet our team
Read customer reviews
Why Drive South Africa?
Quick, easy and efficient – compare & save from Southern Africa's top rental brands.
Other types of vehicles available in
Standard cars, luxury cars, 4x4s and campers. Find just about any vehicle to hire in .
Why Drive South Africa?
Browse through our selection of rental vehicles to suit your every need. We offer budget car rental to luxury car rental, for short term or extended long-term car rental in Southern Africa.
Search For Cars