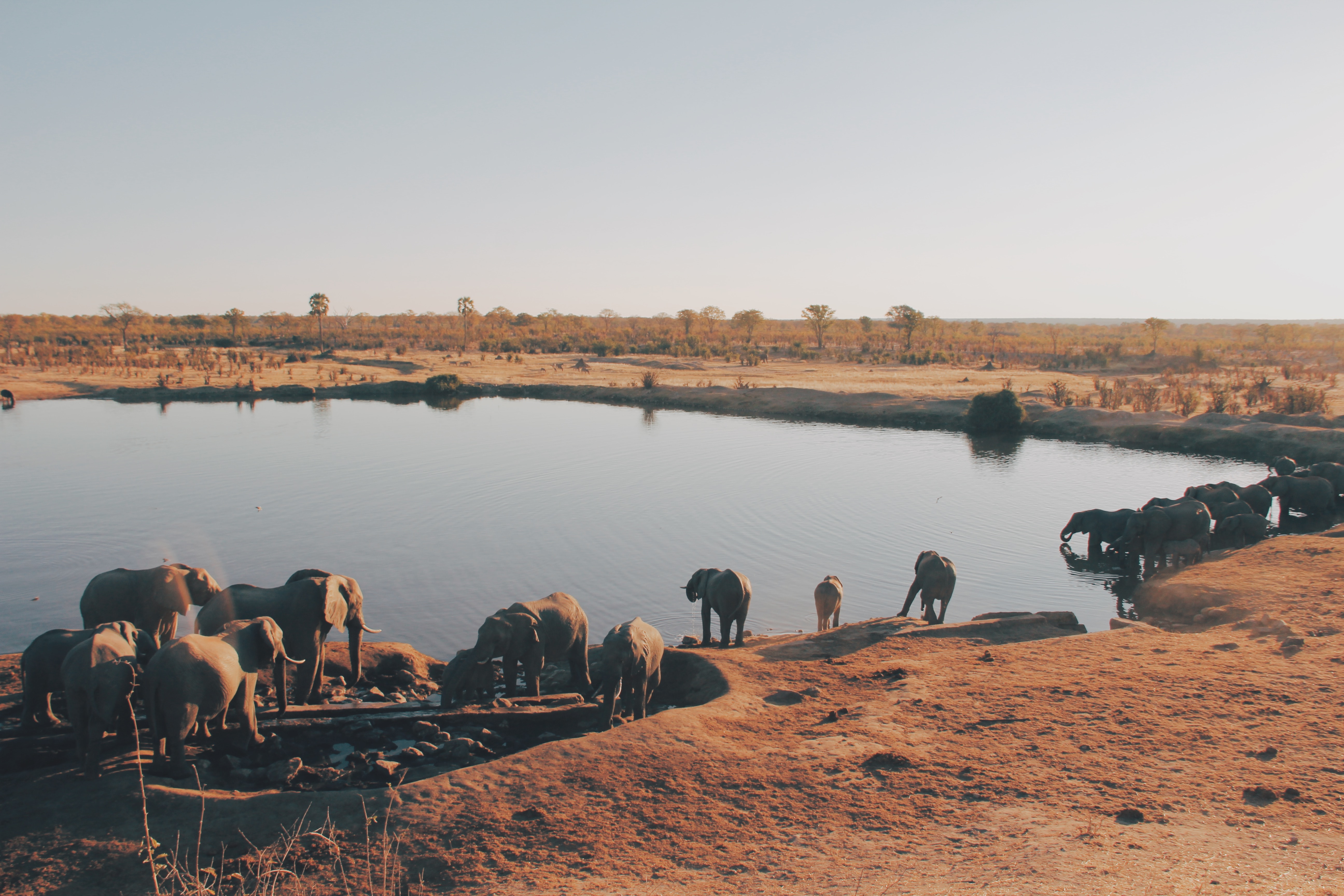 The 4x4 Trail of Hwange and Mana Pools in Zimbabwe
If you're asking if off-roading is a good way to see Zimbabwe, the answer is a resounding yes! A self-drive 4×4 trail with a 4×4 hire is one of the best ways to experience Zimbabwe's scenic beauty.
Tourism with for the off-road traveler in Zimbabwe is well-catered for with various dedicated routes with varying degrees of difficulty and duration.
A very popular 4×4 route includes entering the country from Beit Bridge, through Bulawayo, on to the Matopos, Hwange National Park, Lake Kariba, (famous for its tiger fishing and luxurious houseboats), and on to Mana Pools National Park situated on the Zambezi River.
It must be noted, however, that there's not much reliable information on the condition, degree of difficulty, elevation, or passability of the various trails and mountain passes in Zimbabwe. And it has to be acknowledged that many of Zim's roads are… not the greatest.
How long will the 4×4 Trail of Hwange and Mana Pools take me?
This trail incorporates much of the most scenic parts of Zimbabwe, but it's not time limited – you can spend as much time on it as you wish.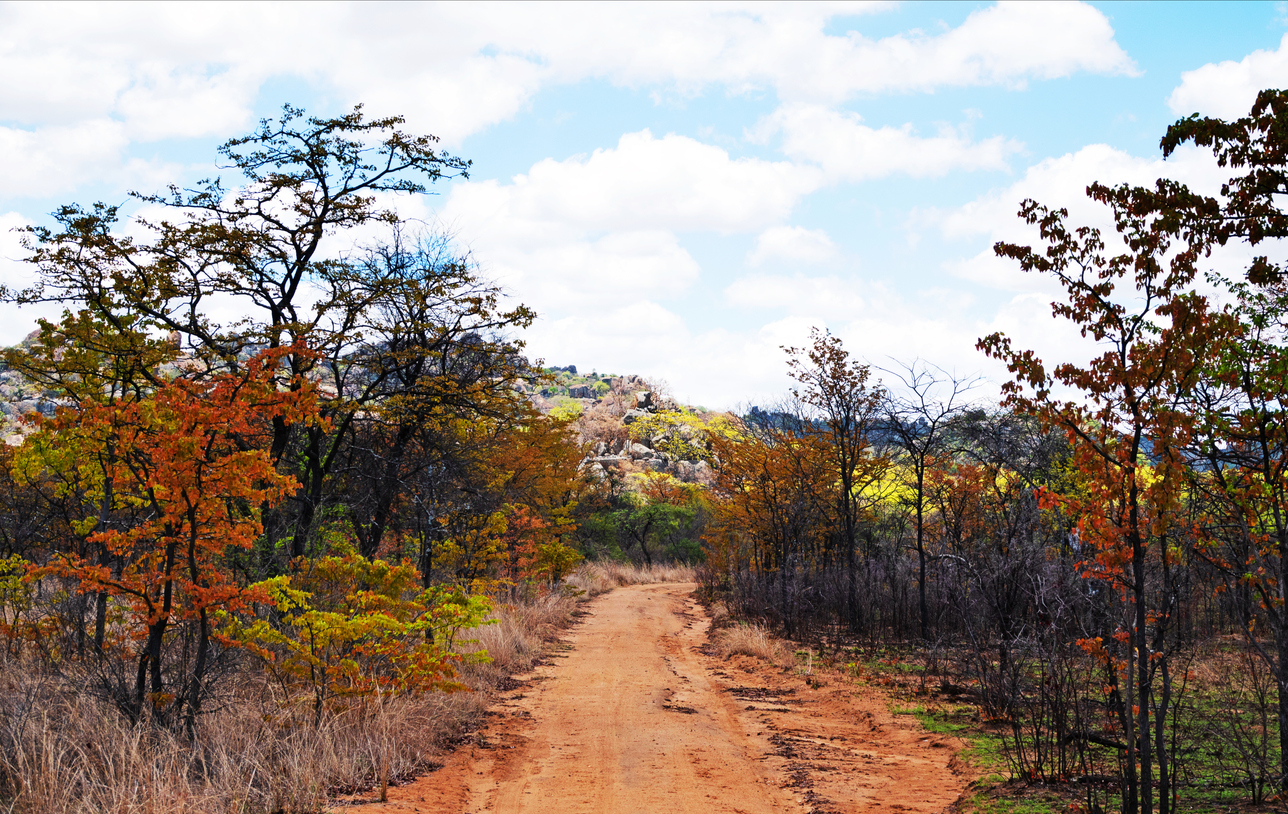 Above: 4×4 trail Zimbabwe
The road network connecting Victoria Falls, Hwange, and Mana Pools along Lake Kariba's southern edge is suitable for skilled, adventurous, self-sufficient travellers with 4×4 vehicles, but some words of caution are necessary here.
Your trip may well be longer and slower than you anticipated as many of the roads are unpaved and in poor condition, particularly after the rainy season.
You'll also need to be fully self-sufficient as regards food, water, and vehicle spares.
It is also advisable to travel in convoy due to the remoteness of the areas you'll be travelling through. The long distances could also be a problem.
For instance, from Victoria Falls to Kariba is about 770kms (480 miles), and Victoria Falls to Mana Pools is about 800kms (500 miles).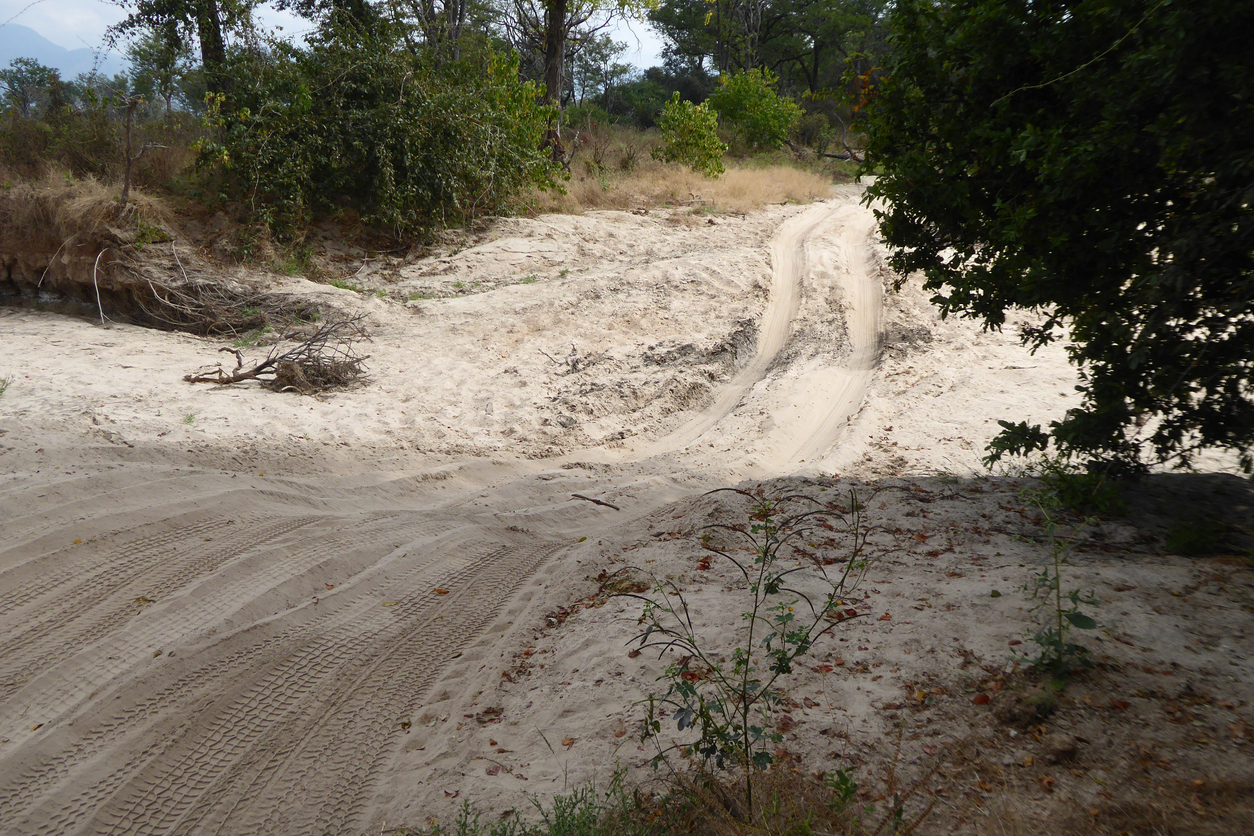 Above: Mana Pools, near the bank of Zambezi river.
It's really not advisable to try to do the trip in one day, especially as there are cut-off times to get into the parks.
In particular you should be aware that fuel may only be available in main centres, like Victoria Falls, Hwange, Binga, Mlibizi, Karoi, Kariba, and Chirundu.
It's advisable to find out about the availability of fuel before you set off.
Are Hwange and Mana Pools National Parks good 4×4 destinations?
Hwange and Mana Pools National Parks in Zimbabwe are known for their wildlife, diverse terrain, and scenic beauty, and these factors make them excellent for 4×4 off-roading.
You can opt for main roads or more isolated tracks for a really unique experience.
However, while planning your off-road adventure in these reserves, it's crucial to consider the season, as road conditions vary significantly between the dry and wet seasons.
Zimbabwe's dry season lasts roughly from April to October, and the wet season from November to March.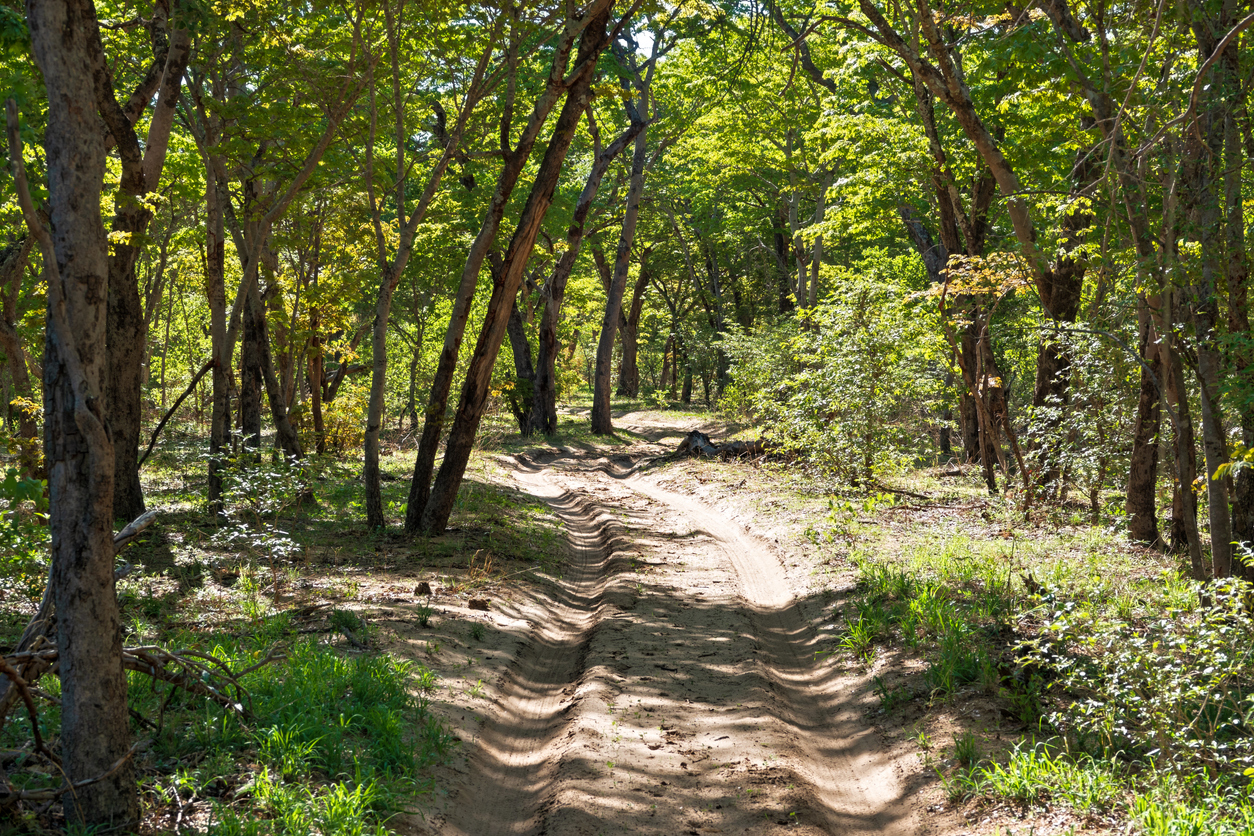 Above: Landscape with trees and a dirt road in Hwange National Park.
During the wet season, some routes become impassable, so it's vital to check conditions closer to the time. It's just as vital to respect the environment and wildlife, adhere to park rules, and never feed the animals.
Zimbabwe's high altitude tropical climate is generally quite temperate, but take note that during the dry season (August to October), daytime temperatures can rise above 30°C or 86°F.
Hwange National Park
Hwange is Zimbabwe's largest national park, covering over 14,000 square kilometres.
It's home to one of Africa's largest elephant populations and offers a diverse range of flora and fauna.
The park has various routes suitable for 4×4 vehicles, offering a thrilling self-drive 4×4 trail experience.
Some roads are challenging, so it's essential to have a well-equipped 4×4 vehicle. is available in lodges, campsites and self-catering cottages that cater for different budgets and preferences, both inside and outside the Park.
Mana Pools National Park
Mana Pools is a UNESCO World Heritage site known for its natural beauty and wildlife.
It supports huge numbers of animals including elephant, buffalo, hippos and crocodiles and 380 bird species like African skimmers, carmine bee-eaters and fish eagles.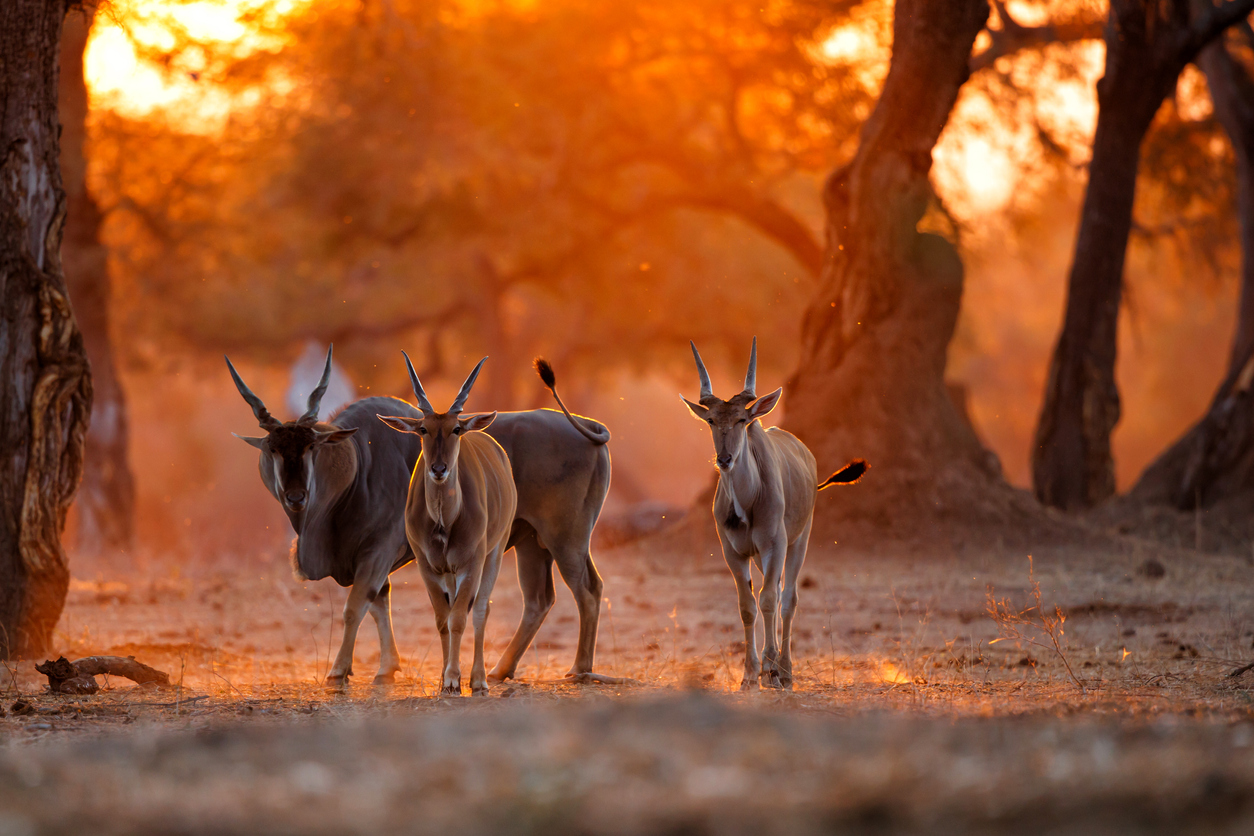 Above: The common eland in Mana Pools National Park in Zimbabwe
is available both inside and outside the park in a variety of lodges, a hotel, cottages, chalets, camp sites and remote bush camps accessible by 4×4.
Please note that visitor numbers are restricted and that Mana only opens during the dry season from April to November.
Attractions along the route from Beit Bridge to Hwange and Mana Pools
Apart from the scenic beauty of this whole route and these two great national parks, there are further unmissable attractions enroute, like:
 
The ancient stone Great Zimbabwe Ruins
The Matobo National Park that's renowned for its diverse wildlife and stunning rock formations
World-famous Victoria Falls, that's one of the planet's most breathtaking natural wonders
The iconic Zambezi River offering a host of waterbased and adventure activities such as hiking, white-water rafting, river cruises, fishing, and much, much more.
Further important points about off-roading in Zim
The best vehicles to use for off-roading in Hwange and Mana Pools are high-clearance 4×4 vehicles equipped with the necessary off-road features.
A well-equipped 4×4 vehicle would typically include features like all-terrain tyres, winches, recovery gear, and underbody protection.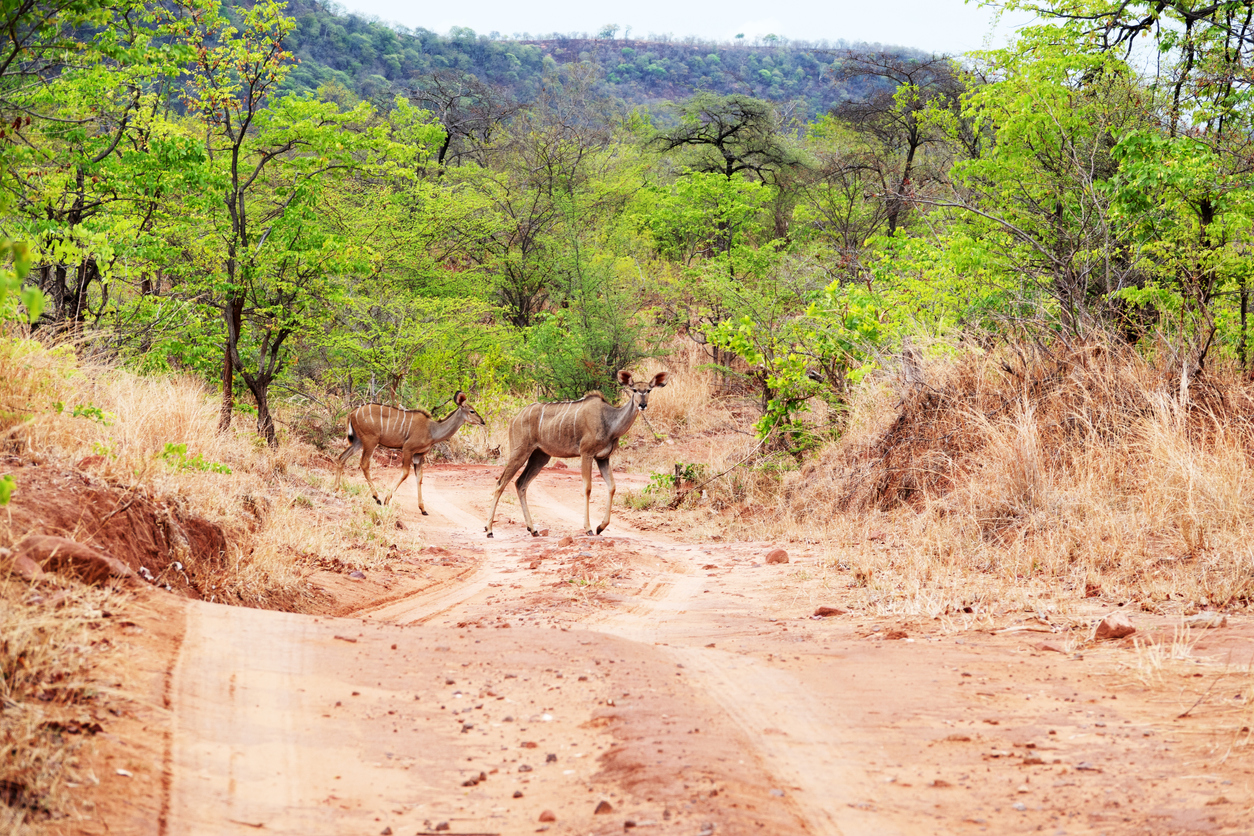 Above: Two female kudus seen during a game drive in the national park.
It's also crucial to carry spare parts, water, food, fuel and camping gear, considering the remoteness of some of these areas.
For the most up-to-date and detailed information about road conditions it would be best to consult resources like the official websites of the two parks, and , before you set off.
Some parks, like Mana Pools, need entry permits, so make sure you arrange those beforehand.
Some Further General Points to Bear in Mind
Its advised that 4×4 drivers always travel in convoy, particularly in the rainy season when flooding and mud are common hazards.
Travelling at night in rural areas can be dangerous due to pedestrians, unlit or abandoned vehicles and and stray animals on the road.
Many roads aren't fenced, so dogs, chickens, horses, cattle, sheep and wild animals are often found on the road.
Travel with your windows closed in urban areas.
Don't be tempted to pick up hitchhikers!
Driving in Zim is on the left side of the road.
Always have a valid driver's licence, vehicle registration documents and insurance documents with you when driving.
It's recommended that you get an International Driving Licence that is authenticated or printed in English.
Wearing a seat belt is mandatory.
Strict drinking and driving laws are in force in Zimbabwe.
Many roads are toll roads, so check what the fees are and make sure you have cash on hand to pay tolls.
If you've decided that your next 4×4 adventure trail will include the Hwange and Mana Pools National Parks in Zimbabwe, we're sure you'll have an unforgettable experience!
But make sure that you use one of our to ensure your safety and a hassle-free trip.
Related Posts