Everything you need to know about your self-drive Botswana holiday
Welcome to Drive South Africa's ultimate self-drive Botswana holiday guide. Botswana's primary attraction is its vast wilderness. From the endless palm-covered islands of the Okavango Delta, to the moonscape saltpans of the Makgadikgadi region, it's the perfect destination for anyone seeking pristine, unfenced surroundings.
---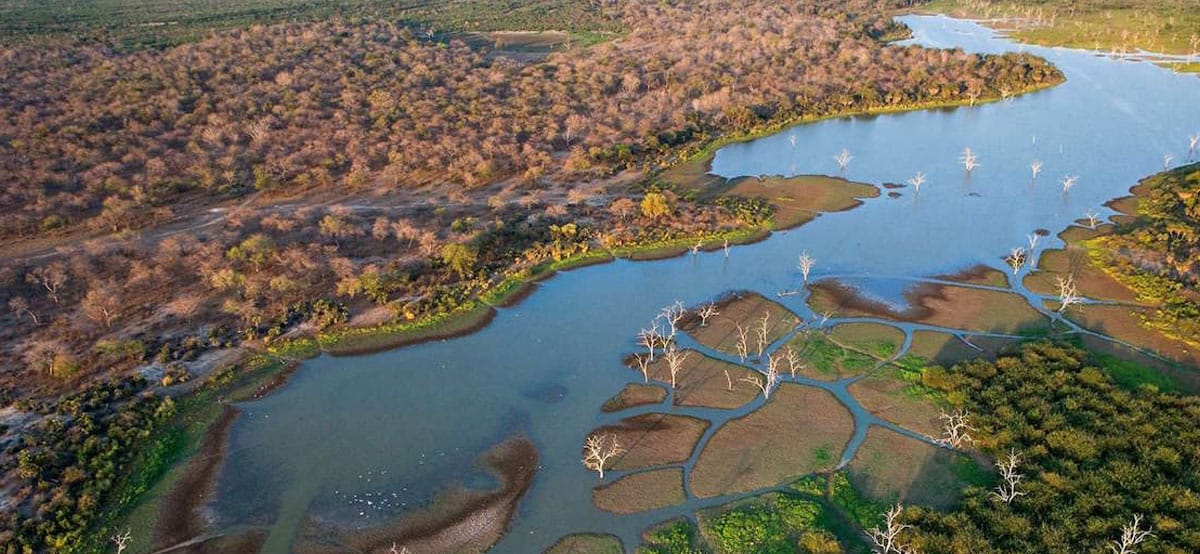 Botswana from the KgalagadI Transfrontier Park

In Botswana's southwestern corner you'll find the Kgalagadi Transfrontier Park, a huge cross-border wildlife reserve that combines land in both South Africa and Botswana. Covering a total area of over 37,000km2, this magnificent park is famous for its vast Kalahari grassland, seasonal pans and low, red-ochre dunes. …

There are four entrance gates into the park, including an international border post at the South African Two Rivers Gate (Twee Rivieren Hek) and a border crossing between South Africa and Namibia at Mata Mata. On the Botswanan side, there's Kaa Gate in the north and Mabuasehube Gate in the east. The Botswanan side of the park is known for excellent sightings of Kalahari black-maned lions. They're especially active around Kaa Gate in winter, where there's a permanent water hole, and in the Mabuasehube region in summer, when the seasonal pans attract game into the area. March to May are the best months to visit, when temperatures are at their mildest (roughly 10°C to 30°C) and large herds of springbok, oryx and eland can be seen around the pans. The late summer storms are particularly spectacular, as lightening cracks through the thunderclouds above the red Kalahari plains. All visitors wishing to cross the Kgalagadi into Botswana or South Africa must go through the international border post at Two Rivers Gate. And you may not transit through the park without spending at least two nights somewhere inside. If you're arriving from Namibia, you can cross into the park at Mata Mata, but you'll then need to go through the Two Rivers border post before continuing into South Africa or Botswana. The quickest route from South Africa to the northern Botswanan section is to enter Botswana at Bokspits, Middelputs or McCarthy's Rest and drive north via Tshabong to Mabuasehube. Border fees are about P150/R200 per vehicle for road taxes and insurance.



From Limpop to Botswana

Perhaps the most common route from South Africa to Botswana is northwest from Johannesburg and across the Limpopo River. The Limpopo forms a 400km border between the two countries, starting near Gaborone and running up towards the Tuli Block. There are a number of border posts to choose from and it's generally quick and easy to cross. Those up near Tuli are particularly special because once through you're in wild country immediately, and right away it feels like the safari has started. The Tuli region also has a few campsites to break the journey. Limpopo River Lodge is a good option for self-drivers. …

The Limpopo is one of Southern Africa's most famous rivers and the second largest in East Africa, after the Zambezi. It runs for over 1,700km before emptying into the Indian Ocean, although the upper reaches that form the South Africa-Botswana border are seasonal and flow mainly in summer. It's still a very wild river, especially up around the Tuli region, where crocodiles are common in the deeper pools. Elephant, giraffe and zebra also frequent the north banks, and there's the outside chance of spotting a leopard too.
It's about a five-hour drive from Johannesburg to the border, depending on which border post you use. There are plenty of options, but the ones towards Tuli tend to be quieter. Border times vary, with the earliest closing at 4pm and the latest at 6pm. South Africans, North Americans and most Europeans can get a free, single-entry visa at the border, but you'll need about P150/R200 for Botswanan road taxes and mandatory insurance. On the north bank, the road through the Tuli region is rough and bumpy and not recommended for low-clearance vehicles.



Crossing the Makgadikgadi Pans

The Makgadikgadi Pans are one of Botswana's most extraordinary destinations. Stretching over 16,000km2, they form a network of inter-connected saltpans which are all that's left of a huge inland lake that covered the centre of Botswana many thousands of years ago. The two largest pans are Sua Pan on the east and Ntwetwe Pan to the west. During winter, when the pans are dry, you can drive across them from Orapa to Gweta, stopping on the way for a memorable night at the magical baobab forest on Lekhubu Island. …

Lekhubu Island is an absolute must, a baobab-studded marvel on the western edge of Sua Pan. There's a small campsite there and not much else, just stars and trees and the vast horizon. As you drive north, the boundless views continue, especially on the desolate track that heads northwest to Gweta. This route crosses Ntwetwe Pan and is not possible during summer, but from June to November conditions should be manageable. When the track is dry, it cuts directly across Ntwetwe's immense expanse, with the unbroken horizon in every direction. Never try to cross the pans when wet and don't drive off the main tracks unless you're sure they're bone dry. It's best not to take chances – even seemingly dry surfaces can hide thick mud underneath. In winter, however, conditions are not too difficult and the Orapa to Lekhubu section only takes a couple of hours. On the Orapa side, the tracks through the initial scrubland are confusing and south of Gweta it's much the same. Multiple, dusty tracks head in more-or-less the same direction and navigation can be very tricky without a GPS. You can drive from Lekhubu to Gweta in about four hours, but give yourself a couple more for stops along the way.



From Maun to Savuti

Maun is known as the 'gateway to the Okavango Delta', the inevitable starting point for self-drive safaris heading north. Moremi Game Reserve is the closest park to Maun and the only part of the delta that's open to self-drive visitors. Moremi has two access gates: Maqwee Gate in the south and Khwai Gate in the north. It's possible to detour around Moremi via Mababe, but the best safari route is through the reserve, with a few nights spent at Third Bridge and Xakanaxa campsites on the way. Leaving through Khwai Gate you'll pass the community-run Khwai Development Trust, before turning north towards Savuti and into Chobe National Park. There are no fences throughout this region and although there are a few scattered villages, the whole Moremi/Chobe area is essentially one, combined wildlife reserve. …

Moremi and Chobe are arguably Botswana's most famous parks and Moremi is particularly special because it's the only place that self-drive visitors can access the delta. From about 50km north of Maun you're essentially in one vast wildlife reserve that extends 250km north to Kasane, and roughly 500km east-west, from across the delta all the away into Zimbabwe. Moremi offers some of the best wildlife viewing in Africa, with all the Big Five (although rhinos are rare) and four public campsites that are well-known for the wild dog, leopard and honey badgers that regularly pass through. On its northern boundary, the Khwai Development Trust is another wonderful area for game and the campsites along the Khwai River are famous for close-up encounters with inquisitive elephants.



Savauti to Kasane

In the centre of Chobe National Park lies Savuti Camp, a wild, sandy campsite on the banks of the mysterious Savuti Channel. The channel's flow is hard to predict, and it's been known to dry up for decades then suddenly begin flowing again. In wet years, the water pours in from the Zibadianja Lagoon in the west, flooding the Savuti Swamp and creating a game-viewing paradise. Northwest of Savuti, along a bumpy, sandy track, Linyanti Camp is another excellent self-drive destination. Linyanti Camp, and Ihaha Camp further north, both lie on the southern banks of the Chobe Linyanti River System where there's excellent game viewing during the dry winter months. The route ends in Kasane, which has campsites, lodges and shops, and the first fuel since leaving Maun. …

The Savuti region is known for some of the best game viewing in Southern Africa, but conditions vary depending on the amount of water available. When the channel and the marsh are full, they attract huge herds of buffalo and zebra and an almost unbelievable variety of plains game both large and small. Lion and wild dog are the most commonly seen predators, but hyena, leopard and cheetah can also be spotted, and the wildlife photography opportunities are exceptional. Further north, elephant and buffalo congregate in great numbers along the Linyanti and Chobe Rivers, especially in winter when there is less surface water inland. One of Botswana's great highlights is a sunset boat safari along the Chobe River and cruises can be booked on arrival in Kasane. The tracks around Savuti, and north towards Kasane, are all very sandy and definitely 4x4 only. As well as sand, the Savuti Marsh area can get very muddy, especially in summer when the tracks closest to the marsh may be impassable in places. If so, stick to the western routes along the Magwikhwe Sand Ridge and from there it's more-or-less unbroken deep sand all the way north to the Chobe River. Note that there's no fuel between Kasane and Maun so you'll need to have adequate reserves for the entire journey. 4x4s are also much less economical in sand and your fuel consumption can easily be 50% more than on paved roads. Distances are not great, but the going can be slow. Each successive camp can be comfortably reached within a day's drive.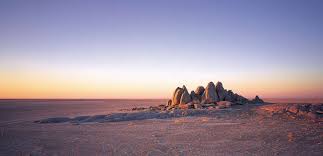 Botswana's most popular travel destinations
The Kgalagadi Transfrontier Park

The Kgalagadi Transfrontier Park straddles the Botswana-South Africa border, a 37,000km2 wildlife reserve on the south-eastern edge of the great Kalahari Desert. This huge, semi-arid savannah receives very little rain and from May to September the park remains almost completely dry. Summer thunderstorms are short-lived, but fierce, suddenly and rapidly filling the park's many seasonal pans and restoring the landscape with fresh new grass. March to May are the best months to visit, when large herds of oryx, eland and springbok are drawn into the region, and the Kalahari plains are at their verdant best.

The Kgalagadi Gemsbok

The tracks through the northern Kgalagadi are sandy and rough, with especially deep sand east of Kaa and on the access road south of Mabuasehube Gate. Once inside the park, the tracks tend to be firmer, but be careful of sudden deep holes dug by various burrowing animals. Botswana's Department of Wildlife and National Parks manages all the campsites on the Botswanan side of the Kgalagadi. Take everything you need with you, including drinking water. There's water and some rather rundown ablutions at the Kaa and Mabuasehube Gates, but what's available is limited and brackish. The other camps in the northwest have no facilities at all and a day or two is probably enough to explore region. Make sure you have a radiator seed net to protect it from tall grasses on the overgrown tracks.

The Mabuasehube Game Reserve

The once-independent Mabuasehube Game Reserve is now managed as part of the broader Kgalagadi Transfrontier Park. Located on the Kgalagadi's north-eastern corner, it covers roughly 2,000km2 of pristine Kalahari grassland and scattered pans, all within the borders of Botswana. Although incorporated into the wider Kgalagadi, this section remains relatively isolated with just four sandy tracks connecting it to the rest of the park. One of these (the Mabua-Kaa track) is completely overgrown, and two others (the Mabuasehube and Bosobogolo 4x4 trails) end at Nossob in South Africa. That leaves only one sandy route between Mabuasehube and Kaa, and this runs outside the reserve itself, along the park's northern border. .

Mabuasehube has some excellent individual campsites, distributed at discreet intervals around the reserve's larger pans. Mabuasehube and Mpayathutlwa pans both have permanent waterholes and the best chance of seeing animals, although game is limited during the dry winter months. Despite this, the region is still famous for its black-maned Kalahari lions and it's not unknown for campers to wake in the morning and find lions lolling around their vehicles. If you're looking for a route back into South Africa from Botswana, then the Mabuasehube Wilderness Trail is an excellent option. This one-way, overnight 4x4 trail can only be booked by one group at a time and passes through miles of stunning Kalahari dunes and grassland on the way to Nossob.

Lodge in the Mabuasehube Game Reserve

The access roads into Mabuasehube Gate are all very sandy and strictly 4x4. Inside the park, there's deep sand along the trails heading west, but firmer ground in the Mabuasehube region itself. South of Mabuasehube, Tsabong is the last stop for fuel and supplies, while to the north, Hukuntsi and Kang have fuel, but very limited shopping options. It's about 2.5 hours from Tsabong to Kaa Gate and about five hour's driving from Mabuasehube to Kaa. Botswana's Department of Wildlife and National Parks manages all the campsites on the Botswanan side of the Kgalagadi. Take everything you need with you, including drinking water. There are taps at some of the campsites in Mabuasehube, but they don't always work and the water is not suitable for drinking.

The Khutse Game Reserve

Khutse Game Reserve falls directly across the Tropic of Capricorn, a 2,500km2 bump that extends off the southern border of the much larger Central Kalahari Game Reserve. It's a little out of the way, and often overlooked by self-drive visitors, but offers beautiful Kalahari grassland between a handful of seasonal pans. The region is very similar to Mabuasehube further south, although here the pans are further apart and there's even less permanent water available. There are five main camping areas inside the park, all operated by Bigfoot Tours. The largest is at Khutse Pan with 10 separate campsites and the remaining camping areas are strung out along a single oval-shaped loop, which the only game-drive route inside the reserve. Khutse is great for wild, isolated camping and as a staging post for those braving the long track north into the Central Kalahari.

Oshana Reservation in Khutse Game Resererve

Khutse is beautiful throughout the year, but game can be scarce during the long, dry winter. The Kalahari's black-maned lions do pass through the region, but sightings are rare compared with the parks to the north and south. The best reason to visit Khutse Game Reserve is for its wild isolation. The campsites are usually quiet, with plenty of space and privacy, and nights are spectacular under the incredible Kalahari stars.

March to May are considered the best months in Khutse, when there's still some surface water to attract wildlife, but the roads around the pans are becoming less muddy. There's just one gate in the east and the access road is well-graded gravel. There's also a trail heading north from the park into the Central Kalahari Game Reserve, but it's very overgrown and extremely sandy, and not recommended unless you're really looking for adventure. If you do take this route, then make sure you have enough fuel. There are no fuel stations or supplies from Letlhakeng to Ghanzi. That's almost 600km, most of it deep sand, which will have a major impact on your fuel consumption. It's much quicker and easier to take the A2 highway north, but either way you're unlikely to need more than two or three days to get the most out of this park.

The Central Kalahari Game Reserve

The Central Kalahari Game Reserve is enormous. At more than 52,000km2, it covers the entire central part of Botswana – a vast, flat expanse of sandy scrubland and open savannah, sprinkled here and there with seasonal pans. Most of the pans, and the wildlife, are in the north of the reserve and most of the camping areas are concentrated there too. During the relatively wet summer months, from December to April, the northern pans fill with water and attract large herds of oryx, springbok and wildebeest. Cheetah, and the Kalahari's famous black-maned lion are never far behind.

The Central Kalahari is known for its lion, cheetah and large herds of summer game, but also as a great place to spot some of the savannah's more unassuming creatures. Honey badgers, Southern African wildcat and the Cape and bat-eared fox can all be found on the Kalahari plains, and there's also excellent birdlife, with over 250 species recorded.

The Central Kalahari is a year-round destination, but late summer is best, both for good wildlife and better road conditions. During the height of the summer rains, the tracks around the pans can become waterlogged and treacherous, but by March they begin to dry and for the rest of the year the going isn't challenging. There's a wide selection of campsites to choose from, some managed by Botswana's Department of Wildlife and National Parks and some by Bigfoot Tours. They all have something to recommend them, but there's more wildlife around the permanent waterholes and the northern pans. The campsites at Deception, Kori and Sunday Pan are some of the best.

Bird species in the Central Kalahari Game Reserve

The Khamo Rhino Sanctuary

Khama Rhino Sanctuary lies just north of Serowe and makes an excellent stopover between the South African border and the Makgadikgadi Pans. It's a community-based wildlife project, dedicated to protecting the threatened African rhino and at the same time provides a welcome economic boost to the local area. At just 85km2, it's tiny compared with other Botswanan reserves, but it plays a valuable role in black and white rhino conservation and is home to some 30 other animal species and over 200 species of birds.

Rhinos in the Khamo Rhino Sanctuary

Rhino are not easy to find in Botswana and a visit to Khama Rhino Sanctuary is definitely your best chance of seeing them. Guided rhino tracking walks are available, as well as guided game drives and more general nature walks. Or, if you prefer, you can explore the park in your own vehicle. The reserve has a number of beautiful campsites, each beneath the branches of an impressive mokongwa tree.

The park may be small, but it's well worth staying a couple of nights and spending the day looking for rhinos. There's a compact network of game-drive tracks to scout out, but you'll need a high-clearance vehicle to negotiate a few sandy sections. There's also a restaurant and bar if you don't feel like cooking, as well as basic, but clean camping ablutions with hot and cold running water. The drive from Tuli should take about 3.5 hours, and it's roughly 5 hours' drive from Khama to Maun.

Tuli Block

Fauna and Flora in the Tuli Block

Squeezed into Botswana's far eastern corner is a narrow wedge of land known as the Tuli Block. It's a particularly wild and beautiful area, with spectacular rocky outcrops, game-rich plains and towering baobabs. To the north and east, the Shashe River forms the border with Zimbabwe and to the south the Limpopo River marks the border with South Africa. Wildlife wanders freely through the region, but is more concentrated on the Botswanan side where the majority of the land is managed by private game reserves.

Kudu in Botswana's Tuli Block

Most of Tuli's private game reserves don't allow self-drive access so to see the area properly you'll need to stay at one of their camps and book a guided game drive from there. Self-drive visitors can still get a good feeling for the area on the transit road west of the Pont Drift border post. The road passes 'Solomon's Wall' as it crosses the Motloutse River. These 30m basalt cliffs rise up from the river bank and are all that's left of a much larger buttress that once formed natural dam. There's an excellent chance of spotting zebra, kudu and elephant from the road.

The Tuli Block makes a good overnight stop for journeys between Botswana and South Africa. The transit road is rough gravel and prone to washouts after heavy rain. During the dry winter months, it's manageable in a sedan, but a high-clearance or 4x4 is recommended at all times of the year. Self-drive camping is available at Molema Bush Camp and Limpopo River Lodge, among others, but most of the area is privately run and self-drive exploration is limited. Lodges and tented safari camps are also available. .

The Lekhubu Islands

Rock formation in the Kubu Island

Lekhubu, or simply 'Kubu' Island is one of Botswana's most well-known attractions. Located on the western edge of the vast Sua saltpan, this remarkable, baobab-studded outcrop is a wonderful addition to any self-drive itinerary. More peninsula than island, it commands breath-taking views across Sua Pan, with low scrubland to the west and nothing but the endless horizon to the north, east and south. There's a small, very basic campsite run by the Gaing O Community Trust and in winter, when the pans are dry, it makes an excellent overnight stop for journeys across the Makgadikgadi Pans.

Lekhubu Island itself is the only feature for miles, a pincushion of baobabs against the boundless expanse of Sua Pan. Sunrise and sunset are particularly magical, when the soft light frames the trees in delicate purples and pinks. Driving onto the pan is prohibited, but the island and surrounds can be explored on foot. One of the most memorable experiences you can have in Botswana is walking out onto the dry pan before dawn and watching the sunrise as it ever-so-gradually lights up the trees.

From May to November the pans are usually dry and Lekhubu Island is accessible via 4x4 tracks to the north and south. During the wet summer months, the southern route can flood completely, turning the track to sticky mud, which is very often impassable. The northern route from Mabole is generally drier, but steer clear of the pan's edges if there's even a little water about. There's absolutely nothing to do at Lekhubu except relax and take in the stunning scenery. Most people stay for one or two nights before moving on.

Wildlife in the Kubu Islands

The Makgadikgadi Pans National Park

The Annual Zebra Migration

In north-eastern Botswana, a collection of enormous saltpans is all that remains of what was once a huge inland lake. Collectively, these are known as the Makgadikgadi Pans, a 16,000km2 expanse which now floods only briefly in summer. The largest individual pans are Sua and Ntwetwe and for the most part they're not officially protected within any national park boundaries. The exception to this is the north-western corner of Ntwetwe Pan, which marks the edge of the Makgadikgadi Pans National Park. This roughly 4,700km2 reserve extends from Ntwetwe in the east to the Boteti River in the west and is an important region for seasonal wildlife migrations.

The Makgadikgadi Pans National Park is not known as a prolific wildlife destination, except for the impressive herds of zebra and wildebeest which congregate along the Boteti River in winter, and migrate towards the pans in summer. These do attract predators, but sightings are much less common than in nearby Moremi Game Reserve and Chobe National Park. The Makgadikgadi is best visited for its mix of stunning saltpans and vast Kalahari plains, which, especially in winter, seem to stretch out to the horizon like an endless, golden sea.

The tracks along the Boteti River are very sandy in places, and strictly 4x4. They're firmer through the central grasslands, but can get muddy around the pans in summer. There are two very wild, isolated camping areas in the east of the park – Njuca Hills and Tree Island. Both of these are managed by Botswana's Department of Wildlife and National Parks. Khumaga Camp is the park's main campsite on the banks of the Boteti and is run by SKL Group. There are two main gates into the park, Phuduhudu Gate on the A3 highway to the north, and Khumaga Gate to the west. Entrance via Khumaga Gate may require a pontoon ferry over the Boteti if the river's water level is too deep to drive.

Sunset while Camping in the Makgadikgadi Pans National Park

The Nxai National Park

Self-drive camping in the Nxai National Park

The Garden Route National Park is made up of three distinct sections: Wilderness, Tsitsikamma and the Knysna Lakes. On the far west, the Wilderness section protects a meandering system of rivers and lakes between the sea and the Outeniqua Mountains. Around Knysna, the lagoon estuary and the forests behind the town are covered, and to the east, the Tsitsikamma section extends 65km along the coast from Nature's Valley to the Groot River, including a marine protected area that extends offshore. The park is a wonderland of rivers, lakes, forest-clad mountains and often-stormy ocean, and should not be overlooked on any drive along the Garden Route.

Elephants in the Nxai National Park

Nxai Pan National Park is essentially a continuation of the Makgadikgadi Pans National Park, a northern extension across the tarred A3 national highway, about 30km west of Gweta. The park covers roughly 2,500km2 and includes three small pans, the largest of which is Nxai Pan itself, at approximately 60km2. There's one large campsite called South Camp, which lies on the southern edge of Nxai Pan, and three separate wild campsites in the Baines' Baobabs area around Kudiakam Pan.

Baines' Baobabs is a spectacular camping area. Its three separate stands are a few kilometres apart, each with its own huge baobab tree and stunning views of the surrounding pan. Further north, South Camp is a more traditional campsite with 10 stands, ablutions and hot showers. During the wet summer months, the pans attract large numbers of zebra, wildebeest, springbok and numerous other species, as well as predators such as cheetah, leopard and lion. In winter, there's little game around Baines' Baobabs, but South Camp has permanent waterholes nearby, which keep some animals in the area, especially elephant and giraffe. There's water at South Camp, although it's not suitable for drinking, but nothing but a pit toilet and fireplace at the Baines' Baobabs stands. Both Baines' Baobabs and South Camp are operated by Xomae Group, and the park has only one access road and it's very, very sandy. 4x4 is absolutely essential. There are various game viewing tracks around all the pans and during the summer rains they can get very muddy. In winter the mud dries into deep holes and ruts so the going can be slow at any time of year.

The Moremi Game Reserve

A leopard in the Moremi Game Reserve

Moremi Game Reserve is one of Botswana's most famous parks, and the only place self-drive visitors can access the Okavango Delta. The park sits on the delta's eastern edge, with two campsites at its main north and south gates and another two further in, on the waterways. The area receives rainfall in summer which runs from late November to the end of March. Counterintuitively, this is when the delta is at its lowest ebb. Water levels only begin to rise in May, reaching their height in September and October as the floods from the Angolan highlands slowly filter down.

Moremi offers some of the best wildlife viewing in Botswana, including all of the Big Five – although rhino are rare. The delta waterways attract a huge variety of birds and animals and no visit is complete without a makoro (local wooden canoe) or motorboat trip out into the larger pools. Trips can be arranged at the Xakanaxa and Third Bridge campsites, or at the Mboma Boat station in the far northwest of the park. Xomae Group (who operate Third Bridge campsite) also offer a wonderful overnight boat and wild camping excursion to the small delta island of Gcodikwe 1.

Moremi is a year-round wildlife destination, but the roads can be very muddy and difficult from January to March. July to October are considered the best months for animals, but the campsites are also at their busiest and it's essential to book well in advance. The April/May shoulder season is usually quieter, and still offers good wildlife viewing and decent road conditions. Kwalate Safaris operates the campsites at South Gate (also known as Maqwee Gate) and Xakanaxa. SKL operates the North Gate (Khwai Gate) campsite and Xomae Group operates Third Bridge and the island camp on Gcodikwe 1. Ask about road conditions at the gates before you enter the park. In particular, check whether it's possible to cross between Third Bridge and Xakanaxa. The bridge itself is often damaged and out of service, which may mean a long drive around. The closest fuel to Moremi is in Maun.

The Chobe National Park

A boat cruise through the Chobe National Park

Chobe National Park runs from Botswana's northern border with Namibia, south towards the Khwai River and Moremi Game Reserve. It's a huge area of almost 12,000km2 and, along with Moremi, offers the best wildlife viewing in Botswana. The two main wildlife regions are around Savuti Camp in the centre of the park, and along the Chobe and Linyanti Rivers in the north. The Savuti region is famous for the enigmatic Savuti Channel which, when running, pours water into the inland Savuti Marsh and attracts an incredible variety of animals in great numbers.

A lioness in the Chobe National Park

The Savuti Marsh is one of Southern Africa's great wildlife playgrounds and when the channel is open animals congregate on the plains around Savuti Camp. In a single game drive, you might see elephant, buffalo, giraffe, leopard and lion, not to mention thousands of zebra, wildebeest, impala and a host of other animals and birds. Further north, the rivers are vital water sources especially during the long, dry winter. Thousands of elephants fall on the area from May to October and enormous herds are a common sight along the riverbanks. Don't leave Chobe without taking a wildlife-spotting boat cruise on the Chobe River. Boat trips can be booked from most lodges and hotels in Kasane.

North of Savuti, the tracks are particularly sandy and in summer those around the Savuti Marsh can turn to think, impassable mud. The whole park is definitely 4x4 only, but from May to November you shouldn't have any problems. SKL Group operates the Savuti and Linyanti campsites and Kwalate Safaris operates Ihaha Camp. There's running water and ablutions at all three of Chobe's public campsites but no fuel or supplies between Maun and Kasane.

Gaborone

Gaborone at Night

With a population of just over 230,000, Gaborone is Botswana's capital and largest city. At its centre – known locally as 'The Mall' – tall, glass-faced commercial buildings glitter in the sun while below one of the fastest growing capitals on the continent stretches out in every direction. There's significant sunshine here, with average temperatures reaching upwards of 26°C for almost two thirds of the year. Winters are mild and dry, but nights may drop below freezing in June and July. Afternoon thunderstorms are most common during the height of summer, but may occur from October to April.

You'll have to brave the traffic (otherwise unknown in Botswana) to experience most of Gaborone's inner-city offerings. The National Museum and Art Gallery is home to works by local artists and the Three Dikgosi Monument depicts a trio of the nation's most famous tribal leaders in bronze. There's a National Botanical Garden and the Gaborone Game Reserve within city limits, but for the best views visitors tend to head a little way out of town and up Kgale Hill, which overlooks the vibrant metropolis.

As Botswana's commercial and economic hub, you'll find everything you need here, including vehicle dealers for any serious issues. If you're not sightseeing, avoid the city centre if possible, especially during rush hour – road works and detours can cause significant delays. Fuel stations and large grocery stores are aplenty and you'll easily find one on the outskirts. 'Gabs' (as its affectionately known) is a safe and friendly city but as with any large capital, keep an eye on your belongings and beware of opportunists.

Maun

Maun is conveniently positioned at the southern tip of the famed Okavango Delta and as such, it benefits from the delta's unique ecological wonders. The Thamalakane River, which bisects the town, attracts a wide variety of birdlife and antelope species, while hippos and crocs can be found in the waterways themselves. Agriculture is paramount here – swathes of commercial floodplain surround Maun's sprawling city centre of squat-brick structures, faded paintwork and busy, dusty streets. The climate is tropical with heavy rains in the summer and dry temperate winters.

Self-drive through Maun

As a break for those on a self-drive, self-catering safari, Maun offers a surprising selection of good restaurants and bars. Near the airport, The Red Monkey and French Connection serve up good fare, while a little out of town, Sports Bar and The Old Bridge Backpackers are two of Maun's livelier venues. Popular activities here include chartered flights to see the Okavango Delta from the sky, river cruises and day trips to the seasonal Lake Ngami or north into Moremi Game Reserve.

Home to the region's only commercial airport, Department of Wildlife and National Parks permit office and operations bases for most private safari operators in the region, Maun has all the necessities of an outpost town. There's fuel, supplies, medical services and mechanical support, and most national park campsite operators have offices where you can check or amend bookings face-to-face. There's a range of accommodation in and around town too, including secure campsites for self-drivers.

Aerial photograph of the Zebra Migration through Maun

Kasane

Maun to Kasane Boat ride

Situated on Botswana's northernmost point, in close proximity to border posts with Namibia, Zambia and Zimbabwe, Kasane is a key stopover town for anyone self-driving Chobe National Park and beyond. Though relatively small, the town is abuzz with ad-hoc traders, overlanders and safari vehicles in transit. The climate is tropical, with heavy summer rainfall, and the surroundings are mostly dense riverine woodland thanks to its position near the confluence of the Zambezi and Chobe rivers.

Due to its critical geography, the town itself is largely utilitarian – a fuel station, grocery store, vehicle repair services and a handful of general dealers make up the centre. There's a small airport, a golf course and a few lodges along the Chobe River, which runs parallel to the main road through town. Accommodation ranges from upmarket lodges to riverside camping and most establishments, if not all, offer river cruises, day tours into Chobe National Park, or trips across the border to Victoria Falls.

With an airport and reasonably good tar roads in all directions, Kasane is the best place to head if you have an emergency in this region. It's also the only place to stock up and refuel for safaris in and out of Chobe National Park. As a gateway town, it's also where you'll get up-to-date information on routes and road conditions. Take care when asking for advice (your best bet is to head to one of the lodges) and keep an eye on your vehicle and belongings – as a mass thoroughfare, Kasane is a prime location for opportunists.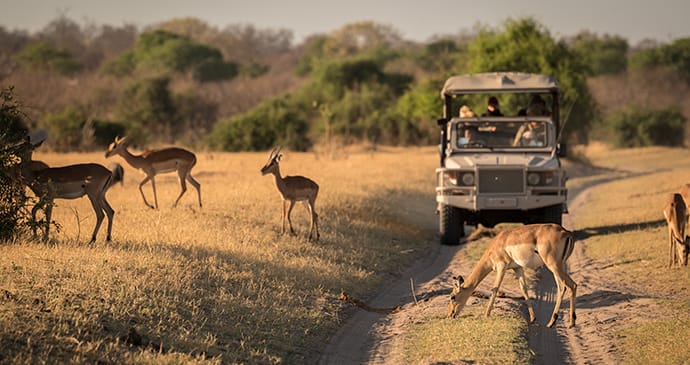 Southern Africa has many wonderful safari destinations, but none quite like Botswana. Wildlife safaris to Namibia or South Africa usually focus on one or two major game parks – Etosha or Kruger National Park for example. The same can be said for Zambia and Zimbabwe, but Botswana is different. A self-drive Botswana safari isn't just a holiday to Moremi or Chobe or the Central Kalahari; when you go on safari to Botswana, you go on safari to an entire country.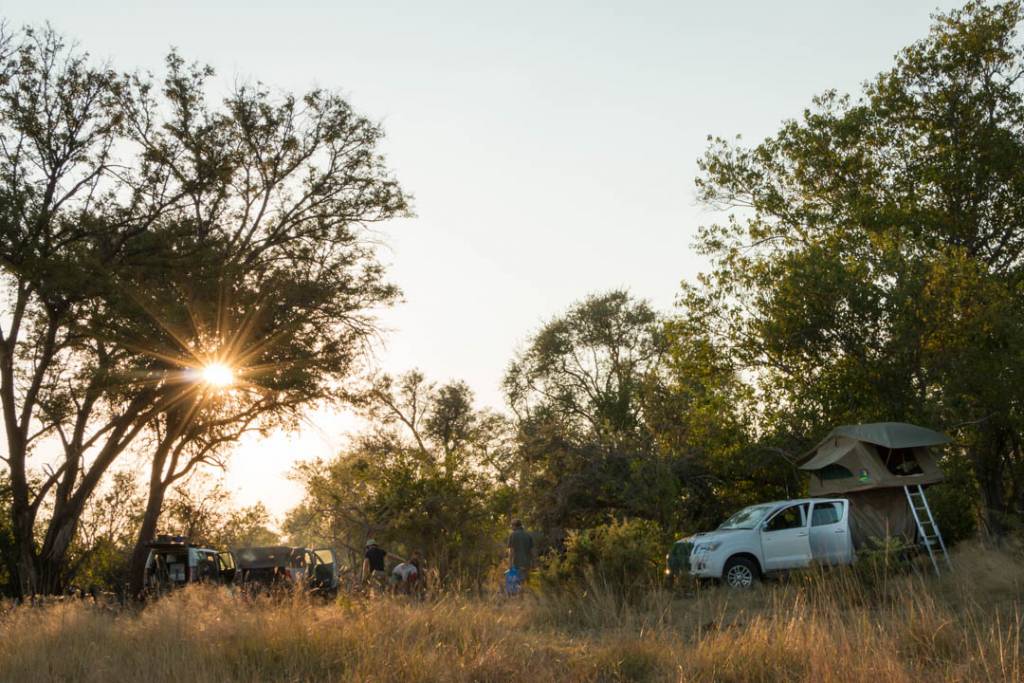 Only about 17% of Botswana is specifically set aside for national parks and reserves, but it feels like so much more once you're there. Partly this because there's another 21% devoted to wildlife management areas and buffer zones so that, along with various other small conservation areas, the total landmass set aside for wild animals is just over 40%. For a country of almost 600,000km2, that's an area slightly larger than the whole of the United Kingdom.
But even this vast 40% doesn't do justice to the enormous, untamed wilderness that seems to stretch off to the horizon in every direction. With only 2.2 million people, Botswana has one of the lowest population densities in the world. Even in the 60% not given over to wildlife, towns and villages are generally small and infrequent, and many regions would still be considered wilderness in most other countries. With few fences and huge tracts of land for animals to roam, the lasting impression one giant game park where you're almost as likely to see an elephant crossing a major highway as splashing through a river inside a dedicated national park.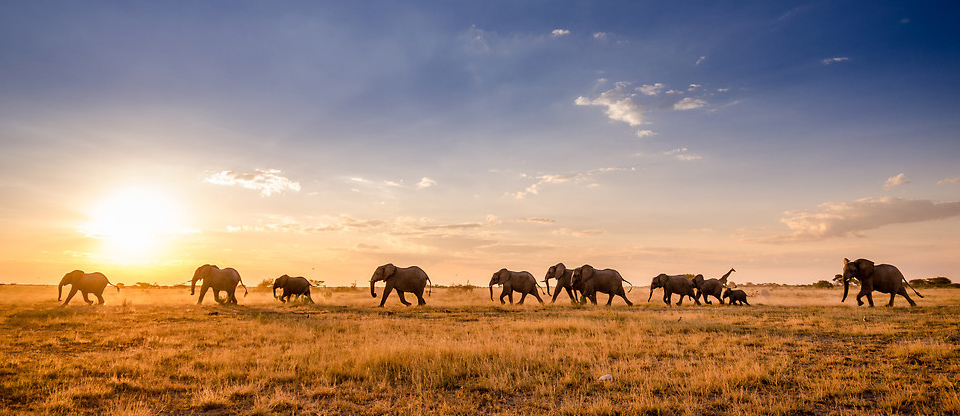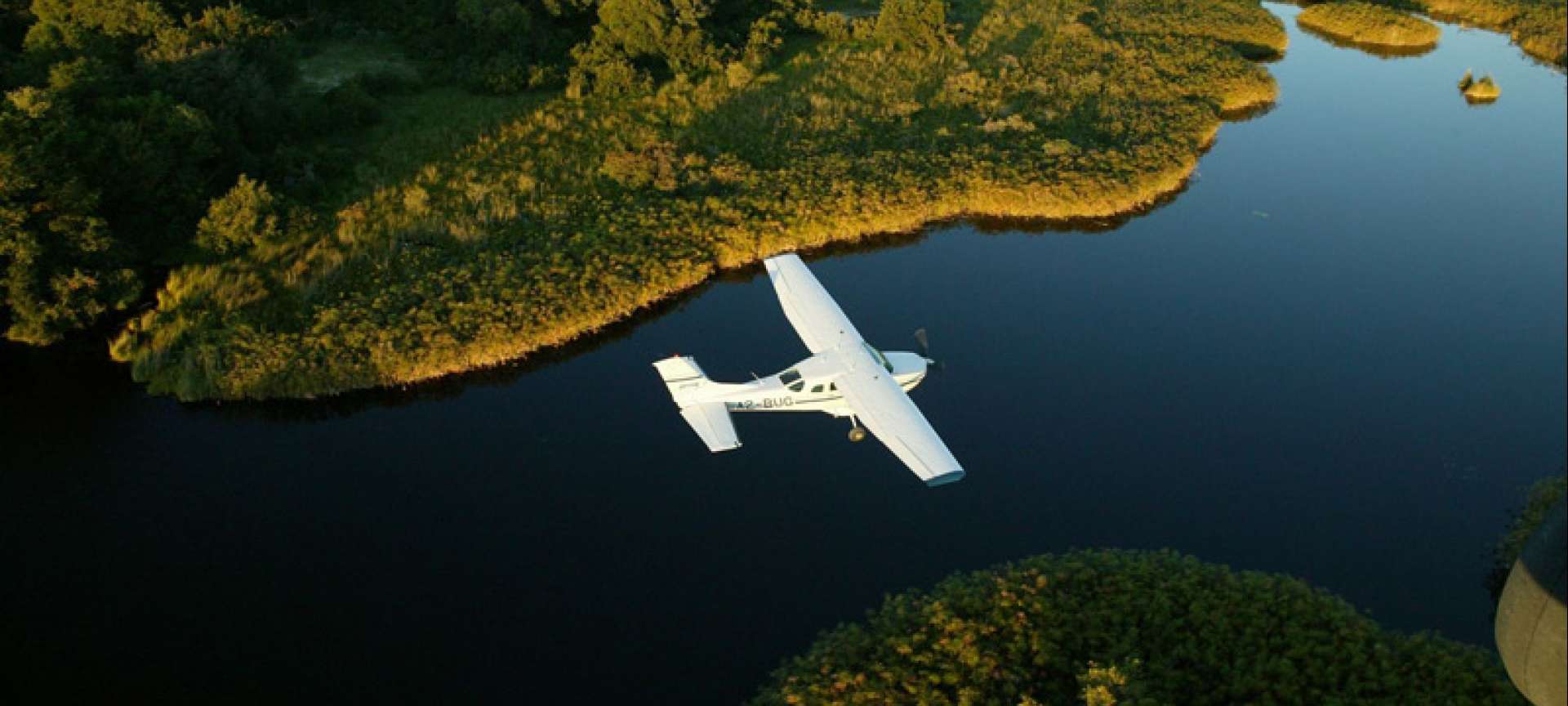 Holiday Styles
A Beach and Bush Holiday

Botswana is completely landlocked, with no beaches or access to the sea. It doesn't even have very many rivers or permanent water sources, but in the Okavango Delta it has what must be the most spectacular, and certainly the wildest, inland delta in the world. Each year, roughly 11 trillion litres of water flow south from the Angolan highlands, bringing life and sustenance to thousands of species of plants and animals, before evaporating, subsiding, then beginning all over again. There may be no beaches in Botswana, but the Okavango Delta is a more than adequate substitute, and in some places, if there are no crocodiles around, you can even take a swim.

The Okavango never drains completely and the best way to experience the delta is by boat. The most traditional choice are the mekoro – small, dugout canoes which can be hired for short excursions or multiday trips. They're a wonderful, peaceful way to explore the narrow, twisting waterways, poled silently along by local, knowledgeable guides who are usually only too happy to share their beautiful home with visitors. Short outings can be arranged from Xakanaxa Camp and the Mboma Boat Station in Moremi Game Reserve. They don't need to be booked in advance. Longer trips are best organised through one of the operators in Maun.

Xomae Group, who operate Moremi's Third Bridge Camp, also offer boat hire and overnight boat trips into the heart of the delta. Their wild campsite on Gcodikwe 1 island is one of the best ways to experience the Okavango on a budget. There are plenty of very high-end lodges out in the middle of the delta, but Gcodikwe 1 is one of very few islands available to self-drivers who want to camp wild. You'll need to take absolutely everything with you – including enough to feed your guide. There are few more wonderful experiences to be had in Botswana than sitting around your own private delta campfire as hippos grumble and splash on your doorstep and lions roar in the pitch-black night.

A Botswana holiday as a couple

Travelling as a couple

For self-drivers in Botswana, romance may have to take a back seat, especially if you plan to visit the more remote wild campsites which usually have just a pit toilet and no running water. Modern 4x4s can still be very comfortable of course, but you'll need a fairly rough and ready definition of romance if a purely romantic holiday is what you're after.

For unequivocal romance, your best bet is to take a few days off from the road and head for one of Botswana's magnificent luxury lodges. These can range from a few hundred to many thousands of dollars a night so you'll have to shop around for something to fit your budget. Luxury lodges in the Okavango Delta offer some of the most spectacular safari accommodation on the planet, with beautiful rooms, private wooden bath decks, sunset dinners and incredible birds and wildlife all around. Not in your bed though. They're very specific about that.

If you're someone who can find romance in dusty pillow cases and dirty fingernails, then all of Botswana is yours to enjoy. The best romantic campsites are those with no one else for miles around, which makes Baines' Baobabs, in Nxai Pan National Park, a particularly wonderful option. These three, private campsites are spaced a few kilometres apart around Kudikum Pan in the south of the park. There's no water or facilities of any kind, just a discrete pit loo and a concrete slab for a fire. Towering above each campsite are the huge baobabs that make this place so special. E ach site has its own gigantic baobab or two, and stunning views across the nearby pan.

A family holiday in Botswana

Family Travel in Botswana

With its free-roaming predators and unfenced camps, Botswana isn't the ideal holiday destination for very young families. North of Maun, malaria is also a concern, so unless your children are old enough not to require constant supervision, its best to keep to the central Makgadikgadi Pans region where there's plenty of open space to play, fewer dangerous animals and practically zero risk of malaria.

First stop should be Lekhubu Island, without doubt a top contender for Botswana's most magical place. Lekhubu lies on the western edge of the immense Sua Pan, which, together with neighbouring Ntwetwe Pan, makes up one of the largest interconnected salt pan systems in the world – the Makgadikgadi. Lekhubu is not a true island, but rather a small rocky hill that juts out into the seasonally flooded Sua Pan. Sprouting mighty baobabs like a pincushion, Lekhubu is an amazing sight in the late afternoon light and – especially – at dawn, when the sun rises gently as if from a boundless, silent ocean.

If the pans are dry, and you have a 4x4 and GPS, you can transit safely across the pans to Gweta. Don't attempt this route in the wet as you'll almost certainly get stuck, and even when dry, keep to the main tracks of the vehicles that have crossed before. The last stretch before Gweta is very rough and dusty, but Gweta Lodge has a lovely swimming pool, and there's another at Planet Baobab down the road. If the kids are old enough, don't miss the fantastic quad bike tour to visit the local meerkat colony nearby. Further North, Nxai Pan National Park is another good spot for families. The private campsites at Baines' Baobabs all have plenty of open space around them so it's easy to keep an eye things, and if you visit during the dry winter months there'll be very few animals around. From the Baines' Baobab campsites, it's only an hour's drive to the main Nxai Pan in the north. Here the permanent water holes attract the elephant, giraffe, lion and antelope that, during the dry season at least, generally don't venture further south.

What are my self-drive options?

The cost of a camping holiday in Botswana

Camper vans are a fun and convenient way to travel through South Africa




South Africans love to camp, and there are excellent campsites all over the country. Camping facilities are usually top drawer, with hot water, electrical points, clean ablutions and plenty of shade. The larger campsites often have laundry facilities, and there's usually a shop selling basic supplies. The national park campsites are particularly well-appointed, and the major rest camps all have shops and restaurants that campers can use.

A camper or motorhome is an excellent vehicle for exploring South Africa. They provide access to all but the most rugged 4x4 terrain, and allow a degree of ease and comfort that traditional camping lacks. A night in a motorhome on a deserted beach campsite can feel more exclusive than a night in a hotel, and having a kitchen, power, and no tents and mattresses to pack and unpack, is practically luxury.

On the downside, campers are not ideal for South African cities. They can be tricky to manoeuvre and park, and it can be difficult to find a place to camp. There are very few campsites in any of South Africa's major cities, and they tend to be of a lower standard than elsewhere in the country. Out on safari, campers sit high off the ground and can be good game viewing vehicles. Be aware, however, that some configurations don't have very large passenger windows, or only have them on one side. Very inconvenient if the lions are on the other side of the vehicle. Campers and motorhomes are best suited for road trips along the Garden Route, KwaZulu-Natal, and across the interior, especially during the wet and unpredictable Cape winter and the hot, rainy summers in the north. Having a cosy, dry motorhome makes camping a pleasure even in bad weather, and they're a great option in the quieter rainy seasons.

Try our range of camper vans

What are my options if I'm travelling by 4x4 through Botswana?

A 4x4 Self-drive through Botswana

To explore Botswana's parks, you'll need a 4x4 – in fact most parks and reserves won't let you in without one. In some areas, a high-clearance 2x4 with diff lock will manage, but it's best to have a 4x4 even if it's only for the occasional trickier situation. In the dry winter, deep sand is the challenge, especially in the Kgalagadi, Central Kalahari, Nxai Pan and northern Chobe. Once the rains begin in November/December, the roads around the pans get especially treacherous, with thick mud that can trap even 4x4s. Moremi's roads are always tough: a mix of deep ruts, sand and high delta flood waters in winter, and rain-choked, muddy tracks in summer. That's not to say every metre is a terrible ordeal, but some sections will put your 4x4 to the test and all tracks should be treated with caution. Botswana is Southern Africa's premier wildlife safari destination and a fantastic country to self-drive. With a 4x4, fully-equipped for camping, you can experience almost everything Botswana has to offer. The only exception is the central Okavango Delta, which is only accessible by air or boat and the domain of numerous luxury lodges. Otherwise a 4x4 will get you everywhere, from the Central Kalahari's wildest solitary campsites, to the elephant-clogged riverbanks of the Chobe. It's important to make sure you have adequate fuel and water tanks and a fridge/freezer and dual battery, ideally with solar power. The joy of Botswana's campsites is their utter isolation and you'll need to be completely self-sufficient as you journey between them. The 'roads' through Botswana's parks are mostly bumpy jeep tracks or muddy trails, depending on the season. Driven carefully, a 4x4 with good ground clearance will handle most conditions without any trouble, but water crossings and wet salt pans can trap even the toughest vehicles. If possible always check water depth before you cross any pool or stream and drive around or back if you're at all unsure. Salt pans should be treated with particular caution – even when they appear dry, it's often just a thin top crust, hiding deep mud beneath. Avoid driving where no vehicles have gone before, and keep an eye on any existing tracks to see if any previous vehicles have gotten stuck. Make sure you're carrying recovery gear (tow rope, sand tracks, spade etc.), don't take chances, and travel with at least two vehicles if you can.

Try our 4x4 vehicles for hire

What is great about travelling through Botswana in a car?

Explore Botswana in the freedom of your own car

A network of paved highways connects Botswana's major towns, but most roads off these arteries aren't suitable for regular cars. Sedans aren't allowed to enter most parks, all of which have sections that can't be negotiated without a 4x4, or at the very least a sturdy, high-clearance vehicle. If it's not deep sand, then it's mud, and when the mud dries it gets rutted and very bumpy. For the most part, none of this is particularly challenging in a tough 4x4, but you won't get far in Botswana without one.

If a sedan is your only option then heading to Maun, Kasane and/or Tuli will be your best bet. The Tuli Block is a relatively small region of private camps and reserves in the southeast of Botswana. Most of the area is off-limits to self-drivers, but guided game drives can be booked at the camps and the main access roads can be driven in a sedan. In the far north, Kasane is easily reached along the A33 highway. Once there, guided 4x4 drives operate along the Chobe River, which are especially worthwhile in the late afternoons when the elephants come to drink. Don't leave Kasane without taking a Chobe River sunset cruise. You'll get to see elephants, crocodiles and a host of other animals from the water. Maun is known as the 'gateway to the Okavango' and there's no shortage of operators waiting to take you into the delta. Day trips and multi-day excursions are available, or hire a light aircraft or helicopter for a few hours and see the incredible Okavango from the air.

The country's paved highways are of varying quality, with long, well-surfaced sections that can deteriorate suddenly into potholes. Always drive cautiously, never at night, and keep a sharp eye out for animals at all times. In the wilder regions, you may see elephant and antelope on the road and stray cattle and donkeys are common near villages. Be especially careful of the donkeys. They like to stand in the middle of the road, refusing to budge, and you may be forced to detour around them. Botswana's traffic police are active on the highways and radar trapping is used to enforce speed limits.

Try our car rentals

Travelling to Botswana

Space is limited in Botswana's parks and reserves and during the busy winter season it's essential to book in advance. June to October are particularly popular in Moremi and Chobe and while the Kgalagadi, Makgadikgadi Pans and Central Kalahari tend to be quieter, it's best to secure your itinerary before you arrive rather than take a chance on last minute cancellations.

Booking campsites can be a bit complicated in Botswana, with multiple separate companies operating different camps, often in the same park. Moremi, for example, has four public campsites. Xomae Group operates Third Bridge, while SKL runs Khwai North Gate. And if you want to stay at South Gate or Xakanaxa, you'll have to book through Kwalate Safaris.

Sunset in Botswana

Besides these and other private operators, some camps are managed separately by the Botswana Department of Wildlife and National Parks (DWNP), who also deal with park entry and conservation fees. The best method is to approach all the relevant camp operators together and get a selection of available dates for the camps you want to visit. Once you can see what's available and when, you can then piece together your ideal route and make the appropriate bookings.

After your campsites are booked you'll need to pay park entrance fees to the DWNP. This can be done in advance or at the gates, but if in advance, make sure you give them enough time to process and send you the vouchers. You might be able to pay with a credit card at the gates, but card facilities sometimes don't work so it's safer to carry cash. The DWNP central reservations office is pretty well organised and a quick phone call will often resolve any issues.

Getting around in South Africa

Botswana's traffic police enforce speed limits through radar trapping. They use mobile units and tend to set up just after villages or vet fence gates – anywhere where the highway speed limit (usually 120km/h) has been lowered and not yet re-established. If you do get stopped for speeding, you can expect a spot fine. Fines must be paid in local currency and can be anything from a few hundred to a thousand pula. Don't expect them to have any change. All-in-all it's usually not a major ordeal. Be friendly and you'll be on your way in no time.

Wildlife in Botswana

Botswana is home to the Big Five and much more, and the north is where you'll find the greatest numbers and variety. The permanent waters of the Okavango Delta and the Chobe Linyanti River System provide water and food for huge herds of elephant and buffalo, as well as thousands of zebra, giraffe and other iconic species. These of course attract a variety of predators, including lion, leopard and cheetah, plus numerous scavengers and over 500 species of birds. The only animal under-represented is the ever-threatened rhino and although they can be found in Moremi Game Reserve (on the eastern edge of the Okavango Delta), sightings are rare. Your best chance of spotting a rhino is at the excellent Khama Rhino Sanctuary, a small, community-based wildlife reserve near the south-eastern town of Serowe.

Elephant bull in Botswana

Botswana's southern and central regions are generally less productive for wildlife viewing, although at specific places and times of year, sightings can be just as spectacular as in the north. In winter, from May to October, conditions are extremely dry and many animals migrate north in search of water. This can make the few remaining permanent water sources excellent focal points, especially for the Kalahari's famous black-maned lions. These stay behind to prey on the springbok, oryx and other desert-adapted species that can go for long periods without a drink. The permanent waterhole at the Kgalagadi's northern Kaa Gate, for example, is particularly well known for lions.

A herd of elephants in Botswana

From November to April, the summer rains transform the region. Although predators can be harder to spot in the thick, green vegetation, the Kalahari itself is at its most beautiful and the antelope and other grazers are drawn in high numbers to the fleetingly full rivers and pans.

The best practical advice for your trip

Vaccinations

Check with your doctor before travelling, but your usual, routine vaccinations should be up to date, including MMR, tetanus and polio. Hepatitis A, typhoid and rabies vaccinations are also recommended, although if you're on a self-drive safari and spending a lot of time in the wilderness and away from built-up areas, the risk of infection is very low. Malaria is not found in Gaborone, the Central Kalahari or the Kgalagadi, but infection rates increase as you head further north. The highest risk is during summer and in or near human-populated areas. Apply insect repellent and wear long, loose-fitting clothing at night, and consult your doctor about prophylaxis medication before you travel. There's no risk of yellow fever in Botswana, but if you're arriving from a yellow fever region you will be asked to show proof of vaccination. Yellow fever areas include most of Central Africa, and parts of Central and South America.

Medical Emergencies in South Africa

Botswana has countrywide, toll-free numbers for ambulance (997), police (999), fire brigade (998) and medical rescue services (911). For air rescue and serious injury, you can also contact various private medical companies for assistance. Medical Rescue International (MRI) is well known, and can be reached 24-hours, 7-days-a-week on 992 (toll-free) or +267-390-1601. Emergency Assist 991 is another private 24-hour, country-wide service, available on 991 or +267-390-4537. Check with your medical insurance company to see if they have a preferred provider before travelling to Botswana.

Medical Insurance

Travel and medical insurance is always a sensible precaution, especially when visiting a wild and remote country such as Botswana. Full, comprehensive, primary medical cover is highly recommended. And it's best to get the maximum cover available as emergency evacuations and medical procedures can be very expensive. Make sure your policy includes all the 'adventure activities' you're planning to do, specifically: driving off-road vehicles, canoeing and boat trips, and up-close wildlife encounters. Familiarise yourself with how your policy handles payment and reimbursement, and what documentation you need to process a claim. It's also advisable to get full vehicle insurance and to know exactly how your policy is worded with regards to breakdowns and breakages. In particular, check the clauses on support and recovery situations, especially those that could be judged as your fault. It can be very expensive to extract a broken vehicle from the middle of the delta. General travel insurance should cover cancellations, theft, loss and damage to sensitive equipment. Very expensive, specialist gear such as cameras and lenses may need to be covered separately.