6 Reasons travellers love Cape Town
It's rare for people to tour South Africa without making that all-important stop at the fair Cape. Over the years, this beautiful town has not only been praised, re-visited and even settled into, it also continues to win major travel awards as one of the best tourism destinations for Europeans in particular, thanks to its world-class hospitality industry, friendly locals and natural treasures. All that being said, there are even better reasons to visit Cape Town.
If you want the freedom to explore these beautiful places and spaces at your own convenience, it would be worth having your own set of wheels to drive around. You might want to consider car hire Cape Town.
1.   The world-class wine tours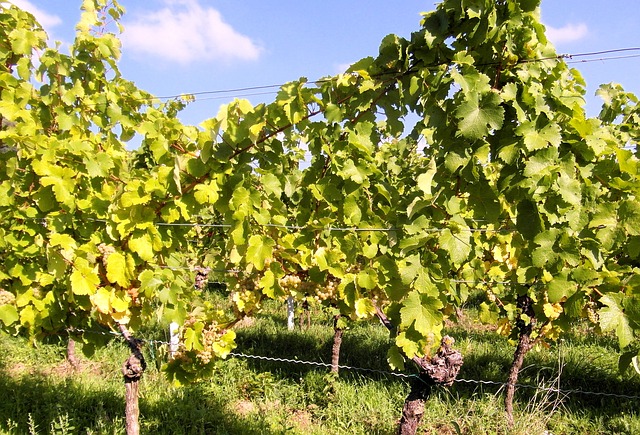 Cape Town has its own world-class vinyards
The majority of Cape Town's wine estates offer travellers wine tastings and tours of their farms and cellars on a daily basis. Be treated to a vast range of cheeses and wines and enjoy the warm hospitality. As wine and food make fast friends, you'll find that many of these vineyards are within easy distance of delectable cuisine, allowing you to wind down at a local restaurant after a day sampling the finest locally made wines and cheeses.
Some of the most popular routes include the award-winning Constantia Valley Wine Route, one of the oldest in South Africa; Stellenbosch American Express Wine Route, encompassing over 200 vineyards, and Franschhoek Wine Route: known for its breathtaking sceneries, art galleries and sparkling wine.
2.   The opportunity to spot whales
These beautiful mammals can be pretty tough to catch a glimpse of. In Cape Town, however, tourists get the chance to spot whales during the warmer months between November and March. Often, you'll only need to stand on the coast at select whale watching points in order to receive a friendly fin or tail wag, or else a cheeky jet of water. Close to the False Bay and Hermanus coastline you'll spot Southern Right, Killer and Humpback whales, all of which are relatively common to the area.
3.   The one-of-a-kind Table Mountain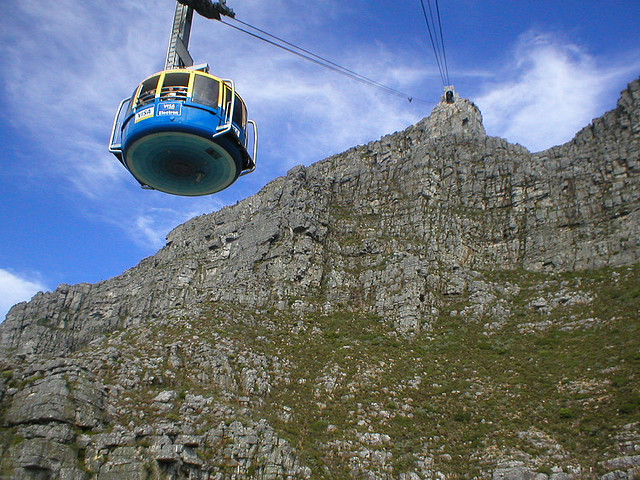 Table Mountain cable car
This mountain is literally shaped like a table and often has thick, sinking cloud cover in the colder months that is known as its tablecloth. Visitors flock to experience the mountain's main table-top checkpoint, either to enjoy a thrilling ride in the cable car or to learn more about the various ecosystems and lush, natural fauna. Most of all, it offers any traveller the perfect view of the city, with a view spanning all the way to the Hottentots Holland Mountain peaks in the Cape Fold Belt.
4. Golden Shores
Even during the winter months, visitors can enjoy the Capetonian beaches for their scenic beauty and accompanying stores and restaurants.
The western side of the peninsula spans out from the V&A Waterfront to Hout Bay. This side treats you to more hours of sun, as well as shelter from the famous Cape Town wind. The water on this side is a few degrees colder, making this section ideal for tanning or spending a relaxing day out. The eastern section, along with the Indian Ocean, is warmer and better for swimming.
With this range of choice, you can skim across the waters on a surfboard (Muizenberg offers one-on-one training for beginners), sunbathe, picnic, swim, go scuba diving, take leisurely walks, gentle boat rides or just make sandcastles to your hearts' content.
Cape Town's coastline is formed in such a way that you don't have to drive far to find yourself at a beach.
5. The variety of shopping options
Though nature is vast and beautiful in the Cape, you're never short of choice when it comes to getting a chance to shop. From popular locations such as the V&A Waterfront to the rustic flea markets where locals vend their art, eats and jewellery, it's easy to find just about any souvenir or treat you're looking for. Cape Town is blessed with top-notch boutiques, shops, and street stalls, giving a great experience to any shopper from the souvenir-hunter to the rock collector.
6. The food
When coming to Cape Town you don't have to worry about cooking. The only time you're thinking about making food is when you're going for a picnic or a braai. Cape Town is voted to be the Third Best Food City in the world. In Cape Town, you'll find hundreds of ridiculously good restaurants, from sushi and tapas till burgers and bistros. Cape Town has it all. Cape Town is also well-known for its popular food markets, for example, the Neighbourgoods Market in Old Biscuit Mill or the City Bowl Market on Hope Street.
Every day is a holiday in the Cape and these are just a few of the reasons that this destination is such an eclectic hub for travellers from all backgrounds. Perhaps it's time to hire a car in Cape Town and discover some more? Some more options below;
Car hire cape town airport
Luxury car hire cape town
Wedding car hire cape town