The Best Markets in Cape Town
Cape Town is an incredible city offering the best of Africa's nightlife, sun, surf, sea and shopping. Whether you're planning on spending your next summer beach holiday in the Mother City or dropping in for a fun-filled weekend, there is a massive amount to do. Indulge and live it up while staying in a tourist's playground, Cape Town, by going sightseeing and checking out the local attractions.
If you would like the freedom to do what you want, when you want to, you might want to consider
car hire Cape Town
for your transportation needs.
The Mother City and the surrounding areas of the city are just brimming with amazing Cape Town markets that are hustling and bustling with shoppers and traders alike. Week after week connoisseurs and travellers, guests and international visitors alike enjoy the best of this beautiful city's markets.
Our list of the best markets in Cape Town: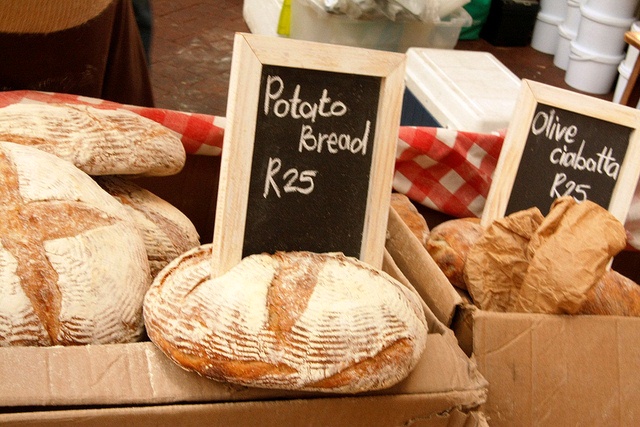 Best markets in Cape Town: Fresh bread at the Neighbourgoods Market Photo: RTActivist
Neighbourgoods Market at the Biscuit Mill
Neighbourgoods Market at Salt River's famous Biscuit Mill is better known as Cape Town's original gourmet market. The busy Cape Town market with its awesome atmosphere attracts a great crowd looking for freshly baked breads, international specialities, seafood, organic goods, apple ciders, locally brewed beers and remarkable coffee.
The Neighbourgoods Market at The Biscuit Mill is one of Cape Town's best markets and is really worth the weekend visit, trading between 09:00 and 14:00 weekly on Saturdays.
The Old Biscuit Mill Complex | Woodstock | Cape Town
Green Market Square was originally a slave market, making it one of the Mother City's and South Africa's oldest markets. It is one of the busiest Cape Town markets, popular with tourists and busting with African curios to the likes of fantastic hand painted fabrics, wonderful wood carvings, jewelry, arts and crafts.
Visit Green Market Square between 09:00 and 16:00 from Monday to Friday and between 09:00 and 15:00 on Saturdays.
Green Market Square | Cape Town
Victoria and Alfred Markets
South Africa's largest indoor craft market, the Red Shed is part of the V&A Waterfront located near the Victoria Wharf Shopping Centre. The Barrow Court offers colorful arts and crafts from glass blowing, to quilting and crystals you can buy from local traders. Home to one of the best markets in Cape Town. The Victoria and Alfred Wharf markets trade from 09:00 till 21:00 – Monday to Sunday.
The Waterfront Craft Market is situated opposite the Two Oceans Aquarium. Trading hours are between 09:30 and 18:00 where you can shop and browse the worthwhile antiquities and creative handicrafts along with other offerings for those who prefer a more holistic lifestyle.
V&A Waterfront | Cape Town
The Milnerton Flea Market is a bargain hunter's paradise with an array of all sorts of second-hand treasures from electrical goods to a collection of tea sets. You'll find everything from Tupperware and telephones to biltong and car parts. There are also computers, cheap knockoffs and even something for the baby boomers.
For everything from a new iron to the kitchen sink visit the Milnerton Flea Market which trades between 07:00 and 16:00 on Saturdays and Sundays.
Paarden Island | Cape Town
Muizenberg is the section of the city best known for being home of Muizenberg beach and its colorful beach box change rooms, attracting the likes of the surf-loving and is warmly referred to as surfers' corner. A stone's throw away from Kalk Bay, Fish Hoek and Simon's Town in one direction with the city bowl only 30 to 40 minutes away with Constantia and Claremont on the way it is the perfect fun stop-in between destinations.
The market gets super busy over the weekend and much quieter in the week. Here you'll find plenty in the line of electronics, plumbing parts, food, clothes and toys. Every Sunday between 08:00 and 16:00, off the beach at Sunrise Circle the traders are out for The Muizenberg Market.
Muizenberg | Cape Town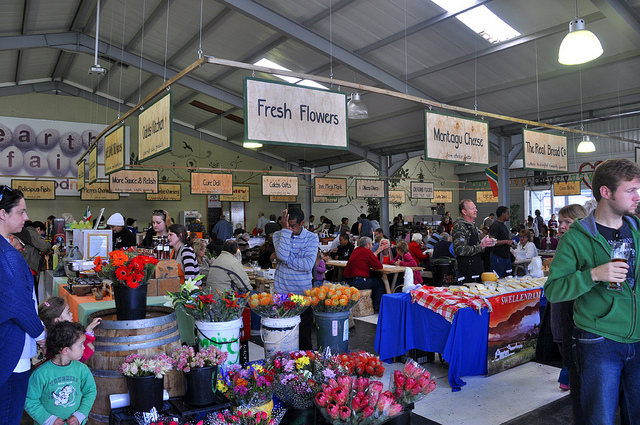 Best markets in Cape Town: Earth Fair Food Market in Tokai. Photo: Ian Junor
If organic food and fantastic specialities are what you're after, and the sound of a morning bursting at the seams from delicious taste sensations sound great to you, then Cape Town's famous Earth Fair is one of the not-to-be-missed Cape Town markets. The perfect place to find some organic fruit and veggies along with olives, cheeses, biltong and cured meats, a selection of fine teas, farm style breads and baked goods, chillies and even chocolate treats.
The Tokai Earth Fair Food Market is open every Saturday from 09:00 to 14:00 and open every Wednesday from 15:00 till 20:30.
Earth Fair Food Market at St Georges Mall is open every Thursday from 11:00 till 15:00.
Noordhoek Farm Village Earth Fair Food Market is open every Thursday from 16:00 – 20:30.
St Georges Mall, Noordhoek Farm Village & Tokai | Cape Town
Church Street Antiques Market
A great outdoor market located in a small alleyway and arcade offering visitors everything from classic vintage clothes to awesome antique costume jewellery. The market takes on traders of all sorts with some selling simple handmade curios and others offering the service of reading your tarot cards.
This quaint little Church Street is in the Mother City of Cape Town and trades between 09:00 and 16:00 from Monday to Saturday. Outdoor traders pack up early and the indoor market helps on those rainy days.
Long Street and Wale Street | Cape Town
The Green Point Flea Market boasts over 400 stalls, and you can find just about anything at this massive weekend market from china imports and clothing, to electronics and antiques. The Green Point Flea Market is a great bric-a-brac market with second hand books and kitchen goods.
The fantastic Sunday food emporium offers all the Malay treats, fish and chips, local specialities like boerewors rolls and other South African favourites to tantalise your taste buds.  Visit the traders between 08:30 and 17:00.
Main Parking Area | Cape Town Stadium | Bill Peters Drive | Green Point | Cape Town
Hout Bay's Village Green is host to this popular weekend Market with its local and regular traders selling their wares which range between leather and iron work, curios and crystals to coffee and clothing, basket weaving and contemporary pottery. There are plenty of stalls stacked with toys for the kids, arts, crafts and decadent delicious delicacies, homemade nibbles and tasty South African munchies.
The Hout Bay Craft Market operates between 10:00 and 16:00 every Sunday. For a taste of what the Mother City has to offer locals and visitors, it is well worth a visit.
Hout Bay Village Green | Main Road | Hout Bay | Cape Town
The Mother City's finest home and lifestyle market is a fun option for the kids offering all the good stuff that life and Cape Town markets combined can bring from wine tasting to home décor, delicious baked goods and great food including all the best of the South African favourites. A Mother City market that's well worth a visit.
The Sunday Island Market attracts a great crowd of people week after week, time and time again. The market has no entry fee and there is free parking. The market is open for trade between 10:00 and 15:00 every Sunday for a weekly supply of fun for the whole family.
Northgate Island Shopping Centre | Milnerton | Cape Town
Millstone Eco-friendly Farm Stall & Café
A charming, extraordinary, delightful, welcoming and darling market experience.  This would be the right place to be if you're keen for a relaxing weekend shop where you can meander about browsing.. The Millstone Eco-friendly Farm Stall & Café is one of Cape Town's best kept secrets attracting visitors for delicious breakfasts and tasty lunches with all the trimmings.
One of the greatest Cape Town markets with a horse and cart sells a juicy selection of organic fruit and local vegetables. Stalls offer walkers by a choice of farm cheeses, home baked breads and sweet treats, scrumptious homemade preserves and yummy jams. Trading hours are from Tuesday to Sunday between 09:00 and 17:00.
Oude Molen Eco Village | Pinelands | Cape Town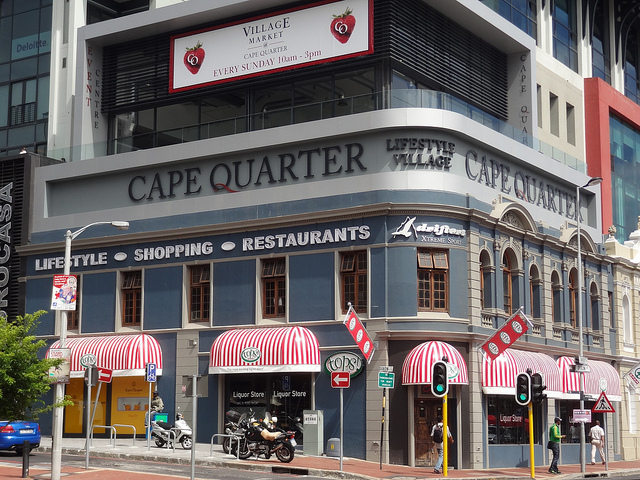 Best Markets in Cape Town: Cape Quarter Village Market.  Photo: WBayer
Cape Quarter Village Market
The European-style Cape Quarter Village Market with an alfresco atmosphere and ambience offers organic nuts and grains, fruits, vegetables and fresh cut flowers. Specialty foods and delicacies include pates, preserves, biltong, fish, a selection of sausages, delicious farm cheeses, home baked pies and freshly baked breads. The market boasts a bar area, coffee traders, décor stalls, clothing as well as homeopathic and herbalist remedies.
The courtyard area compliments the market atmosphere with undercover areas in case of rain. A market adventure enhanced by an array of great high-end shops, restaurants, boutique stores and specialty services with secure underground parking. The Cape Quarter Village Market trades on Sundays from 10:00 to 15:00.
The Square, Cape Quarter | Green Point | Cape Town
Not sure what your transport options are looking like when you're visiting this beautiful city? We'll fill you in on a few cape town car rental and other transport options.
If you need to hire a specific vehicle during your trip to Cape Town, you might want to consider car hire Cape Town for your transportation needs.