Vulture Rehabilitation Programme - Vulpro
Just outside of the Hartbeespoort Dam, below the Magaliesberg Mountains on a small holding totaling 9,4 hectares of land lies the Vulture Rehabilitation Programme (Vulpro).
Vulpro was established in January 2007 to advance knowledge, awareness and innovation in the conservation of African vulture populations for the benefit and wellbeing of society. We recently sat with the manager of this conservation site to find out more about this initiative, how you can help & what drives their passion and vision for the African vulture.

YouTube GoPro: The Cape Griffons promotional video
Drive South Africa: What inspired you to start the Vulture Rehabilitation Programme? 
Kerri Wolter: I had always wanted to get into conservation as soon as I started working. Inspired by all animals with a drive to making a difference in this world and a better place for all species.
---
Drive South Africa: What sparked your interest in birds, vultures to be specific?
Kerri Wolter: I got an opportunity working for the Vulture Study Group twelve years ago. Starting off with absolutely no knowledge of vultures, I started getting an idea of just how difficult life is for these misunderstood birds but yet I was unable to identify with them. Two years later after working in this field, mostly at my desk, I got an opportunity to hand-raise a ten-day old Cape Vulture whom I named Percy. And this is where my story starts and where I honestly believe vultures chose me as their voice. From the minute I had Percy in my care, my life changed and finally I understood my calling and what my goal in life was meant to be. 
---
Drive South Africa: What are the major, pressing threats affecting the southern African/ Cape vultures?
Kerri Wolter: Threats are dependent on different locations and breeding sites but in a nutshell, the five biggest threats which affect vultures globally are: Power line collisions and electrocution, irresponsible use of poisons as well as direct persecution of vultures, lack of available and safe regular supply of food, Lack of knowledge and awareness of the need to conserve vulture species and their importance in our ecosystem and therefore a total lack of appreciation. Wind farms are a pressing threat as well as direct disturbance of breeding, roosting and feeding sites.
---
Drive South Africa: Do you need experience, qualifications and/ or permits for this?
Kerri Wolter: Dealing with threatened and indigenous species, yes permits are very necessary (for) both provincial and national permits depending on the species involved. With most vulture species, you need both.
---
Drive South Africa: What kind of person can do captive-breeding? Are there any special personal attributes one should have?
Kerri Wolter: Captive breeding is not for everyone as it is a full-time commitment and is extremely financially draining. It takes passion, drive and undivided commitment to the cause.  Experience does help but can be learnt if guided by experienced colleagues, etc.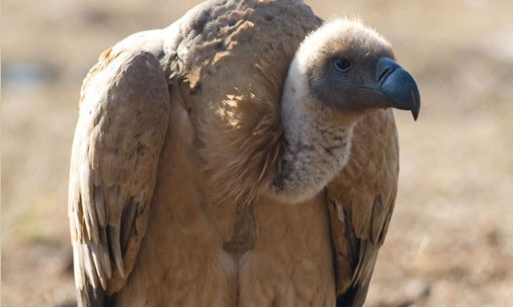 The Cape Vulture. Image by vulpro.com
Drive South Africa: Is your programme open to the public for tourists or wildlife photographers to visit the birds?
Kerri Wolter: The centre is not open to the public but appointments for guided tours can be arranged by e-mailing me directly at kerri.wolter@gmail.com. We are not a zoo but a rehabilitation, research, educational and captive breeding facility with limited staff and pure dedication towards our work and towards making vultures' lives better. We also have a vulture feeding site on the premises as well as a viewing hide and this too is available but only by appointment. Again this can be arranged by contacting me and is a great opportunity to view the wild birds coming in to feed in large numbers. The feeding site is 30 metres away from the viewing hide so there is ample opportunity to get close-up shots for the photographers). Our one major request is that no smoking (is allowed to) take place on the entire premises as you enter the facilities.
---
Drive South Africa: How can the public get involved with volunteerism and/ or donations?
Kerri Wolter: There are opportunities for committed volunteers to assist with our work and we welcome these individuals. Our needs, as far as volunteer work goes, include the maintenance of enclosures, cleaning of enclosures and water ponds as well as the vulture feeding site. Collection of fire wood so we can burn old bones in our pit to keep the facilities clean and free from diseases. Collection of carcasses as well as injured and/ or grounded vultures. Assistance even with fundraising and media (coverage) together with spreading the word and message out there. As a Non-Profit Organisation, we are dependent on donations and sponsorships so any forms of donations – financially or in kind are most appreciated. We have a wish list on our website for anyone interested under You can help!
---
Drive South Africa: How do you make sure that people are aware of the work that you do so that they can contact you when there is a bird that needs to be helped or picked up?
Kerri Wolter: Mostly through the media, word of mouth and booklets and brochures but still much work is needed regarding this and we could most definitely make use of volunteers to help spread the word.
---
Drive South Africa: Do you take part in any other industry programmes?
Kerri Wolter: We are 100% focused on vulture conservation but do assist large birds of prey as well. Our programme deals with rehabilitation, breeding surveys in the wild, tracking of vultures with the use of wing tags as well as tracking devices. Various research projects which have a direct benefit to the wild populations, educational programmes across Southern Africa and our captive breeding programme. We work with as many like-minded organisations as possible across Southern Africa as we all need to work together in order to have a greater impact on our vultures.
---
Drive South Africa: How do you sustain your rehabilitation programme?
Kerri Wolter: We are a Non-Profit Organisation so (we are) 100% dependent on sponsorships and donations for our survival. You can also become a part of Vulpro's team by filling out a form and registering to become a member individually or as part of a group or as a corporation. Membership allows you to get involved, bring your family but most importantly you get to help save the Cape vultures.
---
For more information on how to get involved with Vulpro, Kerri Wolter is always available to assist. Help Vulpro spread the word and save the Southern African vulture.
If you want to go on your own adventure through Africa, you might want to have a look at
4×4 hire
to find the best vehicle for your adventure.